Bristol Abolitionist Poetry: Hannah More and Ann Yearsley
The establishment of slavery and the resulting transatlantic slave trade between Europe and the Americas required a variegated attack from those who viewed freedom and human beings of greater value and importance than property and commerce. Abolitionists aimed to reveal the moral mistake of slavery through literature and political efforts. A shared network of antislavery language supported and connected abolitionists and writers of diverse backgrounds and sociohistorical contexts. Antislavery poets incorporated this language into emotional verse in order to convince readers of the immorality of slavery through a particular rhetoric and themes. The sufferings felt as a result of the slave trade and the wickedness of the enslavement process featured particularly in antislavery poetry. Also women poets reacted to the immorality of slavery and, through their poetic voice, they were not only involved in the abolitionist cause but they were asking for a renewed social role both as women and poets.
How did abolitionist poetry intersect with the law and connect to this shared language? And what role did women have in the abolitionist movement and in poetry in a problematic context like that of the late seventeenth to the late eighteenth centuries?
In order to answer these questions I have chosen two women poets who illustrate the aims of this shared language. Hannah More and Ann Yearsley contributed to creating an antislavery poetry across their social differences, which also affected some dynamics of gender, laws, education and race. Their poetry and experiences represent part of the body of antislavery literature as well as the diverse interactions between abolitionists and society and, as such, they are the object of my study.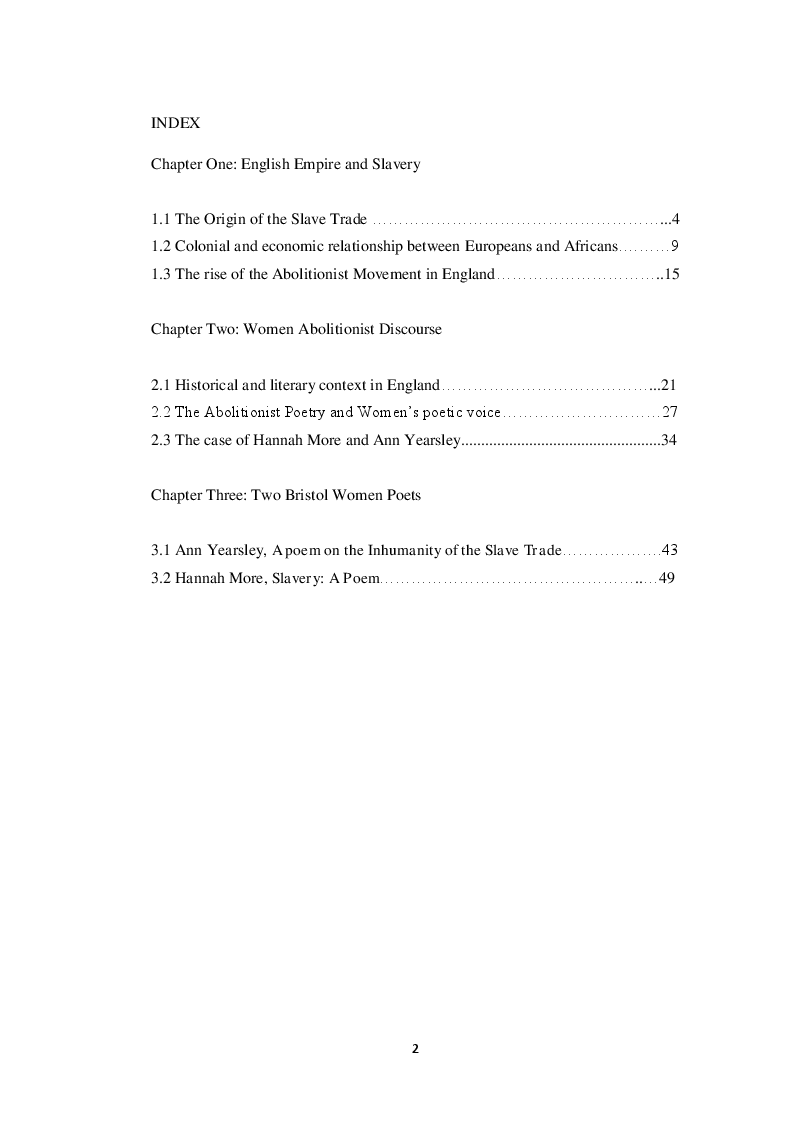 Mostra/Nascondi contenuto.
2 INDEX Chapter One: English Empire and Slavery 1.1 The Origin of the Slave Trade ………………………………………………...4 1.2 Colonial and economic relationship between Europeans and Africans.………9 1.3 The rise of the Abolitionist Movement in England…………………………..15 Chapter Two: Women Abolitionist Discourse 2.1 Historical and literary context in England…………………………………...21 2.2 The Abolitionist Poetry and Women's poetic voice…………………………27 2.3 The case of Hannah More and Ann Yearsley..................................................34 Chapter Three: Two Bristol Women Poets 3.1 Ann Yearsley, A poem on the Inhumanity of the Slave Trade……………….43 3.2 Hannah More, Slavery: A Poem…………………………………………..…49
Laurea liv.I
Facoltà: Lingue e Letterature Straniere
Autore: Michela Piccolomini Contatta »
Composta da 70 pagine.
Questa tesi ha raggiunto 126 click dal 23/02/2017.
Disponibile in PDF, la consultazione è esclusivamente in formato digitale.