Are european car companies moving towards the Anglo American Business Context as a result of the global concentration process?
This project explores the wave of international mergers in the automobile industry and attempts to discover to what extent European carmakers are moving towards Anglo-American business attitudes. This study examines the theory on mergers and globalisation as well as it looks into the main features of the Anglo-American approach to capitalism and business compared to the European model. Furthermore it investigates over the recent deals made by three European carmakers (i.e. Fiat, Renault and Daimler-Benz) involved in transnational merger & acquisition activity. As they are linked up with such major global companies as General Motors, Nissan and Chrysler respectively, this project seeks to assess to what extent European carmakers have implemented changes to emulate the Anglo-American business context as a result of the global concentration process. As the analysis is carried out, the three continental companies are found to have remained essentially European in terms of business attitudes in spite of their transnational counterparts' being used to operate in Anglo-American business environment. The progresses made are very limited although the European carmakers have started to value the concepts of 'shareholder value', 'competitiveness' and 'transparency'. They have also gained a more global role in the Car industry scenario and adopted a new corporate mentality.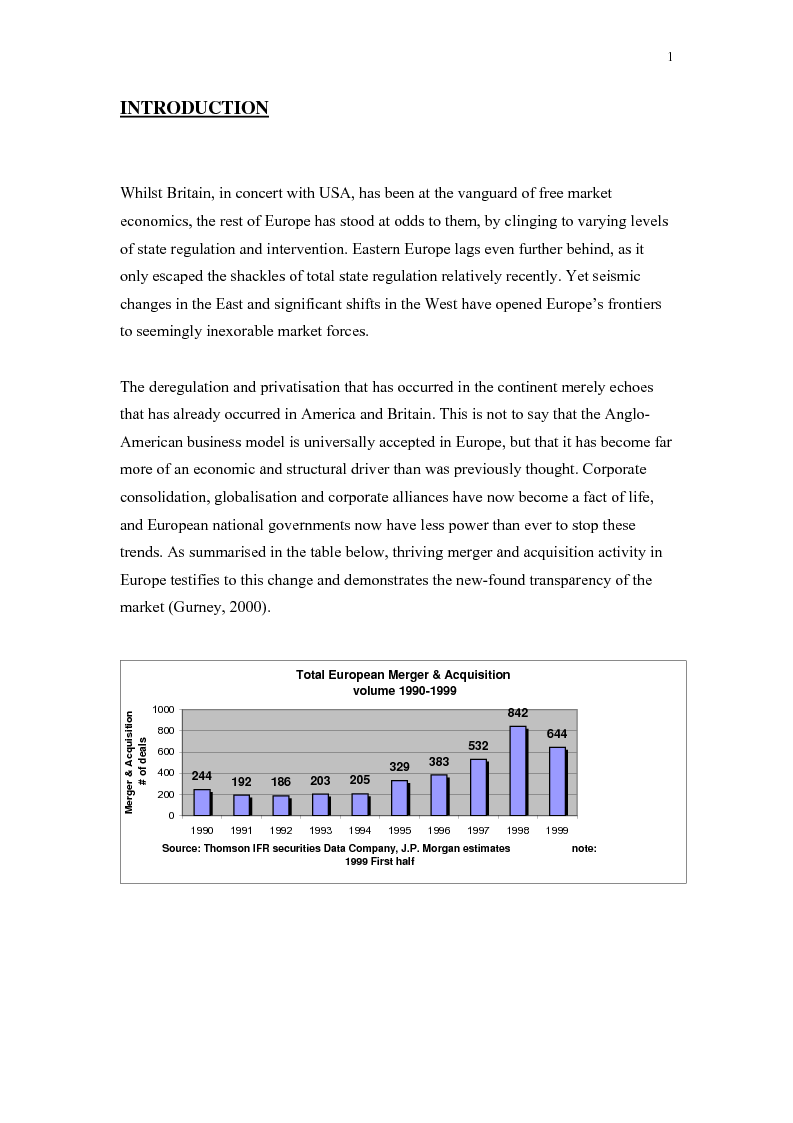 Mostra/Nascondi contenuto.
1 INTRODUCTION Whilst Britain, in concert with USA, has been at the vanguard of free market economics, the rest of Europe has stood at odds to them, by clinging to varying levels of state regulation and intervention. Eastern Europe lags even further behind, as it only escaped the shackles of total state regulation relatively recently. Yet seismic changes in the East and significant shifts in the West have opened Europe's frontiers to seemingly inexorable market forces. The deregulation and privatisation that has occurred in the continent merely echoes that has already occurred in America and Britain. This is not to say that the Anglo- American business model is universally accepted in Europe, but that it has become far more of an economic and structural driver than was previously thought. Corporate consolidation, globalisation and corporate alliances have now become a fact of life, and European national governments now have less power than ever to stop these trends. As summarised in the table below, thriving merger and acquisition activity in Europe testifies to this change and demonstrates the new-found transparency of the market (Gurney, 2000). Total European Merger & Acquisition volume 1990-1999 244 192 186 203 205 329 383 532 842 644 0 200 400 600 800 1000 1990 1991 1992 1993 1994 1995 1996 1997 1998 1999 Source: Thomson IFR securities Data Company, J.P. Morgan estimates note: 1999 First half M e r g e r & A c q u i s i t i o n # o f d e a l s
Tesi di Laurea
Facoltà: Economia
Autore: Cesare Giani Contini Contatta »
Composta da 58 pagine.
Questa tesi ha raggiunto 566 click dal 20/03/2004.
Consultata integralmente 2 volte.
Disponibile in PDF, la consultazione è esclusivamente in formato digitale.