Sudden Cardiac Death in Athlete
In the first part, there is an anatomical and physiological description of heart. The Chapter 2 discusses about the epidemiology and the etiology of SCD, the risks in vary sports and the syncope, the most important manifestation in people with high risk of SCD. Then there are descriptions about the major diseases that can induce SCD and the principal screening programs. In the end, there are discussion about the ideas of Europe and USA cardiologists in SCD prevention.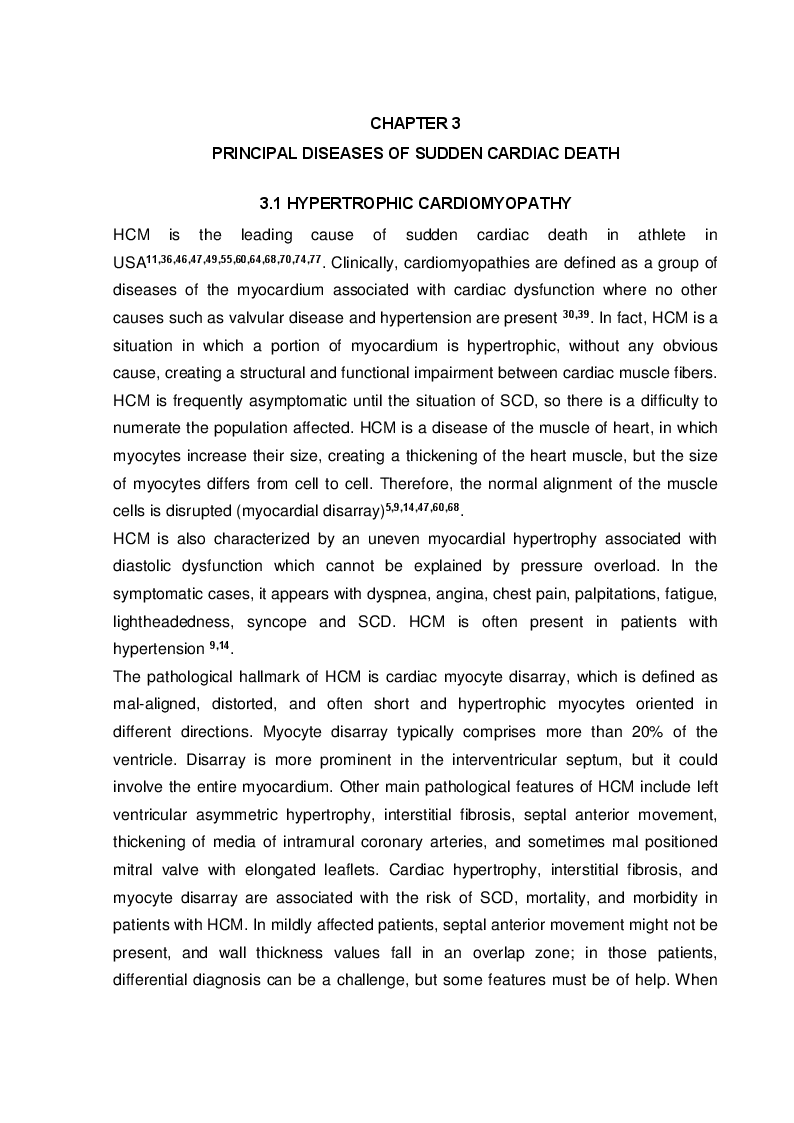 Mostra/Nascondi contenuto.
CHAPTER 3 PRINCIPAL DISEASES OF SUDDEN CARDIAC DEATH 3.1 HYPERTROPHIC CARDIOMYOPATHY HCM is the leading cause of sudden cardiac death in athlete in USA 11,36,46,47,49,55,60,64,68,70,74,77 . Clinically, cardiomyopathies are defined as a group of diseases of the myocardium associated with cardiac dysfunction where no other causes such as valvular disease and hypertension are present 30,39 . In fact, HCM is a situation in which a portion of myocardium is hypertrophic, without any obvious cause, creating a structural and functional impairment between cardiac muscle fibers. HCM is frequently asymptomatic until the situation of SCD, so there is a difficulty to numerate the population affected. HCM is a disease of the muscle of heart, in which myocytes increase their size, creating a thickening of the heart muscle, but the size of myocytes differs from cell to cell. Therefore, the normal alignment of the muscle cells is disrupted (myocardial disarray) 5,9,14,47,60,68 . HCM is also characterized by an uneven myocardial hypertrophy associated with diastolic dysfunction which cannot be explained by pressure overload. In the symptomatic cases, it appears with dyspnea, angina, chest pain, palpitations, fatigue, lightheadedness, syncope and SCD. HCM is often present in patients with hypertension 9,14 . The pathological hallmark of HCM is cardiac myocyte disarray, which is defined as mal-aligned, distorted, and often short and hypertrophic myocytes oriented in different directions. Myocyte disarray typically comprises more than 20% of the ventricle. Disarray is more prominent in the interventricular septum, but it could involve the entire myocardium. Other main pathological features of HCM include left ventricular asymmetric hypertrophy, interstitial fibrosis, septal anterior movement, thickening of media of intramural coronary arteries, and sometimes mal positioned mitral valve with elongated leaflets. Cardiac hypertrophy, interstitial fibrosis, and myocyte disarray are associated with the risk of SCD, mortality, and morbidity in patients with HCM. In mildly affected patients, septal anterior movement might not be present, and wall thickness values fall in an overlap zone; in those patients, differential diagnosis can be a challenge, but some features must be of help. When
Laurea liv.I
Facoltà: Medicina e Chirurgia
Autore: Antonio Brusini Contatta »
Composta da 53 pagine.
Questa tesi ha raggiunto 49 click dal 01/09/2017.
Disponibile in PDF, la consultazione è esclusivamente in formato digitale.