Cause-Related Marketing and the U.S. Sports Industry
Several studies have focused on Social Corporate Responsibility (SCR), yet few have focused on Cause-Related Sports Marketing (CRSM). However, over the last decades, the use of CRM in the American sports industry appears to be increasing in popularity. CRM strategies are, indeed, a potential strategic marketing and management tool, which connects sports organizations, or professional sports clubs, with consumers. When professional sports clubs as well as sports corporations are socially involved in the local business market, these CRM programs are more likely going to have a significant impact on the consumers' perception towards those companies' social activities. This is due to the fact that sports organizations, but especially professional sports clubs, possess unique elements in comparison to business organizations. Therefore, the purpose of this study is to provide an enriched picture of the consumers' behavior and awareness towards CRSM programs. A qualitative analysis of sixteen different partnerships engaged in CRSM activities was conducted in order to have a better understanding of the impact of these CRSM programs throughout America. Also, utilizing CRM campaigns in the sports arena may engender a certain degree of risk, which might ultimately ruin or affect the final outcome of the CRM initiative. Risks and limitations were also taken into account throughout this analysis.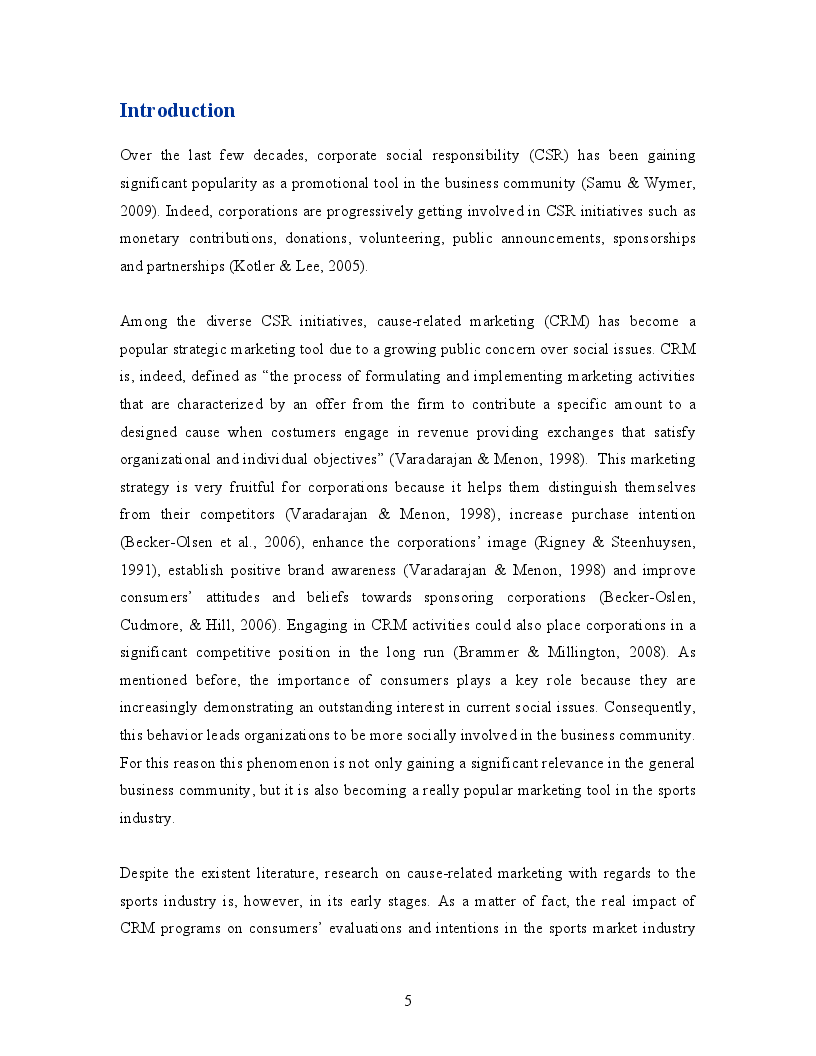 Mostra/Nascondi contenuto.
5 Introduction Over the last few decades, corporate social responsibility (CSR) has been gaining significant popularity as a promotional tool in the business community (Samu & Wymer, 2009). Indeed, corporations are progressively getting involved in CSR initiatives such as monetary contributions, donations, volunteering, public announcements, sponsorships and partnerships (Kotler & Lee, 2005). Among the diverse CSR initiatives, cause-related marketing (CRM) has become a popular strategic marketing tool due to a growing public concern over social issues. CRM is, indeed, defined as "the process of formulating and implementing marketing activities that are characterized by an offer from the firm to contribute a specific amount to a designed cause when costumers engage in revenue providing exchanges that satisfy organizational and individual objectives" (Varadarajan & Menon, 1998). This marketing strategy is very fruitful for corporations because it helps them distinguish themselves from their competitors (Varadarajan & Menon, 1998), increase purchase intention (Becker-Olsen et al., 2006), enhance the corporations' image (Rigney & Steenhuysen, 1991), establish positive brand awareness (Varadarajan & Menon, 1998) and improve consumers' attitudes and beliefs towards sponsoring corporations (Becker-Oslen, Cudmore, & Hill, 2006). Engaging in CRM activities could also place corporations in a significant competitive position in the long run (Brammer & Millington, 2008). As mentioned before, the importance of consumers plays a key role because they are increasingly demonstrating an outstanding interest in current social issues. Consequently, this behavior leads organizations to be more socially involved in the business community. For this reason this phenomenon is not only gaining a significant relevance in the general business community, but it is also becoming a really popular marketing tool in the sports industry. Despite the existent literature, research on cause-related marketing with regards to the sports industry is, however, in its early stages. As a matter of fact, the real impact of CRM programs on consumers' evaluations and intentions in the sports market industry
Laurea liv.I
Facoltà: Scienze della Comunicazione
Autore: Ludovica Antonini Contatta »
Composta da 56 pagine.
Questa tesi ha raggiunto 273 click dal 07/09/2017.
Disponibile in PDF, la consultazione è esclusivamente in formato digitale.