The development of Microcredit in Italy
The collinear events of the last decade have all contributed to the economic empasse of many leading Countries across the world, with major effects overall on the labour market.
The purpose of this dissertation is to find a solution to the increasing unemployment rate in Italy. One of the tools (and strategy) developed in the last years is the Microfinance to help small companies with liquidity and to incentivize people to self-employ or to aggregate in cooperatives. The thesis summarizes the cultural and historical background of microcredit and explore its latest rise, development and perspective in Europe and Italy. The case study is a comparison between two financial providers: the French ADIE and the Italian PerMicro.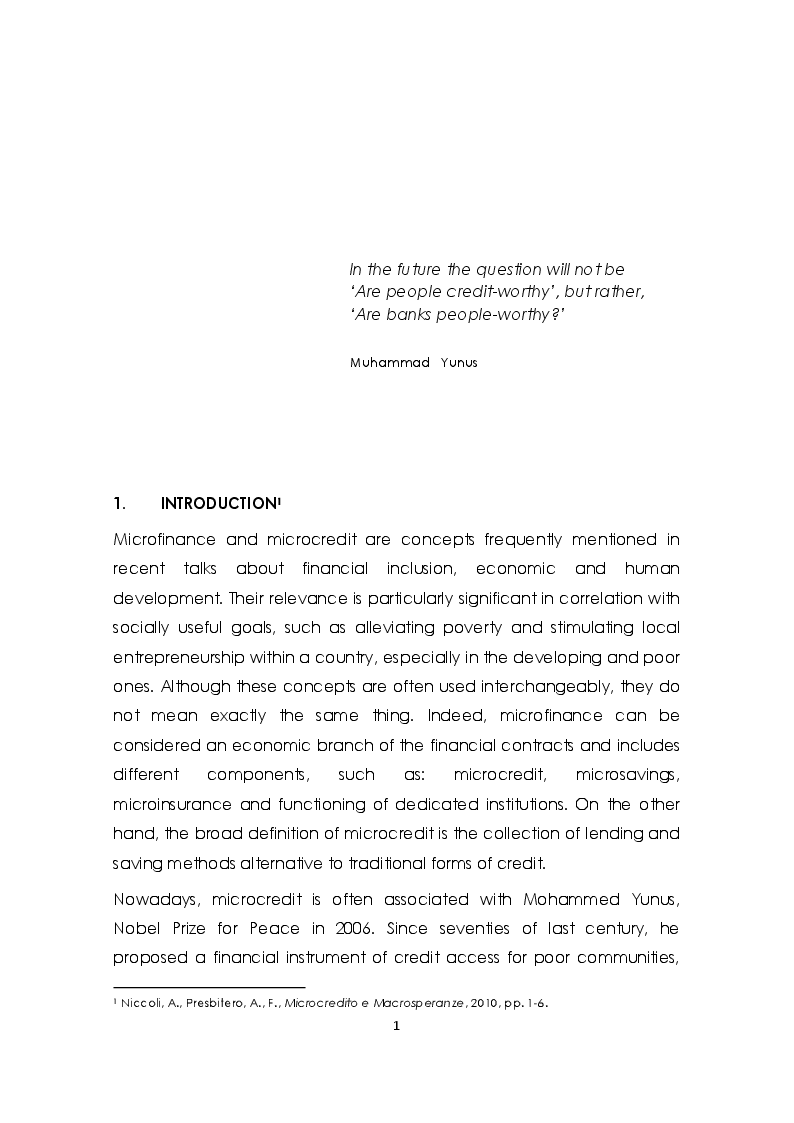 Mostra/Nascondi contenuto.
1 In the future the question will not be 'Are people credit-worthy', but rather, 'Are banks people-worthy?' Muhammad Yunus 1. INTRODUCTION 1 Microfinance and microcredit are concepts frequently mentioned in recent talks about financial inclusion, economic and human development. Their relevance is particularly significant in correlation with socially useful goals, such as alleviating poverty and stimulating local entrepreneurship within a country, especially in the developing and poor ones. Although these concepts are often used interchangeably, they do not mean exactly the same thing. Indeed, microfinance can be considered an economic branch of the financial contracts and includes different components, such as: microcredit, microsavings, microinsurance and functioning of dedicated institutions. On the other hand, the broad definition of microcredit is the collection of lending and saving methods alternative to traditional forms of credit. Nowadays, microcredit is often associated with Mohammed Yunus, Nobel Prize for Peace in 2006. Since seventies of last century, he proposed a financial instrument of credit access for poor communities, 1 Niccoli, A., Presbitero, A., F., Microcredito e Macrosperanze, 2010, pp. 1-6.
Tesi di Laurea Magistrale
Facoltà: DIPARTIMENTO
Autore: Paolo Antolini Contatta »
Composta da 79 pagine.
Questa tesi ha raggiunto 665 click dal 19/10/2017.
Disponibile in PDF, la consultazione è esclusivamente in formato digitale.