Internet - The Flagship of Global English?
The study is concerned with two contemporary phenomena: - the first is the advanced computer technology which enables the transmission of data of various kinds from one part of the world to another in a few seconds; - the second is English, a language that because of its large number of non-native speakers has come close to the status of universal language. These two phenomena - the advanced computer technology and English with its status as a world language - are brought together in one whole and form something that is really exceptional and unique, something that is multinational and the most global thing ever in the whole of human history: they form the Network-of-networks, the Internet, and English as its lingua franca appears to be the network's inseparable part. The study attempts to show the most important aspects and implications of the status of English as the lingua franca of the Internet, a status which reflects the dominant position of English as the most used language worldwide.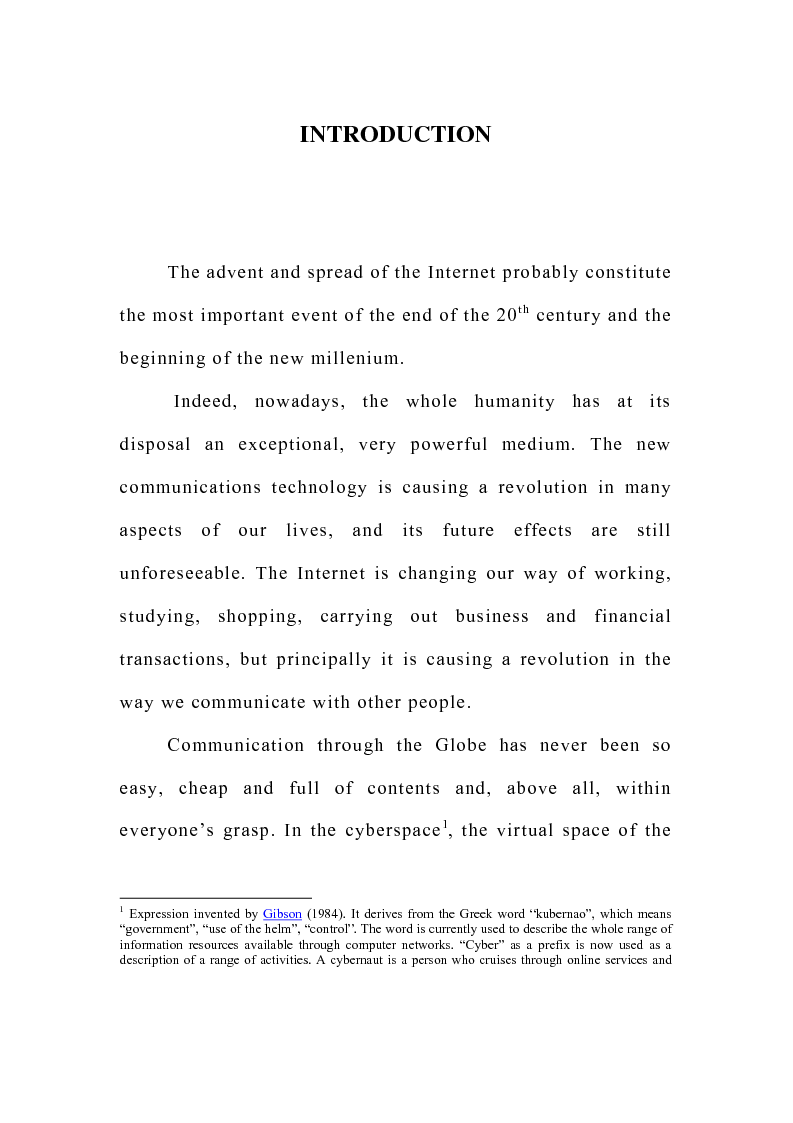 Mostra/Nascondi contenuto.
INTRODUCTION The advent and spread of the Internet probably constitute the most important event of the end of the 20 th century and the beginning of the new millenium. Indeed, nowadays, the whole humanity has at its disposal an exceptional, very powerful medium. The new communications technology is causing a revolution in many aspects of our lives, and its future effects are still unforeseeable. The Internet is changing our way of working, studying, shopping, carrying out business and financial transactions, but principally it is causing a revolution in the way we communicate with other people. Communication through the Globe has never been so easy, cheap and full of contents and, above all, within everyone's grasp. In the cyberspace 1 , the virtual space of the 1 Expression invented by Gibson (1984). It derives from the Greek word "kubernao", which means "government", "use of the helm", "control". The word is currently used to describe the whole range of information resources available through computer networks. "Cyber" as a prefix is now used as a description of a range of activities. A cybernaut is a person who cruises through online services and
Tesi di Laurea
Facoltà: Economia
Autore: Lucio Fabio Baccassino Contatta »
Composta da 215 pagine.
Questa tesi ha raggiunto 4344 click dal 20/03/2004.
Consultata integralmente 9 volte.
Disponibile in PDF, la consultazione è esclusivamente in formato digitale.