Comparing Game-based and Grammar-translation methods: the simple present tense in A1-A2 learners of English
In 2014 I founded a project called Neturaltalk to experiment with methods that could be more effective in teaching languages. It is a project born in a well-known co-working space in Matera, Casa Netural. Neturaltalk means both talking naturally and creating a network of people to talk with. Speaking a language is mainly a social activity and the project aims to create opportunities for people from rural areas to learn a foreign language as they learnt their mother tongue, in an informal, comfortable and enjoyable way.

In January 2014 an English teacher from Australia and I started the first Neturaltalk course. We started researching materials and ideas in books and on the internet. We found many activities and we started to experiment with them to see which were more effective. Although it is scientifically difficult to measure the effectiveness of a method we realised that when students felt safe and comfortable in our class, they started to feel confident and actively participate in lessons. We wanted to experiment with methods that were different from the Grammar Translation Method, which both of us experienced at school but with questionable results. We wanted to use a method, or a range of methods, that suited the majority of students. We wanted them to feel welcome in a non-judgemental environment in order to facilitate their learning process.

We started thinking about games as tools to involve students. Playing is an activity that everybody has experienced once in their life and has helped to develop not only language skills but also emotional and social ones. We read a lot of research describing the potential of games in language learning. Thus, we started creating our set of own games to use during lessons. What students loved most was the possibility to actively use the language and the meaningful interactions they had with the other learners. They also appreciated the use of all senses during the lesson, e.g. listening to a song, watching a video, smelling, touching and trying some real food to activate all their senses. [...]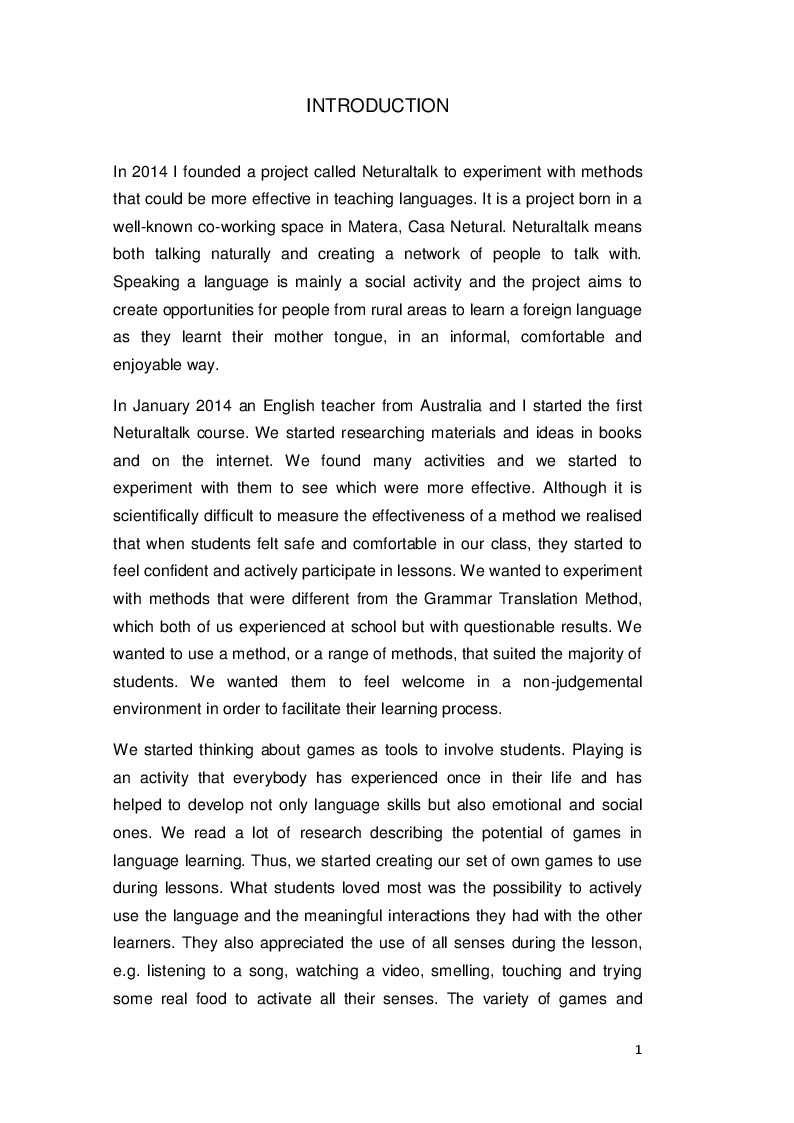 Mostra/Nascondi contenuto.
1 INTRODUCTION In 2014 I founded a project called Neturaltalk to experiment with methods that could be more effective in teaching languages. It is a project born in a well-known co-working space in Matera, Casa Netural. Neturaltalk means both talking naturally and creating a network of people to talk with. Speaking a language is mainly a social activity and the project aims to create opportunities for people from rural areas to learn a foreign language as they learnt their mother tongue, in an informal, comfortable and enjoyable way. In January 2014 an English teacher from Australia and I started the first Neturaltalk course. We started researching materials and ideas in books and on the internet. We found many activities and we started to experiment with them to see which were more effective. Although it is scientifically difficult to measure the effectiveness of a method we realised that when students felt safe and comfortable in our class, they started to feel confident and actively participate in lessons. We wanted to experiment with methods that were different from the Grammar Translation Method, which both of us experienced at school but with questionable results. We wanted to use a method, or a range of methods, that suited the majority of students. We wanted them to feel welcome in a non-judgemental environment in order to facilitate their learning process. We started thinking about games as tools to involve students. Playing is an activity that everybody has experienced once in their life and has helped to develop not only language skills but also emotional and social ones. We read a lot of research describing the potential of games in language learning. Thus, we started creating our set of own games to use during lessons. What students loved most was the possibility to actively use the language and the meaningful interactions they had with the other learners. They also appreciated the use of all senses during the lesson, e.g. listening to a song, watching a video, smelling, touching and trying some real food to activate all their senses. The variety of games and
Laurea liv.II (specialistica)
Facoltà: Lettere e Filosofia
Autore: Mariateresa Paolicelli Contatta »
Composta da 142 pagine.
Questa tesi ha raggiunto 39 click dal 20/02/2018.
Disponibile in PDF, la consultazione è esclusivamente in formato digitale.