Country of origin and stereotypes' influence on the brand evaluation of a product
During the last fifty years, the Country of origin (COO) effect concept, as a variable able to influence consumer's decisional processes during the purchasing process, has been broadly discussed and usually considered as a conscious and controlled process by the international economic literature. Nevertheless, recent researches have started to question such supposition by demonstrating that this process may be automatic and unconscious too. Accordingly, consumers may not completely realize the country associations that they make. In this context, the variety of activated country stereotypes can considerably affect and produce different brand evaluations of a product. Indeed, such evaluations are usually categorised according to one's cultural orientation, specifically, individualistic cultures tend to involve cognitive cues, whereas, collectivist one are more likely to provide emotional cues. Furthermore, due to the relation between COO and Brand origin (BO), that is Brand Country origin recognition, possible resulting brand misclassifications and non-classifications can affect the image of a country both positively and negatively.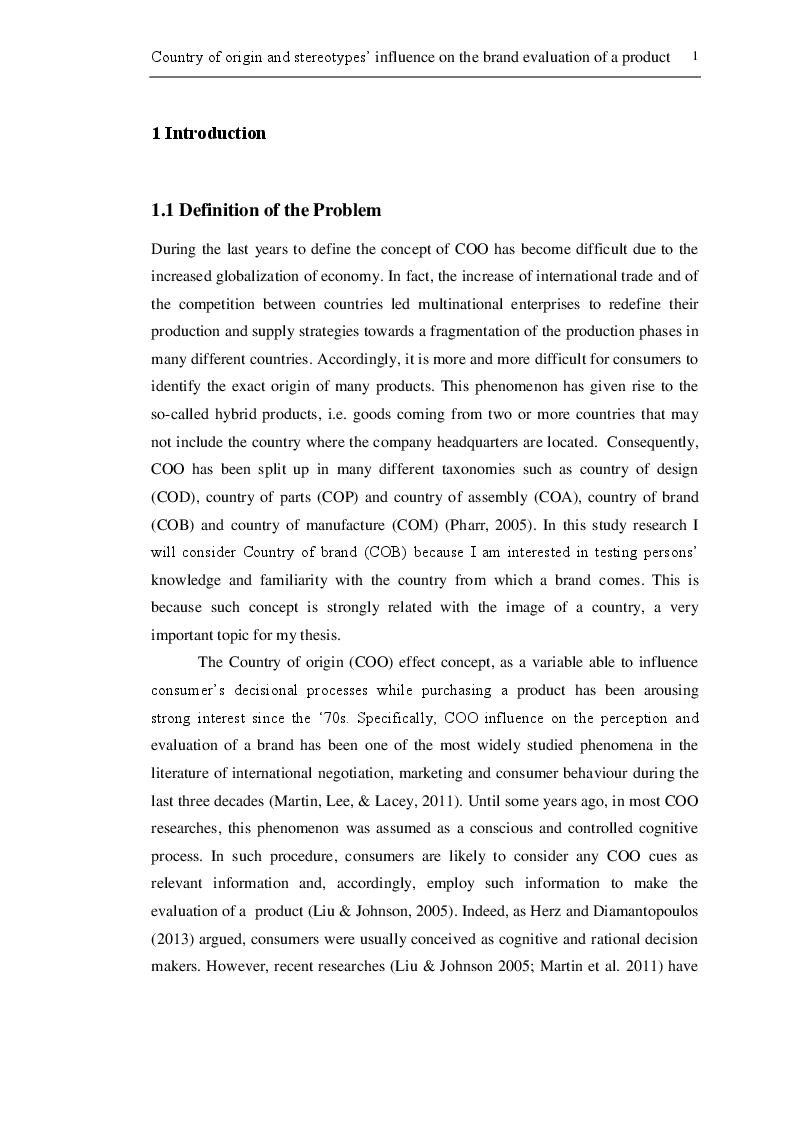 Mostra/Nascondi contenuto.
Country of origin and stereotypes' influence on the brand evaluation of a product 1 1 Introduction 1.1 Definition of the Problem During the last years to define the concept of COO has become difficult due to the increased globalization of economy. In fact, the increase of international trade and of the competition between countries led multinational enterprises to redefine their production and supply strategies towards a fragmentation of the production phases in many different countries. Accordingly, it is more and more difficult for consumers to identify the exact origin of many products. This phenomenon has given rise to the so-called hybrid products, i.e. goods coming from two or more countries that may not include the country where the company headquarters are located. Consequently, COO has been split up in many different taxonomies such as country of design (COD), country of parts (COP) and country of assembly (COA), country of brand (COB) and country of manufacture (COM) (Pharr, 2005). In this study research I will consider Country of brand (COB) because I am interested in testing persons' knowledge and familiarity with the country from which a brand comes. This is because such concept is strongly related with the image of a country, a very important topic for my thesis. The Country of origin (COO) effect concept, as a variable able to influence consumer's decisional processes while purchasing a product has been arousing strong interest since the '70s. Specifically, COO influence on the perception and evaluation of a brand has been one of the most widely studied phenomena in the literature of international negotiation, marketing and consumer behaviour during the last three decades (Martin, Lee, & Lacey, 2011). Until some years ago, in most COO researches, this phenomenon was assumed as a conscious and controlled cognitive process. In such procedure, consumers are likely to consider any COO cues as relevant information and, accordingly, employ such information to make the evaluation of a product (Liu & Johnson, 2005). Indeed, as Herz and Diamantopoulos (2013) argued, consumers were usually conceived as cognitive and rational decision makers. However, recent researches (Liu & Johnson 2005; Martin et al. 2011) have
Tesi di Laurea Magistrale
Facoltà: Economia
Autore: Roberto Leonardo Bertagnolli Contatta »
Composta da 146 pagine.
Questa tesi ha raggiunto 34 click dal 14/03/2018.
Disponibile in PDF, la consultazione è esclusivamente in formato digitale.