The Urgency of a "Green Criminology": A Case Study of Air Pollution, Criminal Activity and Environmental Perception in the South Durban Basin (South Africa)
With the hope of expanding the criminological horizons beyond the traditional notions of crime, this study investigates how air pollution is affecting people's behavior in the South Durban Industrial Basin (SDIB), South Africa. Through the development of a mixed-method design, the research's aims are: to estimate the possible correlation between air pollution and criminal behavior, and to analyze the social perceptions and attitudes toward the risks of living in a polluted area.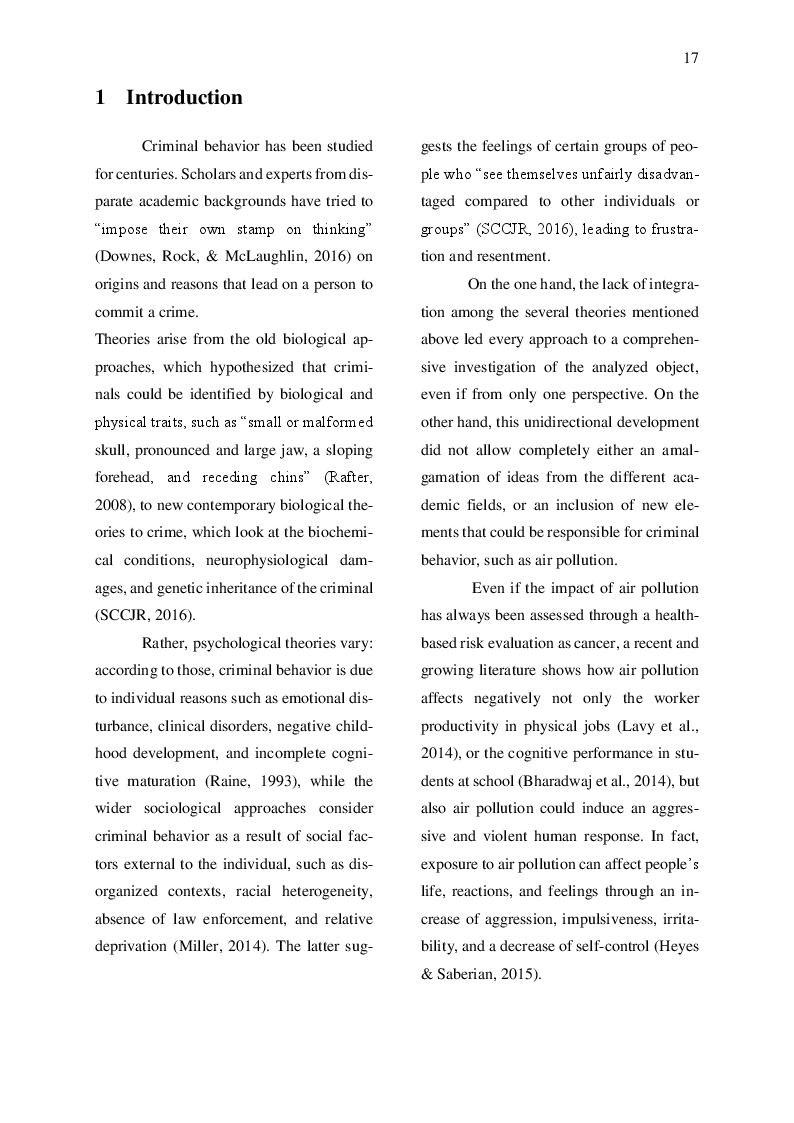 Mostra/Nascondi contenuto.
17 1 Introduction Criminal behavior has been studied for centuries. Scholars and experts from dis- parate academic backgrounds have tried to "impose their own stamp on thinking" (Downes, Rock, & McLaughlin, 2016) on origins and reasons that lead on a person to commit a crime. Theories arise from the old biological ap- proaches, which hypothesized that crimi- nals could be identified by biological and physical traits, such as "small or malformed skull, pronounced and large jaw, a sloping forehead, and receding chins" (Rafter, 2008), to new contemporary biological the- ories to crime, which look at the biochemi- cal conditions, neurophysiological dam- ages, and genetic inheritance of the criminal (SCCJR, 2016). Rather, psychological theories vary: according to those, criminal behavior is due to individual reasons such as emotional dis- turbance, clinical disorders, negative child- hood development, and incomplete cogni- tive maturation (Raine, 1993), while the wider sociological approaches consider criminal behavior as a result of social fac- tors external to the individual, such as dis- organized contexts, racial heterogeneity, absence of law enforcement, and relative deprivation (Miller, 2014). The latter sug- gests the feelings of certain groups of peo- ple who "see themselves unfairly disadvan- taged compared to other individuals or groups" (SCCJR, 2016), leading to frustra- tion and resentment. On the one hand, the lack of integra- tion among the several theories mentioned above led every approach to a comprehen- sive investigation of the analyzed object, even if from only one perspective. On the other hand, this unidirectional development did not allow completely either an amal- gamation of ideas from the different aca- demic fields, or an inclusion of new ele- ments that could be responsible for criminal behavior, such as air pollution. Even if the impact of air pollution has always been assessed through a health- based risk evaluation as cancer, a recent and growing literature shows how air pollution affects negatively not only the worker productivity in physical jobs (Lavy et al., 2014), or the cognitive performance in stu- dents at school (Bharadwaj et al., 2014), but also air pollution could induce an aggres- sive and violent human response. In fact, exposure to air pollution can affect people's life, reactions, and feelings through an in- crease of aggression, impulsiveness, irrita- bility, and a decrease of self-control (Heyes & Saberian, 2015).
Tesi di Laurea Magistrale
Facoltà: Scienze Politiche
Autore: Ludovica Serafini Contatta »
Composta da 114 pagine.
Questa tesi ha raggiunto 91 click dal 21/03/2018.
Disponibile in PDF, la consultazione è esclusivamente in formato digitale.