Gelation of polymer colloids in a mechnically agitated column
The present study is devoted to developing and understanding the gelation process. In particular, a mechanically agitated gelation column is proposed and constructed, where a polymer latex can be fed continuously at a desired flow rate and converted promptly into small pieces of gels. The main purposes of this study are to explore the feasibility of the designed gelation column and to understand how the structure of the formed gels depends on the various operation parameters such as particle volume fraction in the latex, pH, temperature, fluid dynamics, etc.
Chapter 1 gives a brief introduction to the gelation phenomena of polymer colloids where the concept of colloidal stability, DLVO theory, and kinetics of aggregation towards gelation are discussed. Chapter 2 illustrates in details the gelation column that we constructed and its operation principle. The methods used to characterize the structure of gels are also described in Chapter 2. In Chapter 3, all the experimental results are presented, and proper explanation for the observed phenomena are supplied.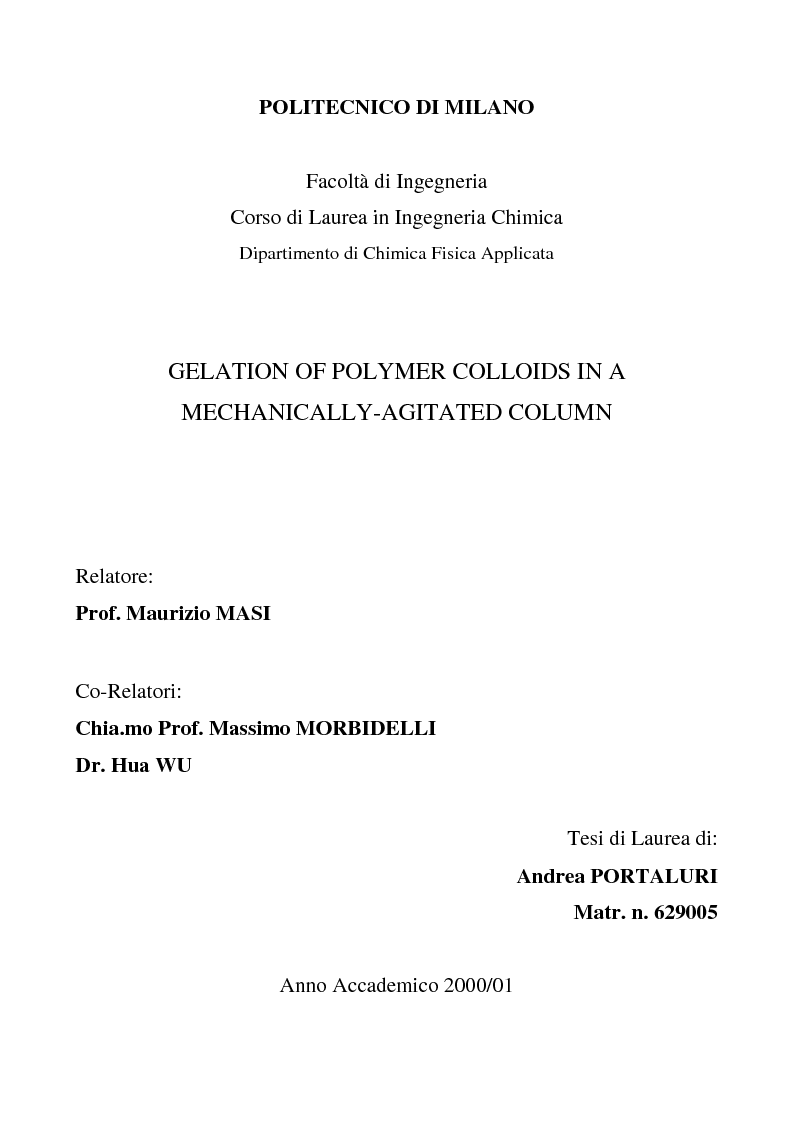 Mostra/Nascondi contenuto.
POLITECNICO DI MILANO Facoltà di Ingegneria Corso di Laurea in Ingegneria Chimica Dipartimento di Chimica Fisica Applicata GELATION OF POLYMER COLLOIDS IN A MECHANICALLY-AGITATED COLUMN Relatore: Prof. Maurizio MASI Co-Relatori: Chia.mo Prof. Massimo MORBIDELLI Dr. Hua WU Tesi di Laurea di: Andrea PORTALURI Matr. n. 629005 Anno Accademico 2000/01
Tesi di Laurea
Facoltà: Ingegneria
Autore: Andrea Portaluri Contatta »
Composta da 93 pagine.
Questa tesi ha raggiunto 600 click dal 20/03/2004.
Consultata integralmente una volta.
Disponibile in PDF, la consultazione è esclusivamente in formato digitale.