Who am I if I am not a Footballer? 'Doing' Identity through the Sport Experience, an Anthropological Perspective
My interest in football is grounded in the socio-cultural contexts in which I was raised, where the qualities of football are looked up to and/or revered. My interest was also shaped by the fact that it is through football that my socialization occurred, hence my first (social) challenges forming my personality. The spontaneity of the beginning and the enthusiasm put into it are still fresh in my mind, but more importantly, the realization that I was doing something 'I enjoyed' and craved to improve, something with which 'I' could identify! Hence my study of Goldsmiths College Football 1st Team aims at an analysis of the game of football through an anthropological 'pair of glasses' - that allow both a subjective and anthropological perspective - and attempts to 'understand' those forms of identities constructed through the football game. My focus therefore is on the 'ontological status' of the forms of 'identities and consciousness' bound up with the football/sport experience.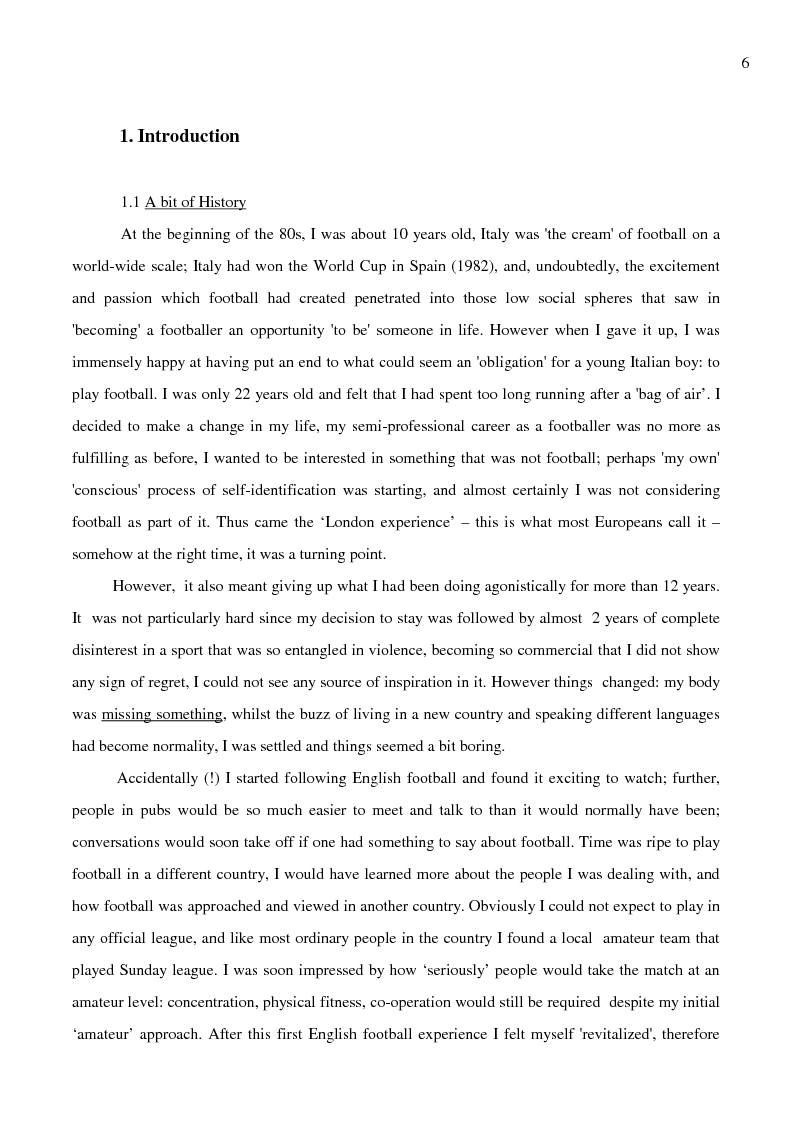 Mostra/Nascondi contenuto.
6 1. Introduction 1.1 A bit of History At the beginning of the 80s, I was about 10 years old, Italy was 'the cream' of football on a world-wide scale; Italy had won the World Cup in Spain (1982), and, undoubtedly, the excitement and passion which football had created penetrated into those low social spheres that saw in 'becoming' a footballer an opportunity 'to be' someone in life. However when I gave it up, I was immensely happy at having put an end to what could seem an 'obligation' for a young Italian boy: to play football. I was only 22 years old and felt that I had spent too long running after a 'bag of air'. I decided to make a change in my life, my semi-professional career as a footballer was no more as fulfilling as before, I wanted to be interested in something that was not football; perhaps 'my own' 'conscious' process of self-identification was starting, and almost certainly I was not considering football as part of it. Thus came the 'London experience' – this is what most Europeans call it – somehow at the right time, it was a turning point. However, it also meant giving up what I had been doing agonistically for more than 12 years. It was not particularly hard since my decision to stay was followed by almost 2 years of complete disinterest in a sport that was so entangled in violence, becoming so commercial that I did not show any sign of regret, I could not see any source of inspiration in it. However things changed: my body was missing something, whilst the buzz of living in a new country and speaking different languages had become normality, I was settled and things seemed a bit boring. Accidentally (!) I started following English football and found it exciting to watch; further, people in pubs would be so much easier to meet and talk to than it would normally have been; conversations would soon take off if one had something to say about football. Time was ripe to play football in a different country, I would have learned more about the people I was dealing with, and how football was approached and viewed in another country. Obviously I could not expect to play in any official league, and like most ordinary people in the country I found a local amateur team that played Sunday league. I was soon impressed by how 'seriously' people would take the match at an amateur level: concentration, physical fitness, co-operation would still be required despite my initial 'amateur' approach. After this first English football experience I felt myself 'revitalized', therefore
Tesi estera
Autore: Danilo Di Emidio Contatta »
Composta da 41 pagine.
Questa tesi ha raggiunto 362 click dal 20/03/2004.
Disponibile in PDF, la consultazione è esclusivamente in formato digitale.