Tourism in Sardinia: Contribution to Development or Exploitation of Resources?
The purpose of this study is to carry out an empirical research aimed at understanding the importance and role of international tourism on the island of Sardinia, Italy.

The main objective is to find out whether the industry creates any cause of dependency of the island to the industrialised countries from where the influx of tourism is generated. This is the concept of core-periphery well illustrated by many authoritative studies of capitalism and leisure of the past few centuries. The research question would be related to whether the industry brings benefits to the economy and society of the island or creates leakage which will be responsible for negative socio-economic implications, and thus prevent its growth. Statistical data, technical and scientific reports will be used to answer the research question and will be analysed through a sequence of chapters designed to converge all the information on a small case study at the end of the report. The research findings will then illustrate the extent to which a situation of dependency is in place. It is believed that local administrators and entrepreneurs are the people most interested in this research, therefore conclusion and recommendations will be addressed to them.

The research, in fact, concludes highlighting the strong involvement of foreigners and sometimes poor interest of Sardinians on tourism practices on the island. A stronger community approach is thus recommended together with a higher degree of acceptance of some existing multinational companies involvement, provided that these will manage tourism in a sustainable way aimed at bringing benefits to both hosts and tourists.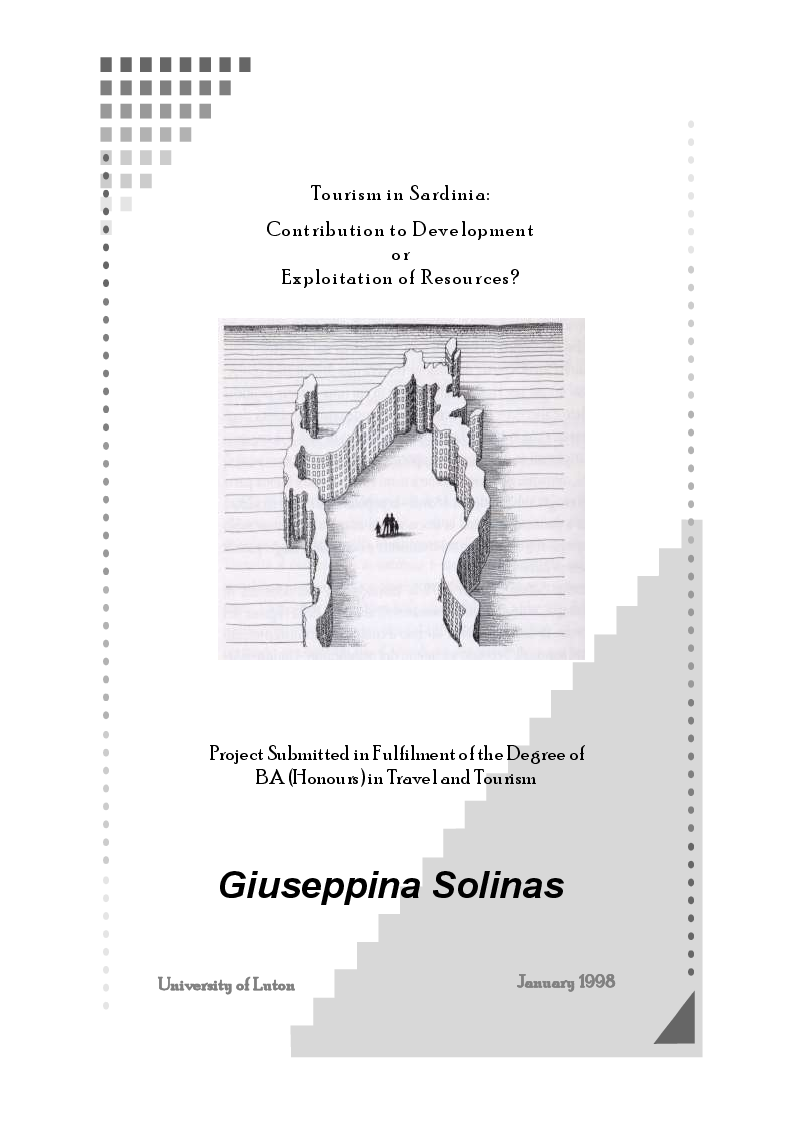 Mostra/Nascondi contenuto.
Giuseppina Solinas Tourism in Sardinia: Contribution to Development or Exploitation of Resources? Acknowledgements Special thanks go to my aunt and life tutor S.M. Noemi Soro for her incessant patience, support, encouragement and advice driven by, last but not least, unconditional love. Likewise. Thanks also go to the unique Richard Sharpley for giving me the inspiration and help conceiving the whole idea of this project, and to Tim Knowles for being a very approachable supervisor. Thank you to everyone who directly and indirectly contributed to the realisation of my beloved project.
Tesi di Laurea
Facoltà: Economia
Autore: Giuseppina Solinas Contatta »
Composta da 83 pagine.
Questa tesi ha raggiunto 2805 click dal 20/03/2004.
Consultata integralmente 7 volte.
Disponibile in PDF, la consultazione è esclusivamente in formato digitale.