Conrad and Imperialism in a Postcolonial Perspective
In my thesis I take into consideration Conrad's attitude to imperialism having in mind the major issues of post-colonial theory. The result is a confrontation between the Eurocentric views of colonial realities that were widespread during the late nineteenth and early twentieth centuries, that is Conrad's age, and post-colonial responses to such attitudes. In the first chapter I focus on post-colonialism, that is the mass of theories and issues developed by ex-colonies, which gave an original response to Western imperialist attitudes aimed at subverting prejudiced, denigrating views of the colonized as subaltern to the West. The second chapter discusses Conrad and his problematic attitude to imperialism, which begins to question European assumptions and values that are at the basis of the imperial enterprise, while remaining fundamentally trapped in Eurocentric ideologies. Finally, the third chapter deals with post-colonial responses to Conrad's treatment of imperialism, reporting the critiques of four post-colonial writers - E. W. Said, V. S. Naipaul, C. Achebe and W. Harris - who are representative of the different post-colonial approaches to Conrad.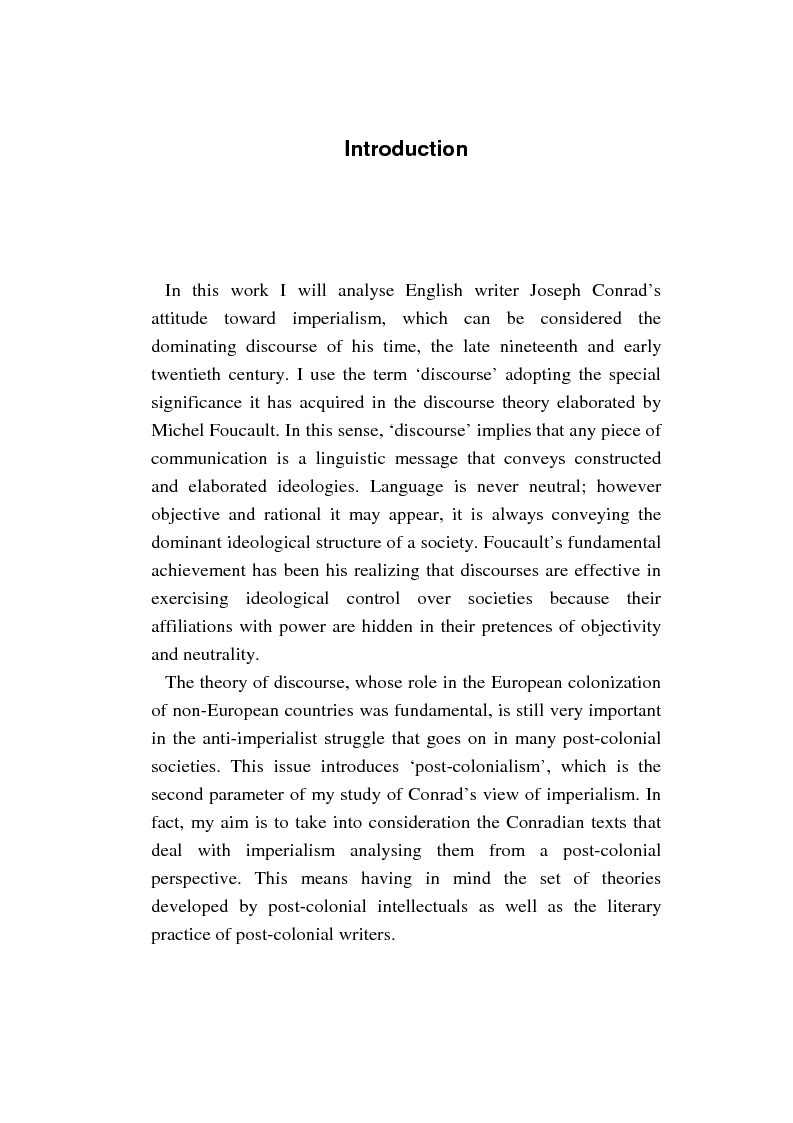 Mostra/Nascondi contenuto.
Introduction In this work I will analyse English writer Joseph Conrad's attitude toward imperialism, which can be considered the dominating discourse of his time, the late nineteenth and early twentieth century. I use the term 'discourse' adopting the special significance it has acquired in the discourse theory elaborated by Michel Foucault. In this sense, 'discourse' implies that any piece of communication is a linguistic message that conveys constructed and elaborated ideologies. Language is never neutral; however objective and rational it may appear, it is always conveying the dominant ideological structure of a society. Foucault's fundamental achievement has been his realizing that discourses are effective in exercising ideological control over societies because their affiliations with power are hidden in their pretences of objectivity and neutrality. The theory of discourse, whose role in the European colonization of non-European countries was fundamental, is still very important in the anti-imperialist struggle that goes on in many post-colonial societies. This issue introduces 'post-colonialism', which is the second parameter of my study of Conrad's view of imperialism. In fact, my aim is to take into consideration the Conradian texts that deal with imperialism analysing them from a post-colonial perspective. This means having in mind the set of theories developed by post-colonial intellectuals as well as the literary practice of post-colonial writers.
Tesi di Laurea
Facoltà: Lingue e Letterature Straniere
Autore: Nadia Pasqual Contatta »
Composta da 129 pagine.
Questa tesi ha raggiunto 3111 click dal 20/03/2004.
Consultata integralmente 10 volte.
Disponibile in PDF, la consultazione è esclusivamente in formato digitale.