Motivation at work and coaching. Perfomance in business companies and in sport-teams.
What are the motivational levers that lead to the best performance? What's Coaching? The reality of the sport is truly so different from that of the business companies? The word TEAM is similar in these enviroments? The team-work is necessary to achive the best results so like the auto-motivation..... You can find these answers reading deeply inside...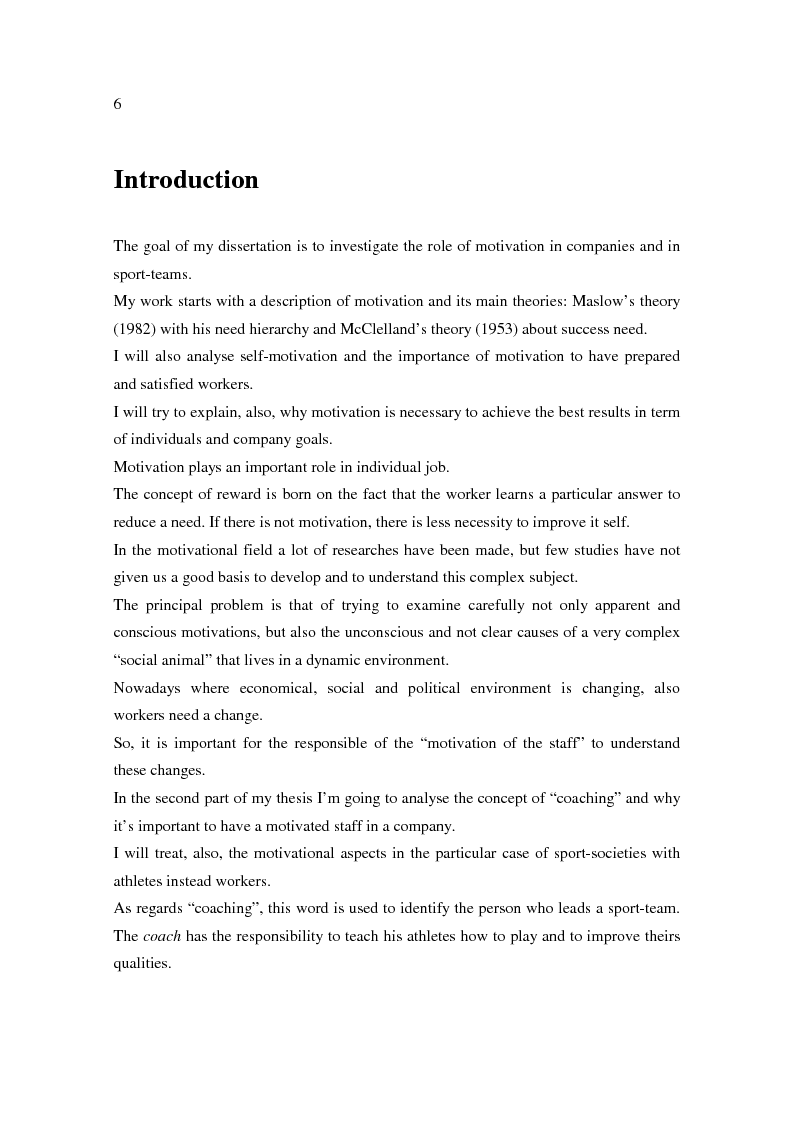 Mostra/Nascondi contenuto.
6 Introduction The goal of my dissertation is to investigate the role of motivation in companies and in sport-teams. My work starts with a description of motivation and its main theories: Maslow's theory (1982) with his need hierarchy and McClelland's theory (1953) about success need. I will also analyse self-motivation and the importance of motivation to have prepared and satisfied workers. I will try to explain, also, why motivation is necessary to achieve the best results in term of individuals and company goals. Motivation plays an important role in individual job. The concept of reward is born on the fact that the worker learns a particular answer to reduce a need. If there is not motivation, there is less necessity to improve it self. In the motivational field a lot of researches have been made, but few studies have not given us a good basis to develop and to understand this complex subject. The principal problem is that of trying to examine carefully not only apparent and conscious motivations, but also the unconscious and not clear causes of a very complex "social animal" that lives in a dynamic environment. Nowadays where economical, social and political environment is changing, also workers need a change. So, it is important for the responsible of the "motivation of the staff" to understand these changes. In the second part of my thesis I'm going to analyse the concept of "coaching" and why it's important to have a motivated staff in a company. I will treat, also, the motivational aspects in the particular case of sport-societies with athletes instead workers. As regards "coaching", this word is used to identify the person who leads a sport-team. The coach has the responsibility to teach his athletes how to play and to improve theirs qualities.
Tesi di Laurea
Facoltà: Economia
Autore: Emanuele Carlo Riccardi Contatta »
Composta da 93 pagine.
Questa tesi ha raggiunto 2572 click dal 20/03/2004.
Consultata integralmente 10 volte.
Disponibile in PDF, la consultazione è esclusivamente in formato digitale.