Environmental uncertainty: a case study of the European Tourism Industry
ABSTRACT

This study aims to examine and evaluate the significance of the contributors to the uncertainty currently faced by the European Tourism Industry. An analysis of the business environment has been made to identify if patterns of behaviour amongst consumers and organisations have changed and to identify which issues the Tourism Industry will face in both the short and long-term.

The focus of the study is on the application of business crisis theory and models to the Tourism Industry with material gathered both from secondary sources such as the business literature or the national press and from primary sources such as the Viaggiando S.p.A. (not real name) case study were the interviews were conducted.

In particular, the economic downturn occurring in 2001 and the consequences of the September 11th crisis have been considered and analysed. Some recommendations have been provided both to the tourism industry and to the Italian company.

Three questions guided the study:

 How organisations deal with uncertainties and changes in the environment, particularly when sudden crises or economic downturns occur?
 How can crisis theory and models be applied to the tourism industry?
 What can be learned from the September the 11th events?

By answering to both these questions and to the objectives of this dissertation the author lead the reader through a study built upon a time framework: before and after September 11th. This framework proved helpful to deeply analyse the events that have characterised the tourism business environment in 2001.


ACKNOWLEDGEMENTS


I would like to express sincere gratitude to Prof. Colin Gilligan who directed this dissertation and served as my adviser, and who was always available for guidance, suggestions and encouragement. I am also grateful to the academic and administrative staff in Sheffield Hallam University for their assistance during the whole degree program.

I wish also to thank all the staff of Viaggiando S.p.A. that allowed me to collect all the information for the case study.

I owe an immeasurable amount of gratitude to my family who has encouraged and supported me throughout all of my educational endeavours, and to Roberta Dovis who has been great instigators by encouraging and believing in me. A special thanks goes to Adam Prigg and Alessandro Silvestri for supporting me during difficult times.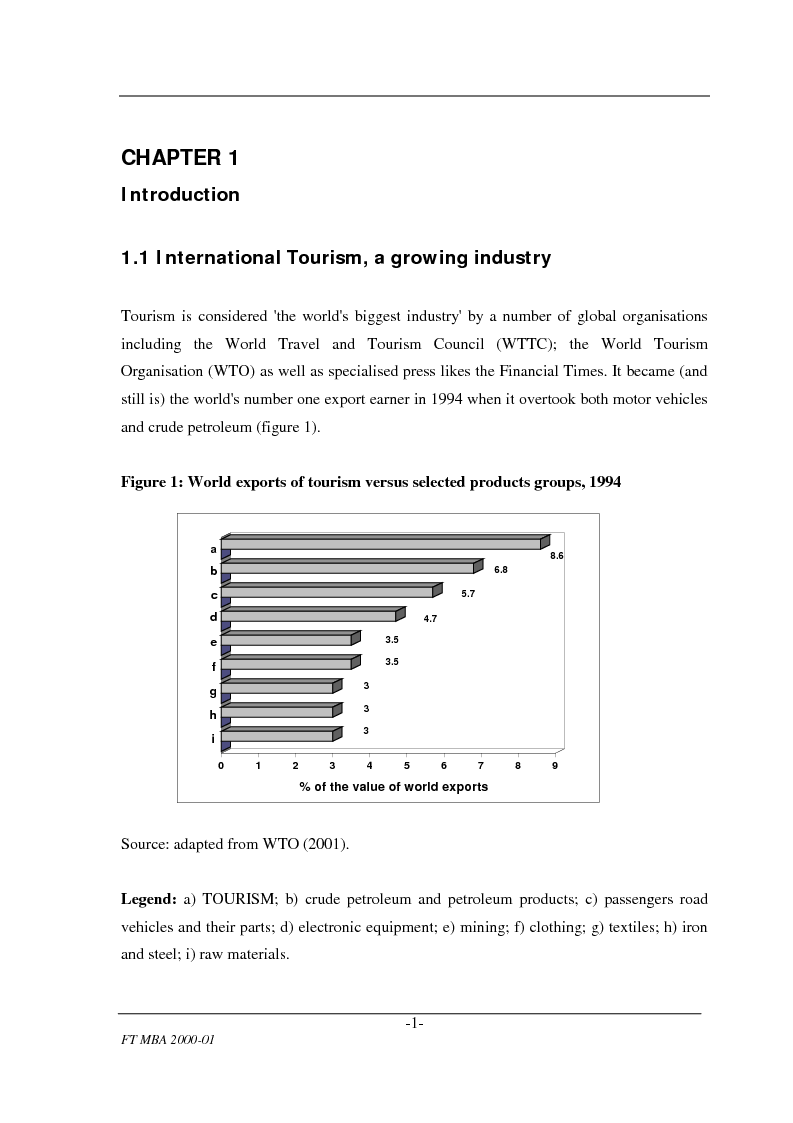 Mostra/Nascondi contenuto.
FT MBA 2000-01 -1- CHAPTER 1 Introduction 1.1 International Tourism, a growing industry Tourism is considered 'the world's biggest industry' by a number of global organisations including the World Travel and Tourism Council (WTTC); the World Tourism Organisation (WTO) as well as specialised press likes the Financial Times. It became (and still is) the world's number one export earner in 1994 when it overtook both motor vehicles and crude petroleum (figure 1). Figure 1: World exports of tourism versus selected products groups, 1994 Source: adapted from WTO (2001). Legend: a) TOURISM; b) crude petroleum and petroleum products; c) passengers road vehicles and their parts; d) electronic equipment; e) mining; f) clothing; g) textiles; h) iron and steel; i) raw materials. i 3 h 3 g 3 f 3.5 e 3.5 d 4.7 c 5.7 b 6.8 a 8.6 0123456789 % of the value of world exports
Tesi di Laurea
Facoltà: Economia
Autore: Paolo Demo Contatta »
Composta da 95 pagine.
Questa tesi ha raggiunto 972 click dal 20/03/2004.
Consultata integralmente una volta.
Disponibile in PDF, la consultazione è esclusivamente in formato digitale.