Ursula Hegi: Tearing the German Silence in American English
L'anteprima di questa tesi è scaricabile in PDF gratuitamente.
Per scaricare il file PDF è necessario essere iscritto a Tesionline.
L'iscrizione non comporta alcun costo. Mostra/Nascondi contenuto.
URSULA HEGI: TEARING THE GERMAN SILENCE IN AMERICAN ENGLISH 7 that are part of a culture's unstated assumptions and frequently unacknowledged elsewhere'. 8 Ursula Hegi is Professor of English in the MFA Program at Eastern Washington University and the author of ten critically acclaimed books, including six novels – Sacred Time (2003), The Vision of Emma Blau (2000), Salt Dancers (1995), Stones from the River (1994), Floating in My Mother's Palm (1990) and Intrusions (1981) – a book of non-fiction – Tearing the Silence: On Being German in America (1997) – two collections of short stories – Hotel of the Saints (2001) and Unearned Pleasures and Other Stories (1988) – and a children's book, Trudi & Pia (2003). Her novels, though in the domain of imaginative writing, illuminates the moral position of the German people in the Nazi era and explores the impact of the Shoah on post-war German-Americans. This started when Hegi began to think about her childhood and wonder why she had never heard anyone in Germany discuss about World War II. She was born in 1946, in a small town just outside of Düsseldorf, Germany, yet most Americans knew more about the Shoah than she did. At the age of eighteen she decided to move to America, when Germany was committing itself to silence and forgetfulness about what it was unthinkable to remember. Most of her characters are indeed, like herself, German-Americans born in the immediate aftermath of World War II, surrounded by people directly or indirectly implicated in wartime atrocities who steadfastly refuse to speak about the war. Through Hegi's narrative, the reader is introduced not only to the experience of Nazi Germany, but also to its psychological and moral challenges. Her stories reveal the mechanism by which Nazi ideas, rhetoric, and policies infiltrated and transformed daily patterns of behaviour and action. In addition, they analyse in which ways the legacy of shame and silence about the Nazism and Shoah has shaped – even haunted – the identities and inner lives of entire generations of Germans emigrated to America. 8 Schlant, E., The Language of Silence: West German Literature and the Holocaust. New York: Routledge, 1999: 3.
Anteprima della Tesi di Elisa Trentini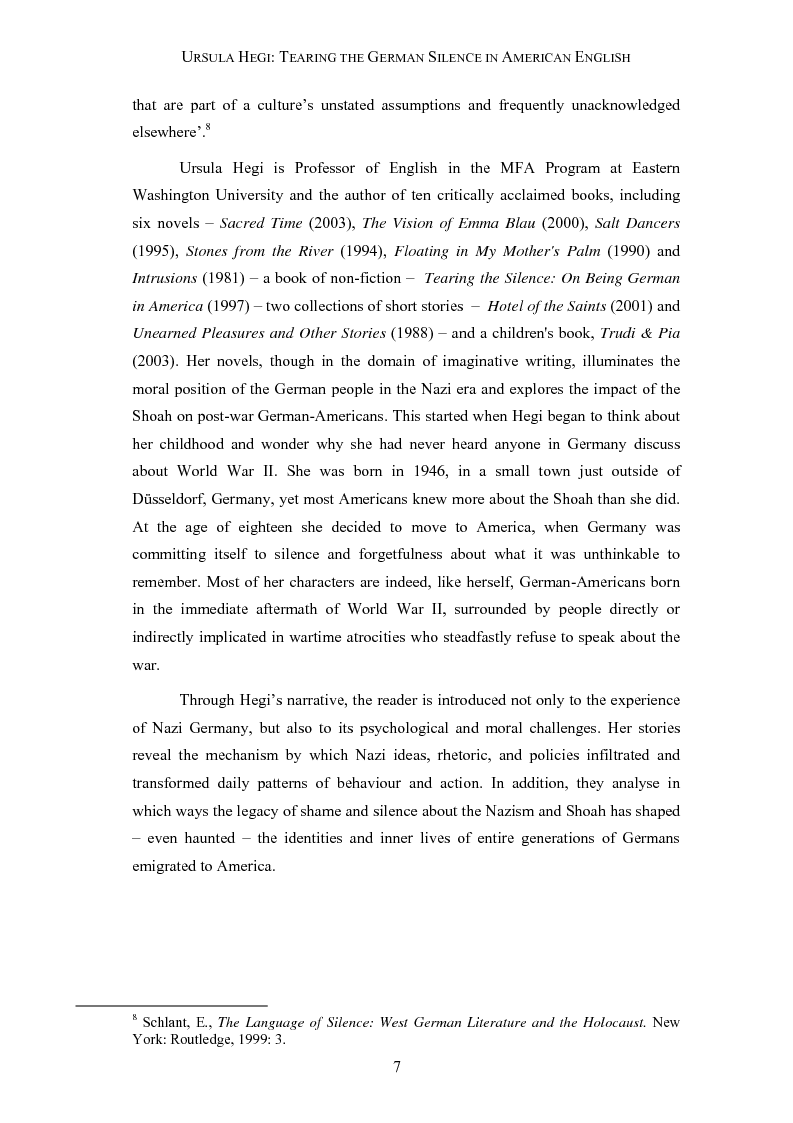 Tesi di Laurea
Facoltà: Lettere e Filosofia
Autore: Elisa Trentini Contatta »
Composta da 48 pagine.
Questa tesi ha raggiunto 1134 click dal 25/01/2005.
Disponibile in PDF, la consultazione è esclusivamente in formato digitale.