Dynamics of Shuttle Devices
L'anteprima di questa tesi è scaricabile in PDF gratuitamente.
Per scaricare il file PDF è necessario essere iscritto a Tesionline.
L'iscrizione non comporta alcun costo. Mostra/Nascondi contenuto.
Chapter 3 Generalized Master Equation The state of a physical system is determined by the measurement of a certain number of observables. Repeated measurements of a given observable always return the same expectation value when the system is in an eigenstate for that particular observable. The uncertainty principle ensures us that, for quantum systems, there are incompatible observables that can not be measured at the same time with indefinite precision. Given a generic quantum system S and a complete set of compatible ob- servables Ai [25], an eigenstate of the system for all observables is defined by the set of the corresponding expectation values, i.e. the quantum numbers ai. Each of the possible sets of expectation values is associated with an eigen- vector in the Hilbert space of the system. More precisely the Hilbert space of the system is spanned by the eigenvectors of a complete set of compatible observables. A pure state of the system is represented by a radius (class of equivalence of normalized vectors with arbitrary phase) of this Hilbert space. We call |ψ〉 a representative vector of a radius. Observables are associated to Hermitian operators on the Hilbert space of the system. The dynamics of the quantum system is governed by the Hamiltonian operator, i.e. the operator associated to the observable energy. Given an initial vector, the Schro¨dinger equation prescribes the evolution of this vector at all times: i~ d dt |ψ(t)〉 = H|ψ(t)〉 (3.1) with the initial condition |ψ(0)〉 = |ψ0〉. An equivalent formulation of the dynamics can be given in terms of projector operators |ψ〉〈ψ|. A projector is independent from the arbitrary phase of the vector |ψ〉, it is then equivalent to a radius of the Hilbert space and represents a pure state of the system. Using the Leibnitz theorem for derivatives and the Schro¨dinger equation we 25
Anteprima della Tesi di Andrea Donarini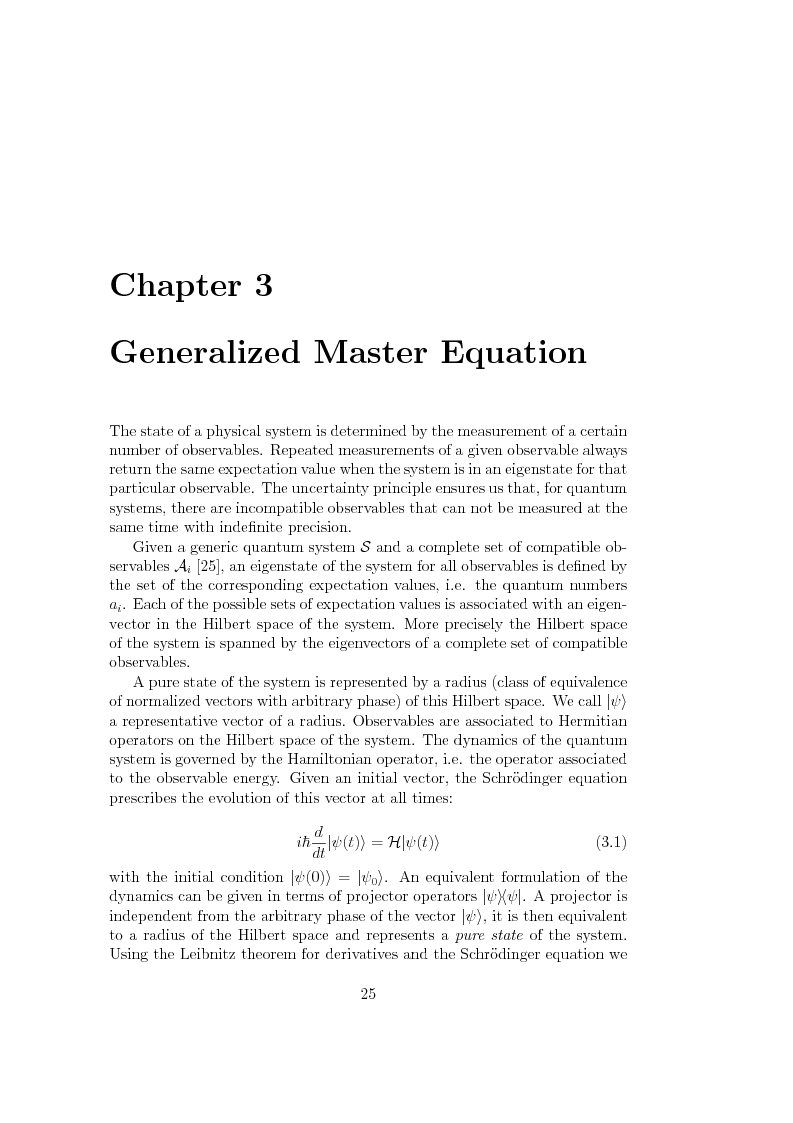 Tesi di Dottorato
Dipartimento: Department if Micro and Nanotechnologies
Autore: Andrea Donarini Contatta »
Composta da 158 pagine.
Questa tesi ha raggiunto 319 click dal 01/02/2005.
Disponibile in PDF, la consultazione è esclusivamente in formato digitale.