Dye Sensitized Solar cells: synthesis and applications of a novel sensitizer and pentacene as hole conductor material
L'anteprima di questa tesi è scaricabile in PDF gratuitamente.
Per scaricare il file PDF è necessario essere iscritto a Tesionline.
L'iscrizione non comporta alcun costo. Mostra/Nascondi contenuto.
24 For semiconductors with both electrons and holes as carriers, the conductivity is determined by: κ=q e (µ n n c +µ p p V ) (12) in which q e is the elementary charge. Apart from motion by drift, carriers in semiconductor can also flow down a concentration gradient, i.e. by diffusion. Drift and diffusion processes are related. The diffusion coefficient of electrons, D n and holes D p , can be calculated from the electron and hole mobilities, respectively, according to the Einstein equation: n e n q kT D µ= (13) p e p q kT D µ= (14) If for instance the electrons dominate the carrier transport, the variation of conductivity with temperature can be interpreted using the Arrhenius equation: )/( RTE a Be κ κ − = (15) where R is the gas constant, the parameter B is called a pre-exponential factor (related to the frequency of electron movement) and E aκ is the activation energy (the minimum kinetic energy) for electron conduction. The fraction of electron movement with a kinetic energy in excess of energy E aκ hence leading to conduction, is given by the Boltzmann distribution )/( RTE a e κ − . The variation of electron mobility with temperature can be interpreted in a similar treatment of the Arrhenius equation. The overall activation energy for electron conduction may be a sum of terms: agaa EEE C += µκ (16) where C a E µ and ag E are the energies associated with electron mobility in the conduction band and free electron generation, respectively. The mobility is usually not or only weakly activated in a semiconductor. [10]
Anteprima della Tesi di Vito Sgobba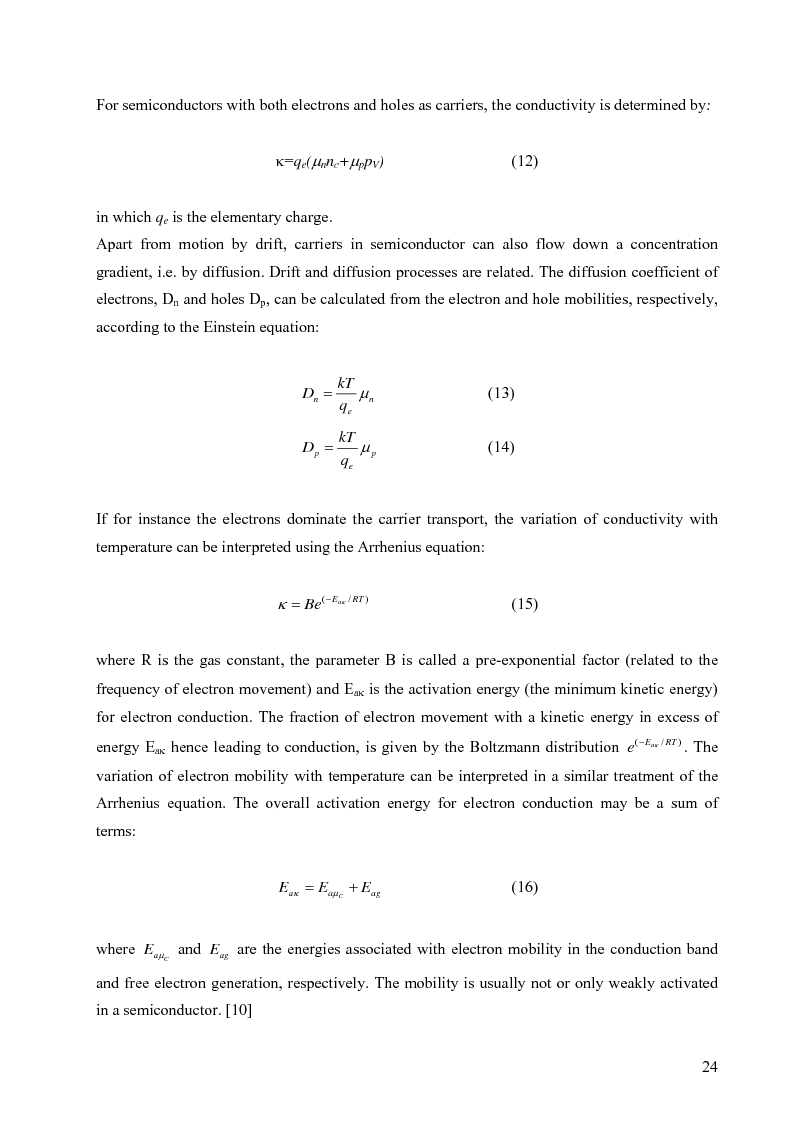 Tesi di Dottorato
Dipartimento: Ingegneria dell'Innovazione
Autore: Vito Sgobba Contatta »
Composta da 156 pagine.
Questa tesi ha raggiunto 5584 click dal 02/03/2005.
Consultata integralmente 10 volte.
Disponibile in PDF, la consultazione è esclusivamente in formato digitale.