Dye Sensitized Solar cells: synthesis and applications of a novel sensitizer and pentacene as hole conductor material
L'anteprima di questa tesi è scaricabile in PDF gratuitamente.
Per scaricare il file PDF è necessario essere iscritto a Tesionline.
L'iscrizione non comporta alcun costo. Mostra/Nascondi contenuto.
20 The valence band is occupied by valence electrons and the conduction band is associated with excited state energy levels. The highest filled energy level and the lowest empty energy level are called the valence band edge (E v ) and the conduction band edge (E c ), respectively. In the ground state at zero Kelvin, the ½N orbitals in the valence band are completely filled with N electrons. Electrons in a completely filled band cannot carry current. At temperatures above zero Kelvin, electrons can be excited by the thermal motion of the atoms, resulting in electrons populating orbitals in the conduction band. The electron are now mobile, and the solid is an electric conductor. There will now be a vacant position in the valence band (a hole) and this vacancy makes motion in the valence band possible. Hence, the current flow in a semiconductor can be regarded as being due to the sum of the motion of electrons in the conduction band and holes in the valence band. Thus, electronic conductivity in semiconductors requires electrons to be excited to the conduction band or holes present in the valence band. This may be done thermally or optically. If the gap is large, however, very few electrons will be promoted thermally at ordinary temperatures and the conductivity will remain close to zero, giving an insulator. Materials with band gap energies between 0 to 3-4 eV, between a conductor and an insulator, are called semiconductors. The number of electrons per unit volume occupying levels in the conduction band is given by integration: ∫ = max )()( c c E E C dEEfENn (5) N(E) is the number of allowed states per unit volume at energy E. At an energy near the conduction band edge, N(E) is given by: 2/1 3 2/3 )( 28 )( c e EE h m EN −= ∗ π (6) with an effective mass of one electron, ∗ e m and Planck constant, h. An effective mass need to be introduced since the mass of an electron in a crystal lattice differs from that of an electron in free space.
Anteprima della Tesi di Vito Sgobba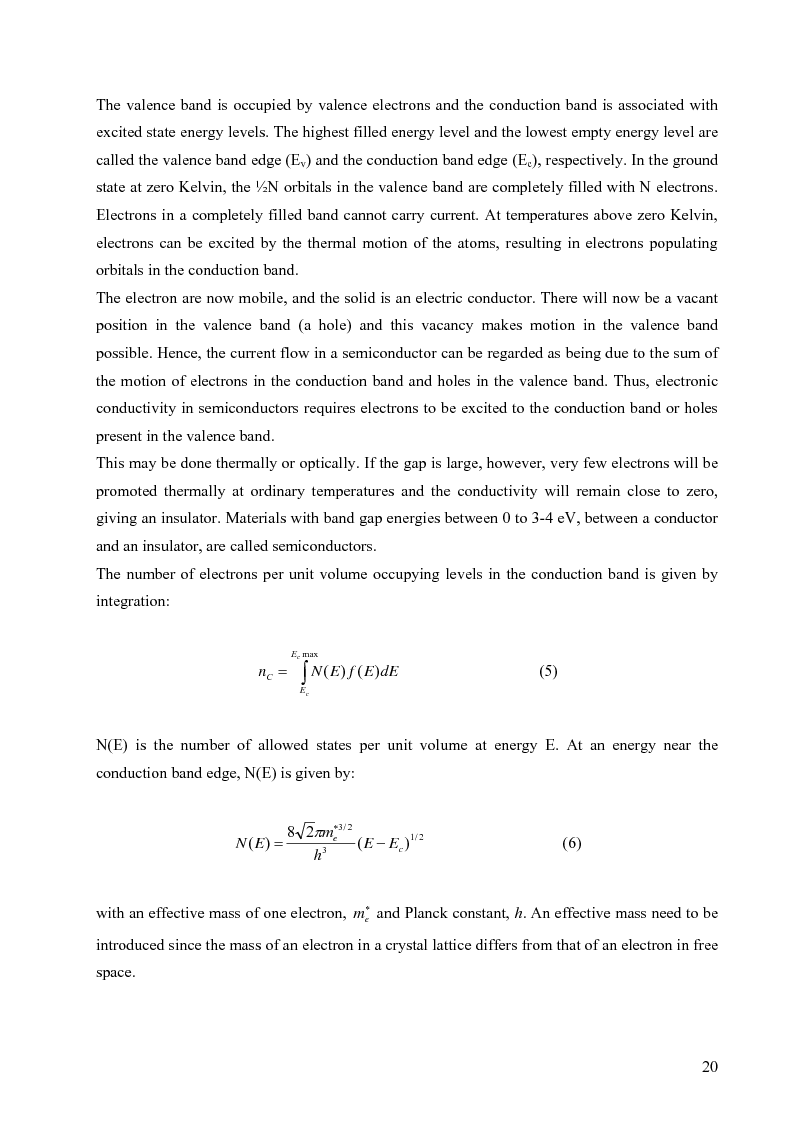 Tesi di Dottorato
Dipartimento: Ingegneria dell'Innovazione
Autore: Vito Sgobba Contatta »
Composta da 156 pagine.
Questa tesi ha raggiunto 5584 click dal 02/03/2005.
Consultata integralmente 10 volte.
Disponibile in PDF, la consultazione è esclusivamente in formato digitale.