Rimozione di nutrienti e microinquinanti attraverso un processo a fanghi attivi assistito da membrana e carboni attivi
L'anteprima di questa tesi è scaricabile in PDF gratuitamente.
Per scaricare il file PDF è necessario essere iscritto a Tesionline.
L'iscrizione non comporta alcun costo. Mostra/Nascondi contenuto.
Chapter 1 – Membranes and membrane bioreactors 19 fluid on the downstream side of the membrane moves away from the membrane surface in a direction perpendicular to the surface. Dead-end flow (Fig.1d) is the flow pattern in a membrane module in which the only outlet for the upstream fluid is through the membrane. The geometry of the membrane, i.e. the way it is shaped, is crucial in determining the overall process performance. Other practical considerations concern the way in which the individual membrane elements, that is the membranes themselves, are housed to produce modules. The optimum geometry, or configuration, for an individual membrane element is one that has high membrane area to module bulk volume ratio, high degree of turbulence for mass transfer promotion on the feed side, low energy expenditure per unit product water volume, low cost per unit membrane area, design that facilitates cleaning and that permits modularisation. Commercial membrane separation systems are cross-flow or tangential flow devices in which the inlet fluid flows parallel to the membrane filter surface with a fraction of the flow passing through the membrane on a pass. The common arrangements for membranes include pleated filter cartridge, plate and frame, tubular, spiral wound and hollow fine fibre (Tab.3). Table 3. Membrane configurations. Configuration Pleated cartridge Plate-and-frame Spiral-wound Tubular Hollow fibre Area/volume ratio (m 2 /m 3 ) 800 – 1000 400 – 600 800 – 1000 20 – 30 5000 – 40000 Cost Low High Low Very high Very low Turbulence promotion Very poor Fair Poor Very good Very poor Advantages Robust construction, compact design Can be dismantled for cleaning Low energy costs, robust and compact Easily mechanically cleaned, tolerates high TSS waters Can be backflushed, compact design, tolerates high colloid levels Disadvantages Easily fouled, cannot be cleaned Complicated design, cannot be backflushed Not easily cleaned, cannot backflush Replacement cost Sensitive to pressure shocks Applications Dead end MF ED, UF, RO RO, UF Cross-flow filtration, high TSS waters MF, UF, RO Pleated filter cartridge is the lowest cost flat plate geometry, used exclusively in microfiltration and generally designed as a disposable unit. Plate and frame membranes were among the earliest configurations in the market. Plate and frame devices use flat membrane sheets with permeate collection between the sheets. The sheets are sealed around the edges but with a provision for permeate removal (usually by a tube). Several of these plates are stacked on top of each other and clamped together o form a module or cartridge. Many plate and frame systems are based on dead-end flow and are more subject to plugging. The most commercially significant application of the plate and frame design is in electrodialysis modules (or stacks), although some microfiltration units and one reverse osmosis module design are also based on this configuration.
Anteprima della Tesi di Laura Innocenti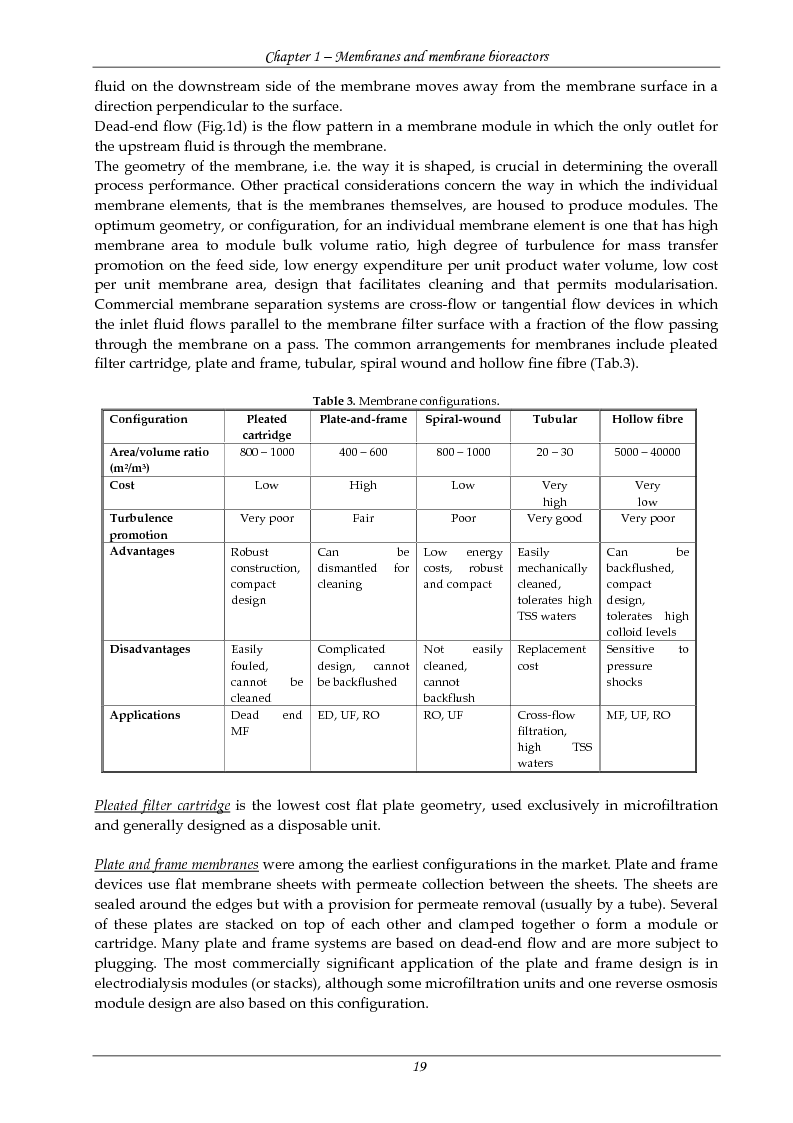 Tesi di Dottorato
Dipartimento: Dipartimento di Scienze Ambientali
Autore: Laura Innocenti Contatta »
Composta da 183 pagine.
Questa tesi ha raggiunto 4319 click dal 01/04/2005.
Consultata integralmente 4 volte.
Disponibile in PDF, la consultazione è esclusivamente in formato digitale.