Irrigated agriculture and rural communities in Uzbekistan
L'anteprima di questa tesi è scaricabile in PDF gratuitamente.
Per scaricare il file PDF è necessario essere iscritto a Tesionline.
L'iscrizione non comporta alcun costo. Mostra/Nascondi contenuto.
Irrigated Agriculture and Rural Communities in Uzbekistan Manuela Moy Master Educazione alla Pace Page 2 INTRODUCTION In the 60s, Soviet planners assigned Central Asia Republics the role of supplier of raw materials, particularly cotton in Uzbekistan, and given the region's arid climate, irrigation was imperative. In the 5 Central Asian countries of the Aral Sea Basin (Kazakhstan, Kyrgyz Republic, Tajikistan, Turkmenistan and Uzbekistan) agriculture – which contributes from 20% to 40% to national GDP) and consequently entire communities are almost totally dependent on irrigation, since, in the rural areas, irrigated agriculture and the processing of agricultural products is by far the main source of employment and income for the population. Today, the Aral Sea is drying up, its level having dropped from 53m above sea level to 36m, its surface area shrinking by a half and its volume by three-quarters. Actually the sea survives in three sections: the Small or Northern Sea (in Kazakhstan), the Central and the Western Sea (in Uzbekistan). The effects of extensive irrigation in the Aral Sea basin extend far beyond the fate of the Sea itself, as the environmental and ecological disaster have negatively affected human health and economic development in the region. Thirty-five million people have thus lost access to the lake's water, fish, transport functions. Since the independence of the Republics in 1991, much of the irrigation infrastructures of Central Asia are approaching collapse as result of lack or insufficiency of adequate maintenance. Rural population is the first victim of infrastructure degradation: water supply has become unreliable in many areas and, consequently, farm incomes have declined precipitously across the region. Where policy
Anteprima della Tesi di Manuela Moy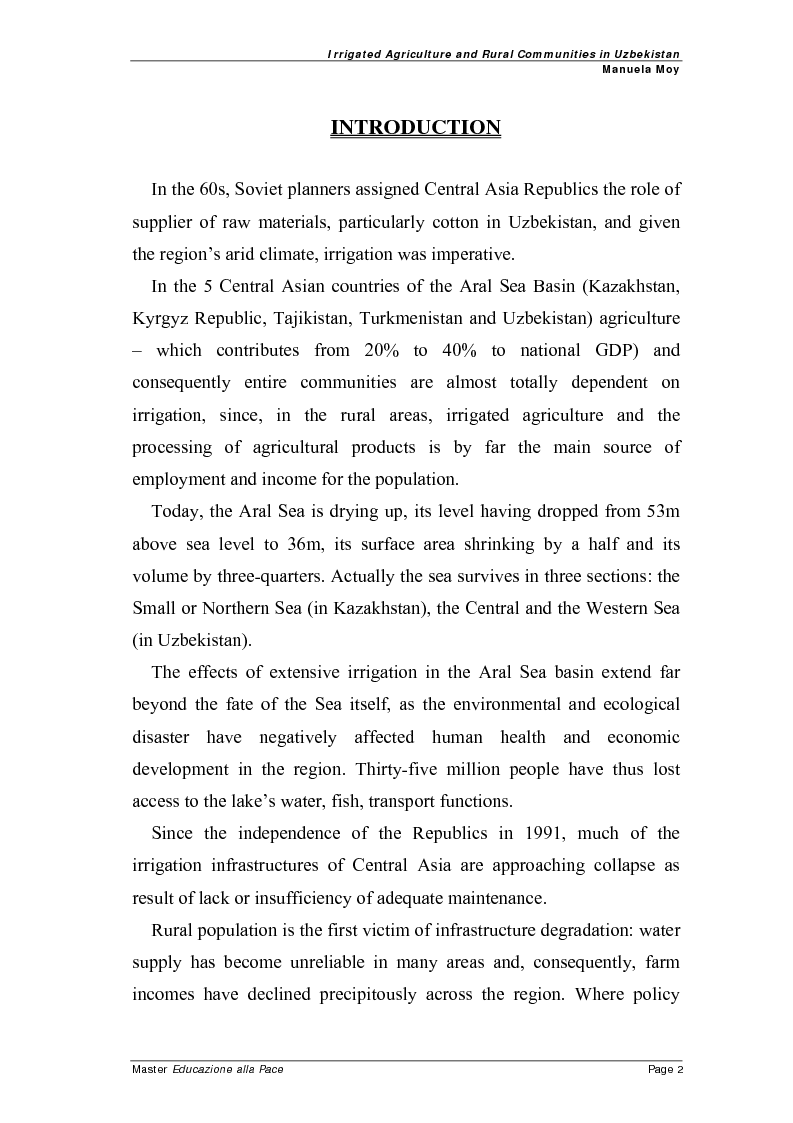 Tesi di Master
Autore: Manuela Moy Contatta »
Composta da 58 pagine.
Questa tesi ha raggiunto 596 click dal 08/04/2005.
Disponibile in PDF, la consultazione è esclusivamente in formato digitale.