Effects of noise in continuous variables quantum communication and measurement
L'anteprima di questa tesi è scaricabile in PDF gratuitamente.
Per scaricare il file PDF è necessario essere iscritto a Tesionline.
L'iscrizione non comporta alcun costo. Mostra/Nascondi contenuto.
8 Chapter 1. Quantum optics for quantum information and communication where |H〉 and |V 〉 stand for horizontal and vertical polarization, respectively. A simple von Neumann-type projective measurement cannot conclusively distinguish between these two states. On the other hand, this task can be achieved using the following POVM Π 1 ≡ √ 2 1+ √ 2 |H〉〈H| , (1.26a) Π 2 ≡ √ 2 1+ √ 2 I−|H〉〈V |−|V 〉〈H| 2 , (1.26b) Π 3 ≡ I−Π 1 −Π 2 . (1.26c) In fact, a measurement outcome Π 1 or Π 2 says that the state is |ψ 2 〉 or |ψ 1 〉, respectively; a measurement outcome Π 3 does not determine the state. An implementation of this POVM was proposed in reference [13]. This simple example explicitly shows the advantage of a POVM: it may allow the extraction of more information with respect to the usual von Neumann-type projective measurement. 1.3 Detection of radiation 1.3.1 Photodetection Light is revealed by exploiting its interaction with atoms/molecules or electrons in a solid, and, essentially, each photon ionizes a single atom or promotes an electron to a conduction band, and the resulting charge is then amplified to produce a measurable pulse. In practice, however, available photodetectors are not ideally counting all photons, and their performances is limited by a non-unit quantum efficiency ζ, namely only a fraction ζ of the incoming photons lead to an electric signal, and ultimately to a count: some photons are either reflected from the surface of the detector, or are absorbed without being transformed into electric pulses. Let us consider a light beam entering a photodetector of quantum efficiency ζ, i.e. a detector that transforms just a fraction ζ of the incoming light pulse into electric signal. If the detector is small with respect to the coherence length of radiation and its window is open for a time interval T , then the Poissonian process of counting gives a probability p(m;T ) of revealing m photons that writes [14] p(m;T)=Tr [ ρ: [ζI(T )T ] m m! exp[−ζI(T )T ]: ] , (1.27) where ρ is the quantum state of light, ::denotes the normal ordering of field operators, and I(T ) is the beam intensity I(T)= 2 0 c T ∫ T 0 E (−) (r,t) ·E (+) (r,t)dt , (1.28) given in terms of the positive (negative) frequency part of the electric field operator E (+) (r,t) (E (−) (r,t)). The quantity p(t)=ζTr [ρI(T )] equals the probability of a single count during the time interval (t, t+ dt). Let us now focus our attention to the case of the radiation field excited in
Anteprima della Tesi di Andrea Renato Rossi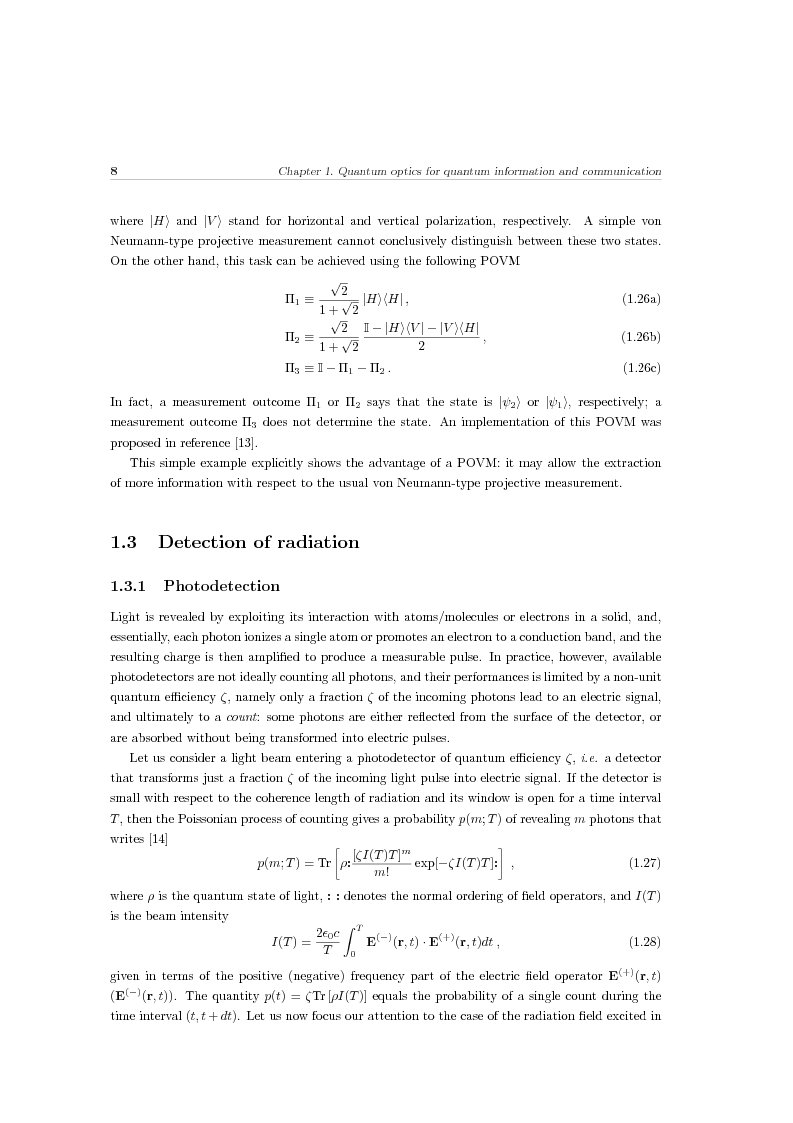 Tesi di Dottorato
Dipartimento: Fisica
Autore: Andrea Renato Rossi Contatta »
Composta da 108 pagine.
Questa tesi ha raggiunto 360 click dal 21/04/2005.
Disponibile in PDF, la consultazione è esclusivamente in formato digitale.