Stochastic Programming and Scenario Generation: Decision Modelling Simulation and Information systems Perspective
L'anteprima di questa tesi è scaricabile in PDF gratuitamente.
Per scaricare il file PDF è necessario essere iscritto a Tesionline.
L'iscrizione non comporta alcun costo. Mostra/Nascondi contenuto.
18 1.4. SP Software Tools The Algebraic Modelling Languages (AML) have played an important role in the acceptance of mathematical programming techniques as an aid to decision making. AMLs are declarative languages which enable practitioners to rapidly build structured and scalable optimisation models. Modern systems based on algebraic modelling languages support the formulation and implementation of Linear Programming (LP), Mixed Integer Programming (MIP), Quadratic Programming (QP), and to some extent Non-Linear Programming (NLP) models. These systems are readily connected to linear or non-linear optimisers for the solution of the models under investigation, and are able to interact with corporate data warehouses and data marts stored in relational, object oriented or in other emerging standards. Until recently, however, the investigation of stochastic programming models could not take advantage of comparable tools. In fact, the practical exploitation of SP presents various difficulties, which affect the whole process of modelling, instantiation, solution and analysis of the results of SP problems. Recently there has been considerable progress in the development and application of SP: ξ The links between the structure of stochastic programming models and the models of randomness which provide the quantification of the uncertainty and their joint adoption for a given problem are better understood. ξ Integrated modelling environments have been developed which combine scenario generators, modelling systems based on extended algebraic modelling languages, solution algorithms and analysis tools in a single software environment.
Anteprima della Tesi di Nico Di Domenica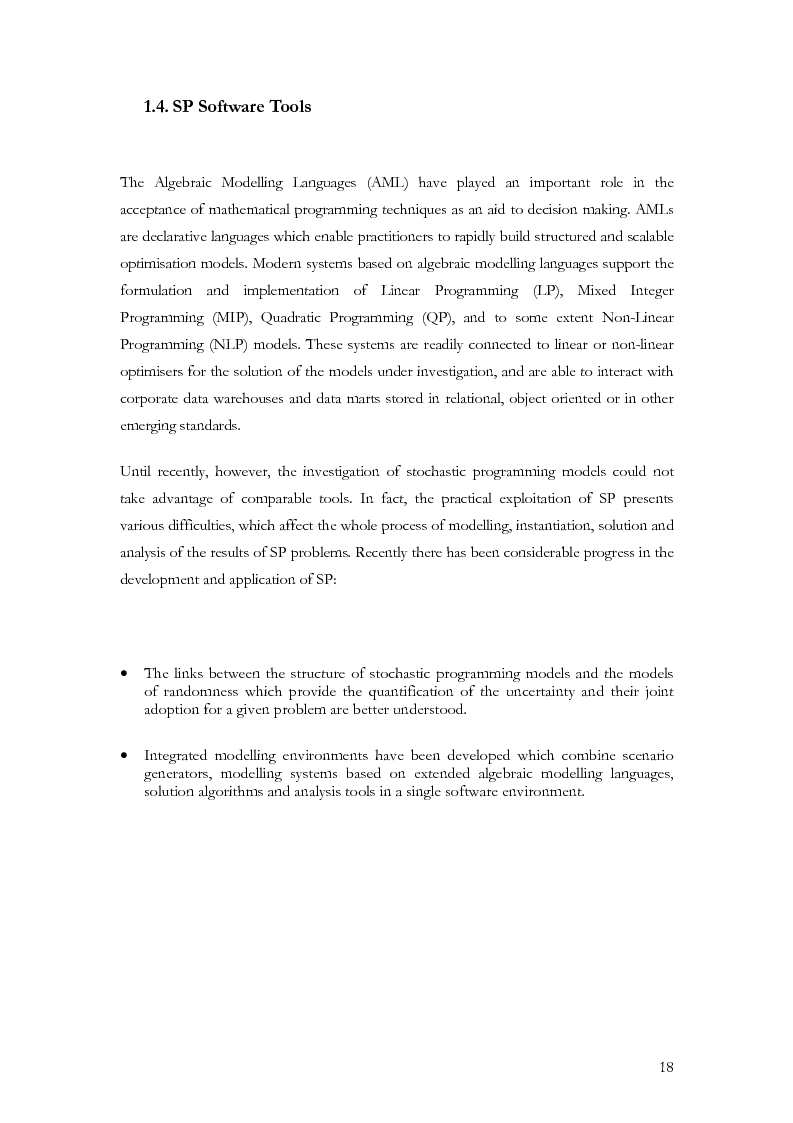 Tesi di Dottorato
Dipartimento: Mathematics
Autore: Nico Di Domenica Contatta »
Composta da 140 pagine.
Questa tesi ha raggiunto 873 click dal 28/06/2005.
Consultata integralmente 4 volte.
Disponibile in PDF, la consultazione è esclusivamente in formato digitale.