Design and Analysis of chassis and suspension of a Land Speed Record vehicle
L'anteprima di questa tesi è scaricabile in PDF gratuitamente.
Per scaricare il file PDF è necessario essere iscritto a Tesionline.
L'iscrizione non comporta alcun costo. Mostra/Nascondi contenuto.
Chapter 2. Background and overview 8 Campbell drove the Napier-Campbell Bluebird to 174.883 mph (281.447 Km/h) on the beach at Pendine Sands. The Bluebird was the first car built strictly for breaking the land speed record; making it unique. Breaking the 200 mph barrier was the accomplishment of Major Henry Seagrave. He drove the Golden Arrow (Figure 2.5) to a new record speed of 231.446 mph (372.340 Km/h), again at Daytona Beach, Florida. What made this car unique is that it is on record as the least used car; having been driven a total of only 18.74 miles. Seagraves was later knighted by Queen Elizabeth for his achievements. Sir Henry also attempted to capture the water speed record in his Miss England II when his boat hit a log in the water and capsized, killing Seagrave and mechanic, Victor Halliwell. Figure 2.5: Seagrave's Sunbeam Car. The competition between Campbell and Seagrave brought down the 300 mph barrier when Sir Malcolm Campbell, also knighted for his achievements by the King of England, averaged a speed of 301.129 mph (484.818 km/h) at the Bonneville Salt Flats, Utah on Sept. 3, 1935 with a much more powerful V-12 Rolls-Royce engine in the Campbell Rolls-Royce Bluebird. John R. Cobb of England was driving the Railton Mobil Special in his attempt to break the 400 mph barrier, when on Sept. 16, 1947 he managed to average only 394.196 mph (634.196 kph) at the Bonneville Salt Flats, Utah. Cobb too, attempted to claim the water speed record in his Crusader on Loch Ness, Scotland, but lost his life on Sept. 29, 1952 when it flipped and exploded. The 400 mph barrier was finally broken by Mickey Thompson of the U.S. on Sept. 9, 1960. Driving the Challenger 1 powered by 4 Pontiac V-8 pushrod engines producing 700 hp each, he reached an average speed of 406.60 mph (654.359 Km/h) to return the record to the U.S. after belonging to Englishmen for 32 years. Donald Campbell, son of Sir Malcolm Campbell, followed in his father's footsteps and claimed the land speed record on July 17, 1964 at Lake Eyre, Australia. This record was the only one set outside the U.S. during the recent period of records. His Bluebird-Proteus CN7 reached an average speed of 403.135 mph (648.783 Km/h) using a gas turbine engine. He lost his life attempting to break the 300 mph barrier on Coniston Water in his jetboat Bluebird.
Anteprima della Tesi di Fabio Renzi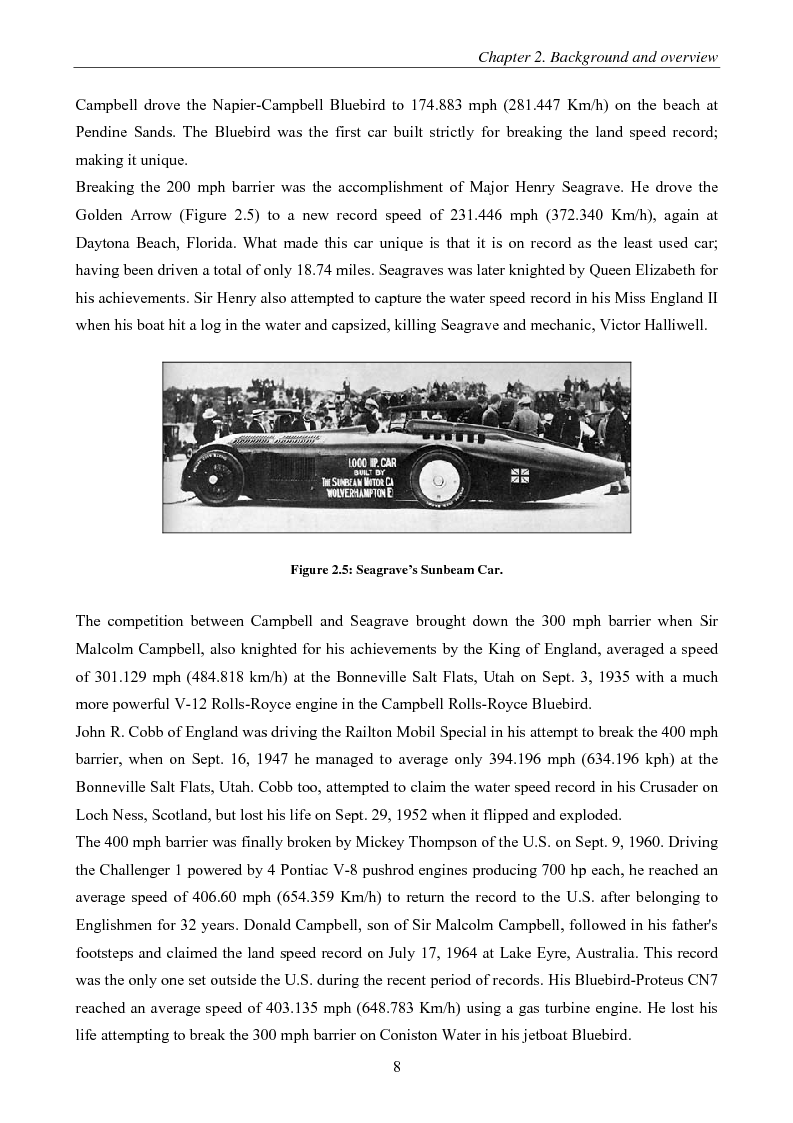 Tesi di Laurea
Facoltà: Ingegneria
Autore: Fabio Renzi Contatta »
Composta da 158 pagine.
Questa tesi ha raggiunto 686 click dal 07/04/2006.
Consultata integralmente 2 volte.
Disponibile in PDF, la consultazione è esclusivamente in formato digitale.