Formulation of haloperidol injections during detarium oil
L'anteprima di questa tesi è scaricabile in PDF gratuitamente.
Per scaricare il file PDF è necessario essere iscritto a Tesionline.
L'iscrizione non comporta alcun costo. Mostra/Nascondi contenuto.
11 1.1.4 Techniques of oil extraction The following procedures are used in oil extraction namely: (1) Rendering (2) Pressing (3) Solvent extraction 1) Rendering: This represents the most primitive method of extracting oil from oleagineous materials. The crushed seeds are packed in heaps and then exposed to the sun. The oil that exudes is then collected. Modern methods require boiling the crushed seeds in water and then skimming out the oil on the surface of the water (6). This method only applies to seeds with large fatty composition. 2) Pressing: A hydraulic press or oil expeller is used in this method while the hydraulic press uses the cooked meal the oil expeller used the uncooked meal. Pressing is an ideal oil extraction technique in conditions where oil cannot be extracted by rendering pre-heating the meal coagulates the protein and coalesces the very small oil droplets with a low viscosity, which enhances oil flow from the meal to the press (impurities are more in the heated meals than in the cold pressed oils). However, extraction efficiency is higher with heated materials (meals). 3) Solvent Extraction: Complete extraction is achieved using this method. Cakes obtained from pressing techniques still contain 5-6% of oil. Solvents that dissolve solutes to form solution include: water, hexane,
Anteprima della Tesi di Kenneth Okanwu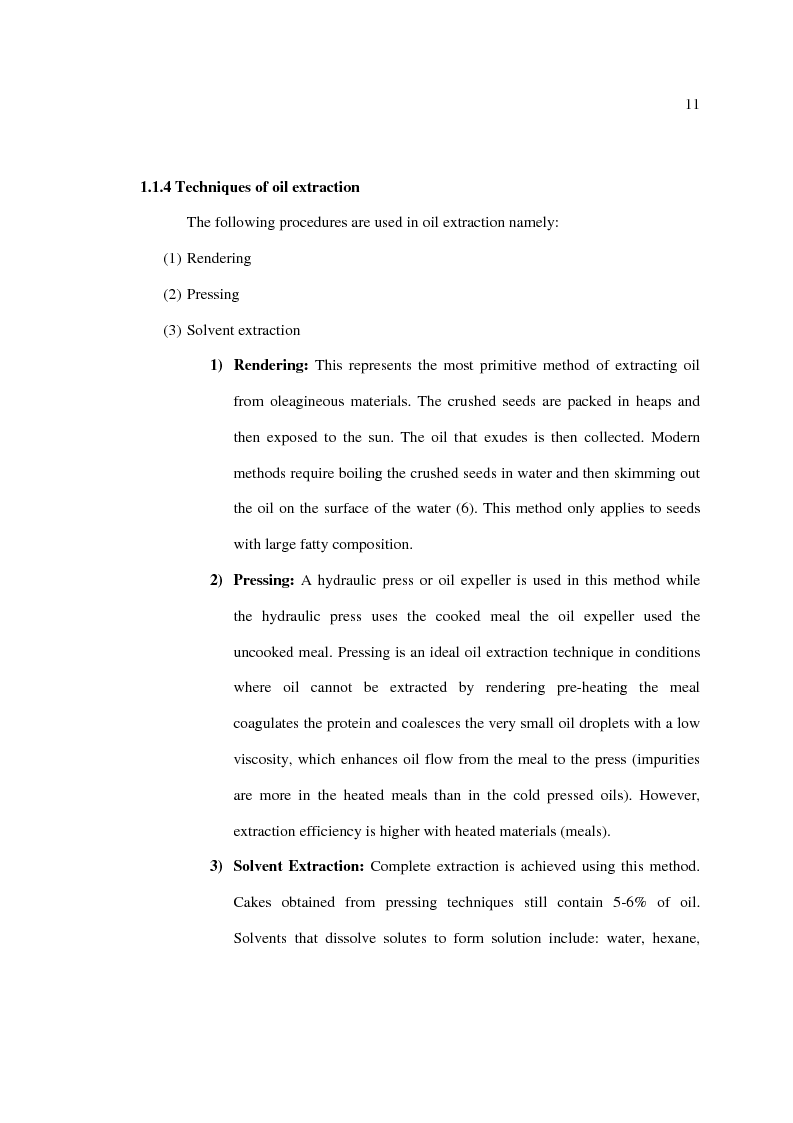 International thesis/dissertation
Autore: Kenneth Okanwu Contatta »
Composta da 59 pagine.
Questa tesi ha raggiunto 198 click dal 20/04/2006.
Disponibile in PDF, la consultazione è esclusivamente in formato digitale.