Madison, Wilson, and East Central European Federalism
L'anteprima di questa tesi è scaricabile in PDF gratuitamente.
Per scaricare il file PDF è necessario essere iscritto a Tesionline.
L'iscrizione non comporta alcun costo. Mostra/Nascondi contenuto.
- 7 - only after the Second World War when the Soviets had occupied the region and imposed their own brand of harsh unity that the most innovative solutions to the problems of east central European disharmony were floated only to be lost again during the long Cold War. Foreign occupation beginning in 1939 with the onset of the Second World War and continuing through the Soviet era prevented any implementation of federalism in east central Europe. The Russian withdrawal from the region starting in 1989 led to not just democracy and the settlement of old grievances in peaceful ways as in Czechoslovakia's Velvet Divorce and its partition into the Czech Republic and Slovakia in 1992. There also occurred in Yugoslavia a resurgence of nationalism and ethnic violence reminiscent of the worst excesses of the Second World War. In 1989 on the occasion of the 600th anniversary of the battle of Kosovo,15 Yugoslav President Slobodon Milosevic tried to harness nationalistic symbolism to keep the Serb dominated Yugoslav state from eroding: Six centuries later, now, we are being again engaged in battles and are facing battles. They are not armed battles, although such things cannot be excluded yet. However, regardless of what kind of battles they are, they cannot be won without resolve, bravery, and sacrifice, without the noble qualities that were present here in the field of Kosovo in the days past.16 Not to be outdone, Milosevic's Croatian nemesis, Franjo Tudjman, similarly rallied the Croats to oppose, "Great Serbian hegemonistic desires."17 The predictable result of the appeal to extreme nationalism was the deaths of at least 100,000 individuals in Bosnia- Herzegovina with additional casualties elsewhere in former Yugoslavia.18 In other east central European countries the old guard clung to power and had to be gradually dislodged by democratic means. The transition to a market economy was particularly painful for the poorer countries. Economic and political stability not regional
Anteprima della Tesi di Jonathan Levy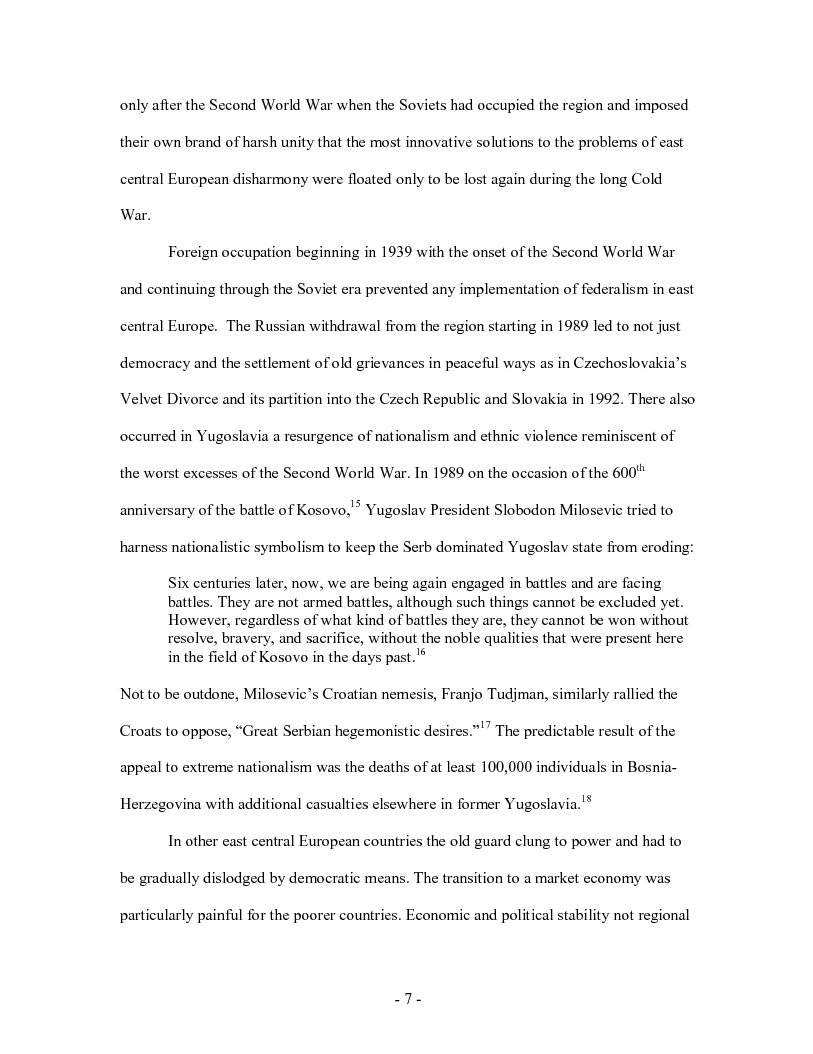 International thesis/dissertation
Autore: Jonathan Levy Contatta »
Composta da 475 pagine.
Questa tesi ha raggiunto 277 click dal 12/09/2006.
Disponibile in PDF, la consultazione è esclusivamente in formato digitale.