Residual distribution schemes for advection and advection-diffusion problems on quadrilateral and hybrid meshes
L'anteprima di questa tesi è scaricabile in PDF gratuitamente.
Per scaricare il file PDF è necessario essere iscritto a Tesionline.
L'iscrizione non comporta alcun costo. Mostra/Nascondi contenuto.
6 Hyperbolic systems of conservation laws D ⊂ Rd, consider D as a control volume in which we define gDm as the (scalar) extensive quantities associated to each qm: gDm(t) = ∫ D qm(x, t) dx for m = 1, . . . , p . Let nˆ = (n1, . . . , nd)T be the outward pointing unit vector normal to the boundary ∂D of D. Stating a conservation principle over D, we say that the variation of each qm in time is only due to the flux through the boundary ∂D, namely: d dt ∫ D Q dx + ∮ ∂D F · nˆ dS = 0 (1.1) where the tensor F is defined as F = (F1, . . . ,Fd), and Fi are the flux vector function in the i-th direction, which contains the p scalar flux-functions fm,i: Fi =   f1,i . . . fp,i   , with Fi : Ω → Rp for i = 1, . . . , d ; the scalar flux-function fm,i defines the specific flux of qm in the i-th direction. Remark 1.1. The flux-functions depend explicitly on Q and implicitly on x and t through Q : F = F(Q) = F(Q(x, t)). In case production-destruction phenomena are taken into account, the integro-differential system of equations expressed by (1.1) is enriched by the so called source term: d dt ∫ D Q dx ︸ ︷︷ ︸ time variation of conserved quantities over D + ∮ ∂D F · nˆ dS ︸ ︷︷ ︸ flux through the boundary ∂D = ∫ D S dx ︸ ︷︷ ︸ production-destruction term which requires the definitions of the vector-valued function S. Remark 1.2. In the more general case the source terms depend on the state Q, position x, and time t : S = S(Q,x, t). From now on we will always refer to model equations like (1.1), i.e. without source terms.
Anteprima della Tesi di Dante Tommaso Rubino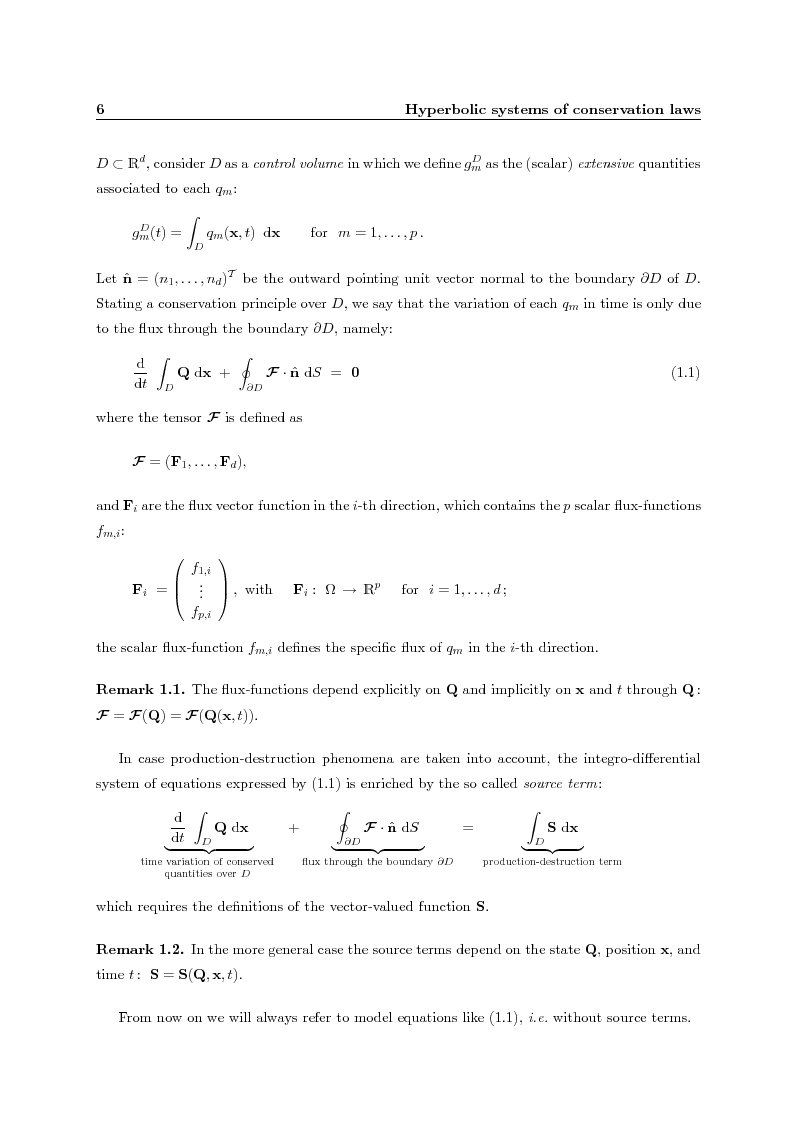 Tesi di Dottorato
Dipartimento: Macchine ed Energetica
Autore: Dante Tommaso Rubino Contatta »
Composta da 150 pagine.
Questa tesi ha raggiunto 379 click dal 15/01/2007.
Disponibile in PDF, la consultazione è esclusivamente in formato digitale.