Going Digital: the European Museum Forum Experience within the European Union BRICKS Project
L'anteprima di questa tesi è scaricabile in PDF gratuitamente.
Per scaricare il file PDF è necessario essere iscritto a Tesionline.
L'iscrizione non comporta alcun costo. Mostra/Nascondi contenuto.
in a leisure market and every market has its customers (…) The true skill of any form of market or customer research –and that practised by museums is no exception- lies, first, in asking the right questions and, second, in using the results to produce something which is closer to what the customer really wants…" 4 . It's important to listen to the customer and to try to satisfy him. Museums which try to implement this "customer orientation" have to be considered "innovative", because they have the courage to change, to be different and to propose new lines of activity. The European Museum Forum awards these museums. But what is EMF? The European Museum Forum is an independent organisation founded in 1977 by Kenneth Hudson and registered as a charity trust in the UK in 1978. The Forum is guided by an international Committee composed of 15 experts from 12 countries and 34 National Correspondents. The members of the Committee are men and women who occupy either museum posts or who are experienced and influential in cultural fields 5 . Maintaining a satisfactory balance between these three areas is an essential part of the Forum's policy. The Forum is governed by Sir Neil Cossons (President, United Kingdom), Wim van der Weiden (Chairman, The Netherlands), Massimo Negri (Director, Italy) and Ann Nicholls (Administrator, United Kingdom). EMF operates across 46 European Countries, which are identified by the Council of Europe. It visited and assessed more than 1500 4 K., Hudson, The European museum of the year award. A mirror and a catalyst of European museum change and development, Bristol , 1998 5 In 2006 the composition is as follow: Mr Thomas Brune, Curator of Württemberg State Museum Stuttgart; Mrs Taja Vovk Cepic, Director of Mestni Muzej Ljubljana; Mikhail Gnedovski, Director of Moscow Cultural Policy Institute; Christopher Grayson, Head of Secretariat for Culture, Science and Education in the Council of Europe; Mr Jean-Jacques Bertaux, Former Director of Museum of Normandy; Mrs Lola Mitjans, Founder and Presindent of the Dalì Museum; Miss Jane Morris, Journalist and writer specialising in museums and galleries; Mr Massimo Negri, Museum Consultant; Miss Ann Nichols, Administrator of European Museum Forum; Mrs Ulla Keding Olofsson, Founding member of EMYA; Mrs Maritta Pitkänen, Director of Gösta Serlachius Art Museum in Finland; Mrs Aleid Rensen-Oosting, President of Noorder Dierenpark Foundation; Mr Hermann Schäfer, President of the Haus der Geschichte der Bundesrepublik in Bonn; Mr Wim var der Weiden, Former Director of Museon in the Hague and on Naturalis in Leiden; Mr Hans Woodtli, Architect and specialist in design. 21
Anteprima della Tesi di Chiara Centazzo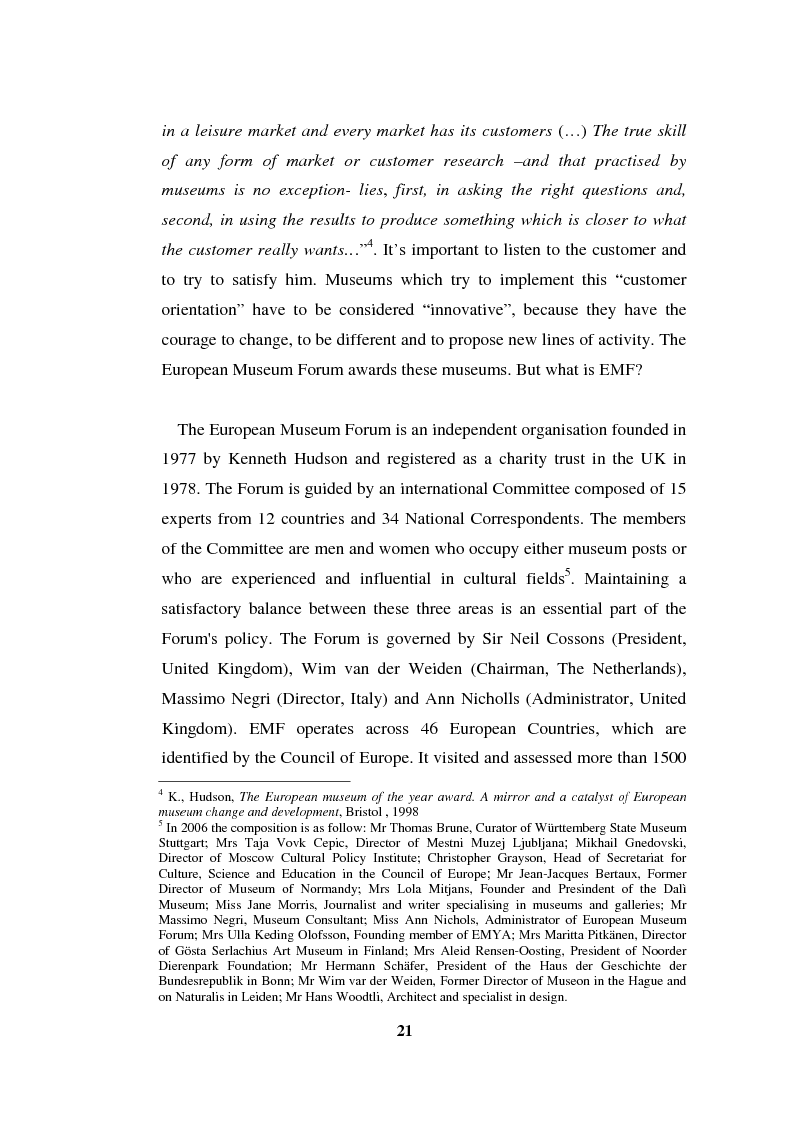 Laurea liv.II (specialistica)
Facoltà: Scienze della Comunicazione e dello Spettacolo
Autore: Chiara Centazzo Contatta »
Composta da 196 pagine.
Questa tesi ha raggiunto 387 click dal 23/01/2007.
Disponibile in PDF, la consultazione è esclusivamente in formato digitale.