Geographic Information System-Based Integrated Road Crash Data System
L'anteprima di questa tesi è scaricabile in PDF gratuitamente.
Per scaricare il file PDF è necessario essere iscritto a Tesionline.
L'iscrizione non comporta alcun costo. Mostra/Nascondi contenuto.
Zacharia Lukorito Chepkania Page 9 of 109 reported to the police for updating. Therefore there is likelihood that numbers of fatalities are being under-reported, a view that is strongly shared by Khan et al. (2004). There has been no formal system for location referencing and it has been acknowledged as a fundamental deficiency in the crash records. Crash location is still being described in words in general terms with often a road name and a landmark being used. There is no formal exchange of crash data between police and other agencies except for some high level reporting to the Ministry of Transport who have a standing requirement to produce some general quarter yearly statistics. Transfer and exchange of information by the police is done over radio and in most cases no exchange of information is done. 1.3 A Brief Description of the System In this project, I have developed a Geographic Information System (GIS)-based integrated road crash data system. This is a computer-based road crash data analysis system utilizing the basic relational database system and the ArcView GIS. Its purpose is to enable Kenya collect and analyse road crash data in a systematic manner with easy-to- use software. The program is specifically designed for use on a personal computer, which enables users to work interactively with ready accessible data (something which was not always possible with the paper-based system which is still being used today). The system has two distinct sections. The first deals with the input of crash data from police road traffic accident report forms based on MS access, while the second deals with the location analysis of the crash data in ArcView GIS. The system allows crashes with common causes to be identified. Crash, casualty and vehicle tabulations can be produced using a number of queries, which can be designed in the system. In addition, users can make their own tabulations. With the development of the crash data system more accurate recording, storage, location referencing, updating and exchange of crash information between different agencies will be achieved accurately and timely.
Anteprima della Tesi di Zacharia Chepkania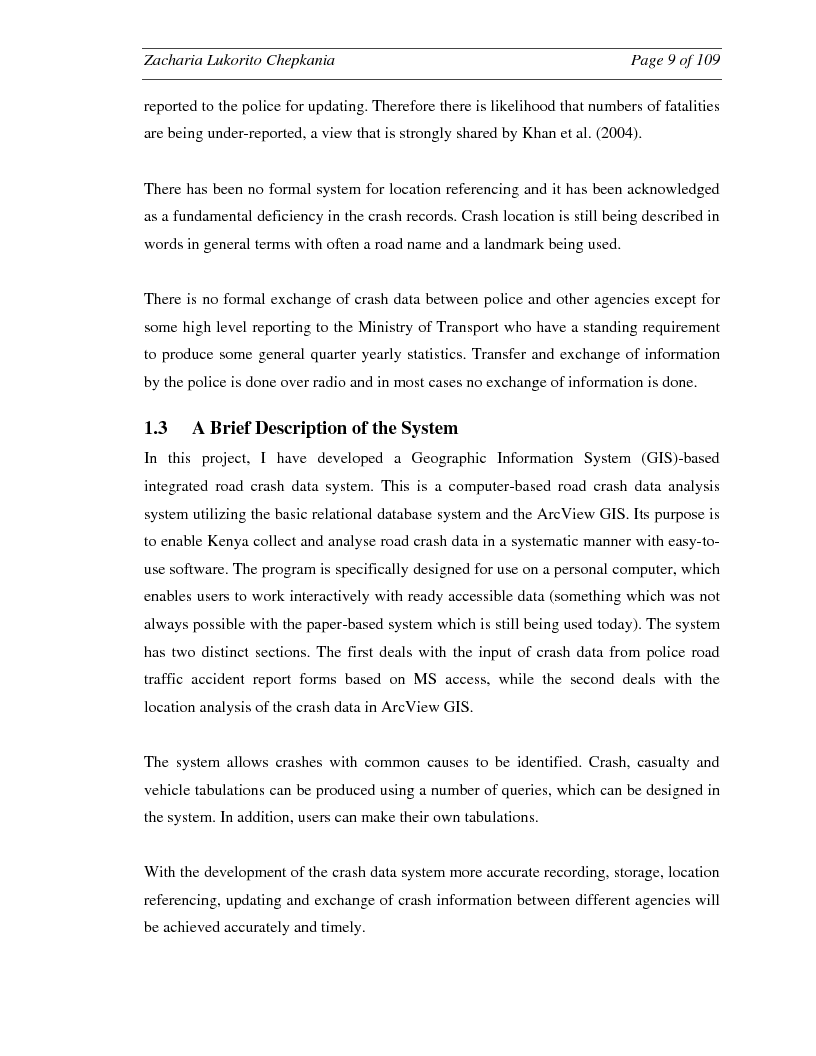 International thesis/dissertation
Autore: Zacharia Chepkania Contatta »
Composta da 109 pagine.
Questa tesi ha raggiunto 285 click dal 09/02/2007.
Consultata integralmente una volta.
Disponibile in PDF, la consultazione è esclusivamente in formato digitale.