Analysis and long term strategy of the secondary south-western airport of Trapani-Birgi
L'anteprima di questa tesi è scaricabile in PDF gratuitamente.
Per scaricare il file PDF è necessario essere iscritto a Tesionline.
L'iscrizione non comporta alcun costo. Mostra/Nascondi contenuto.
4With the new terminal infrastructure, which is nowadays in work progress, it is planned an increase and improvement of all non-aviation services (eg. retail, restaurant and bar, parking, car rental, newspaper kiosk, Sicilian handicrafts point of sales), as a benefit for passengers. In order to achieve these services and so allow an optimal growth of the Airgest Company, the following plans will be carried out: new parking stands, advertising and commercial business activities. 2.2 The catchment area "…the nature of the catchment area rather than the design of the airport facilities are of paramount importance. Key factors are business and tourist appeal for incoming passengers, the characteristic and purchasing power of those residing in this area as well the availability of attractive slot times, the presence of competitors and the network performance of the airport". Graham (2005, p.184). Due to its location in the far west side of Sicily, it is a first alternate to the close Palermo airport, around 100km, as well "…the perfect connection to the north Europe destinations from the north-Africa origins". Farruggio (2008, p.75). The catchment area is mainly centered in the province of Trapani from where passengers can reach the airport within 30min. "…Trapani airport serves a catchment area of over 2 million passengers which includes numerous touristic point of interests distributed in the provinces of Trapani, Palermo and Agrigento". Kearney (2008). These cities are reach of natural, historical and cultural points and these greatly contribute to the development of the west side of Sicily which makes the "prospect of this airport as the strategically better positioned of the island. The flow of passengers is also be typical of whom intend to depart to domestic destinations and the island of Pantelleria for job reasons". Airgest MP (2007, p.11). This plan continues mentioning that due to the actually high unemployment rate of Sicily, there is a relevant migratory event which drives people to frequent connections to their place of work in Italy or in the rest of Europe as well they are linked by a close bond or relationship to their family and the entire territory.
Anteprima della Tesi di Enrico Maria Malato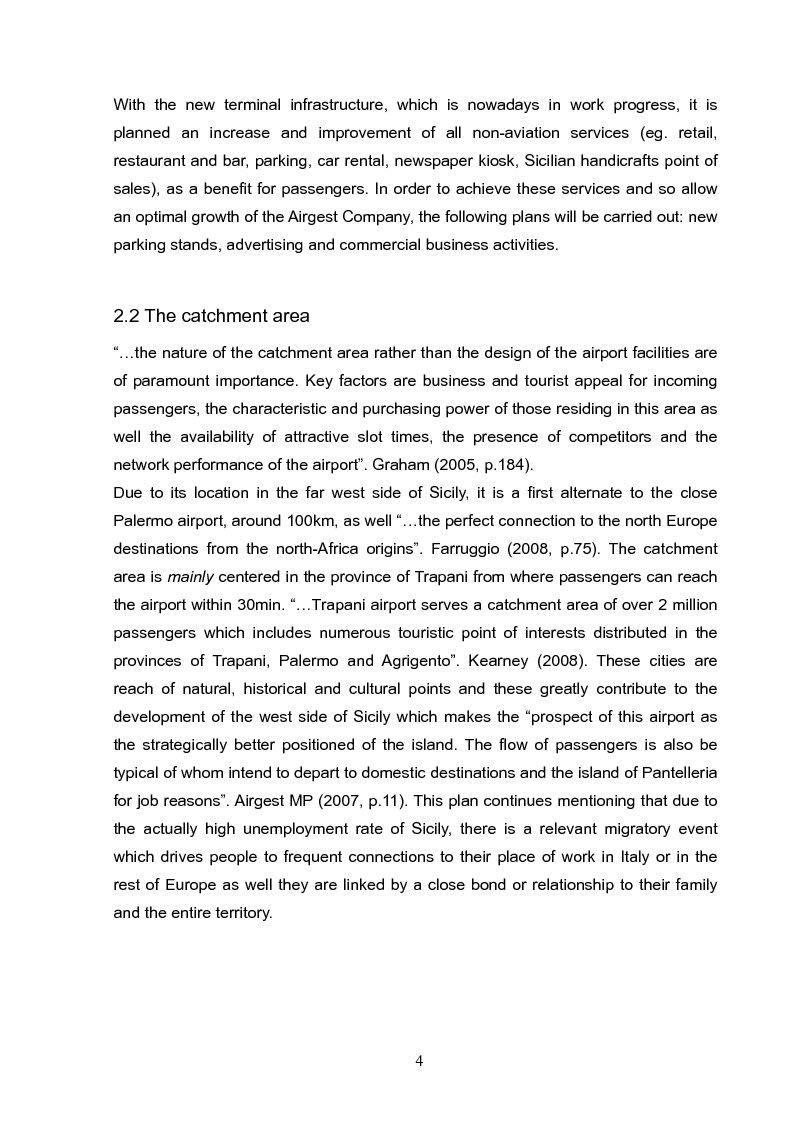 Laurea liv.I
Facoltà: Leisure, Travel and Tourism
Autore: Enrico Maria Malato Contatta »
Composta da 47 pagine.
Questa tesi ha raggiunto 337 click dal 21/04/2010.
Consultata integralmente una volta.
Disponibile in PDF, la consultazione è esclusivamente in formato digitale.