Entrepreneurial Experience and Internationalization in Creative Industries: The Culture Business Case Study
L'anteprima di questa tesi è scaricabile in PDF gratuitamente.
Per scaricare il file PDF è necessario essere iscritto a Tesionline.
L'iscrizione non comporta alcun costo. Mostra/Nascondi contenuto.
b. Fanatic About Films The FAFI (Fanatic About Films) division aims to create a profitable synergy between the necessities of cinematographic distributors and those companies who are interested in using cinema as a marketing strategy lever. What distributors mainly look for is a supplementary visibility campaign for their products releasing in theaters or on DVDs; whereas companies use the properties or the messages conveyed by movies, in order to promote their core missions rather than new products or periodic special offers. FAFI, since 2005, has developed different tools in order to carry out these achievements: promotional events, special previews and co-marketing promotions. Special previews are, obviously, dedicated to theatrical releases and TCB can work on different kind of products: international blockbusters, national products and high quality movies arising the awareness around these products and favoring positive buzzing about them. The Warner Bros blockbuster The Curious Case of Benjamin Button 15 has been launched in theaters by 5 free previews in as many key-cities. The promotional press campaign has involved many local and national media such as La Repubblica 16 , Il Corriere del Mezzogiorno 17 and Radio Adige 18 , the aim was to favor positive Word-Of-Mouth and reinforce the awareness of the movie thanks to fans buzzing. Amore, Bugie & Calcetto 19 by Luca Lucini, has been shown in preview to more than 6000 spectators in almost 40 cities and it has been supported by 120 national and local media partnerships. This campaign has strongly supported the theatrical release, especially during the first weekend. 6 15 By David Fincher, USA 2008 16 La Repubblica is a national newspaper http://www.repubblica.it/ 17 Southern Italy newspaper http://corrieredelmezzogiorno.corriere.it/ 18 North-eastern radio station http://www.radioadige.it/ 19 By Luca Lucini, Italy 2007
Anteprima della Tesi di Francesca Perondi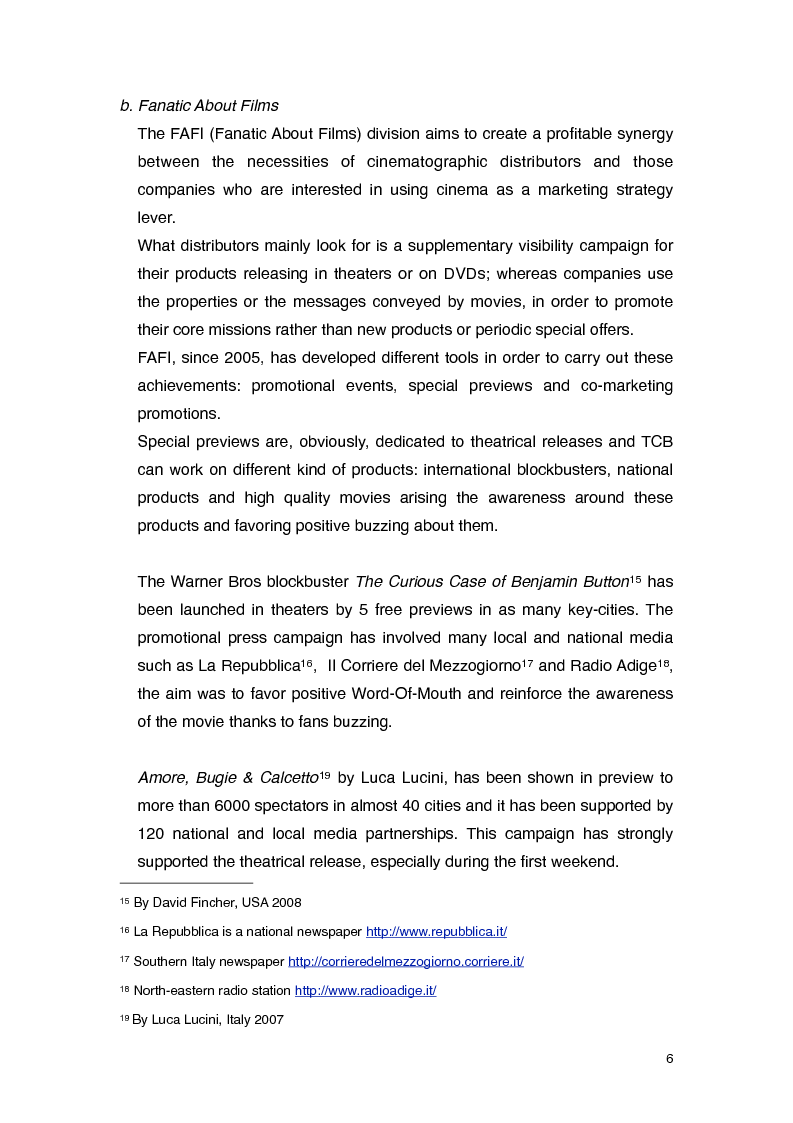 Laurea liv.II (specialistica)
Facoltà: Economia
Autore: Francesca Perondi Contatta »
Composta da 139 pagine.
Questa tesi ha raggiunto 409 click dal 06/06/2011.
Disponibile in PDF, la consultazione è esclusivamente in formato digitale.