Macumba Dance Fitness is a family of folklores. The role of a Macumba Dance Fitness certified instructor as translator/interpreter
L'anteprima di questa tesi è scaricabile in PDF gratuitamente.
Per scaricare il file PDF è necessario essere iscritto a Tesionline.
L'iscrizione non comporta alcun costo. Mostra/Nascondi contenuto.
4 generations, that is, it is "passed on through collective sensual engagement with elements of culture, for example, generations of familial support of a football team based in identification with locality." 11 All instructors of Macumba and their students, participants to a Macumba class or an event, create a specific group of people, identifying themselves with the name of 'Macumberi'. In these 13 years, Macumba has been witnessed by two generations. There are several cases in Italy and abroad of instructors who have involved their friends, colleagues, and their family members too, mainly their kids who have become instructors as well; instructors of the future inheriting their past experience. Once more, cultural history is not about portraying an exact time, but learning in details how that exact time was experienced by certain groups of people. This might be a good reason to consider Macumba Dance Fitness a regional subculture that developed in the local area of Rome and from the 'Due Ponti Sporting Club' where it was originally experimented (still a favorite location of many events), spread to other regions becoming a national subculture, finally transforming itself into a transnational subculture going abroad to foreign countries. Certainly Macumba has to preserve a sense of unity of culture, fostering a sense of pride towards one's culture in the world and at the same time embracing different international cultures that should as well promote their own identities. The importance of identity is stressed in the collection of essays edited by HØlène Kringelbach and Jonhatan Skinner. They show the interconnection between dancing cultures and identity, investigated as well in anthropology. "We wouldn't survive without an identity!." 12 With this exclamation, Lüdtke expresses perfectly the need for a sense of identity that arouses through music and dance, highlighting how compelling is such a feeling in anyone's life, at the point that it could lead to personal crisis in society, and bring to a detachment from one's own natural contexts, environments and cultural backgrounds. Lüdtke recalls French-Libanese writer Maalouf (2000) and his definition of identity, based on which no one should deny his own identity, while accepting instead "that everyone's identity is complex, unique and irreplaceable, that each and everyone is a 11 HUGHSON J., "Cultural history and the study of sport", Sport in Society, Vol. 12, No. 1, January 2009, p. 5. 12 LÜDTKE K., "We've Got This Rhythm in Our Blood. Dancing Identities in Southern Italy", in KRINGELBACH H., and SKINNER J., eds. (2012), Dancing cultures; globalization, tourism and identity in the anthropology of dance. New York: Berghahn Books, 60-74, p. 64.
Anteprima della Tesi di Cinzia Citrigno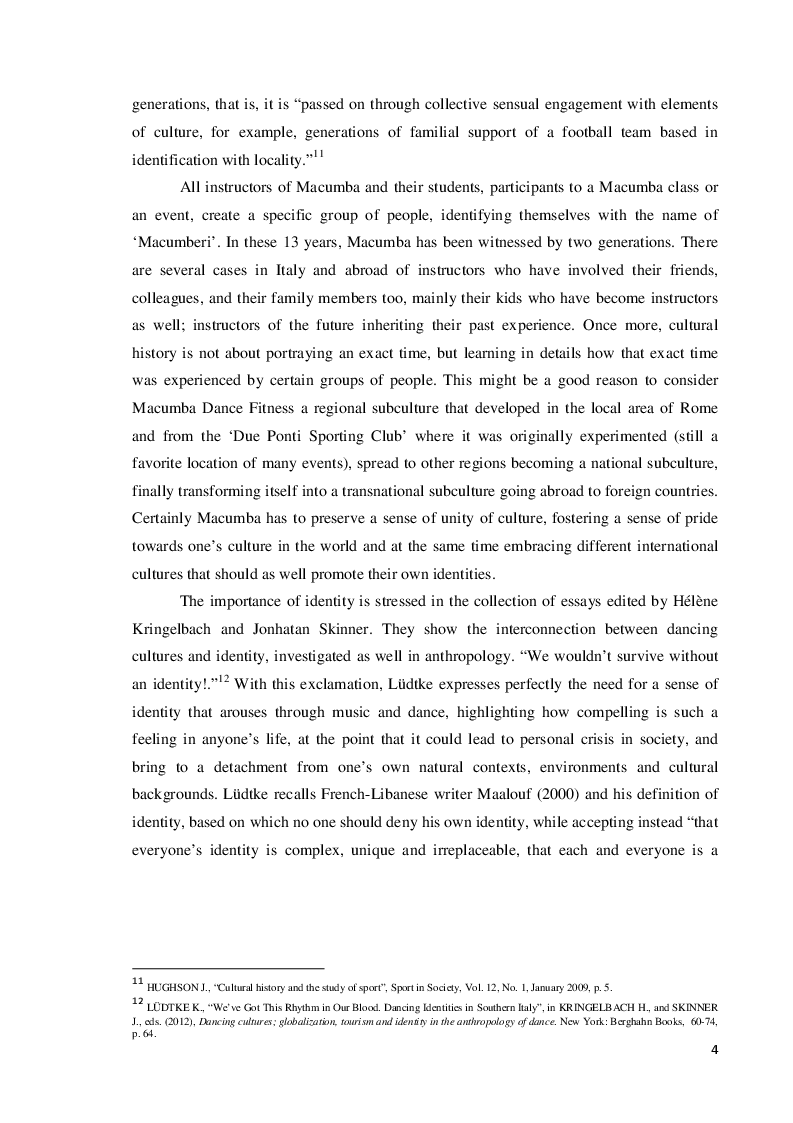 Laurea liv.I
Facoltà: Mediazione Linguistica e Culturale
Autore: Cinzia Citrigno Contatta »
Composta da 48 pagine.
Questa tesi ha raggiunto 25 click dal 25/05/2018.
Disponibile in PDF, la consultazione è esclusivamente in formato digitale.