A decision-making model as an assisting tool in designing evaluation strategies for integrated rural development programmes
L'anteprima di questa tesi è scaricabile in PDF gratuitamente.
Per scaricare il file PDF è necessario essere iscritto a Tesionline.
L'iscrizione non comporta alcun costo. Mostra/Nascondi contenuto.
ante evaluation is strongly method oriented, with problems relatively well-defined, and ex-post evaluation is "..largely anecdotal, unfocused, and methodologically weak." Independently of this classification, many authors define a particular path in evaluation design (Bandarra, 1993, Bianchi, 1990, Casley and Lury, 1982, Casley and Kumar, 1987, Imboden, 1978, Lichfield, 1990, Nielsen and Turner, 1983, Ross, 1980, Rossi, Freeman and Wright, 1979, Soumelis, 1977 and Voogd, 1983). Without analysing every author's model, four main steps in the evaluation design process are commonly considered fundamental: 1. Deciding the aims and objectives of the evaluation; 2. Defining and describing the object to be evaluated; 3. Setting the factors of the evaluation; 4. Choosing the techniques. Each different step will be analysed in the context of project evaluation. 2.1. DECIDING EVALUATION AIMS AND OBJECTIVES The first step in project evaluation is to determine evaluation aims and objectives and is represented by answering the following question (Case, 1987): Who wants to know what and for what purpose? Who refers to the individuals or agencies who hold a stake in the evaluation. Sometimes the identification of these stakeholders may not be easy. Soumelis (1977) states that "..the primary purpose of project evaluation is to enable the organisation responsible for the project to increase its effectiveness...". However, he also adds that "Project evaluation...should be seen both from the point of view of the organisation responsible for the project and from that of the recipient or client". In fact, in a project there may be several actors who may place different, if not sometimes contrasting, interests in the same activities. A structural project (for example
Anteprima della Tesi di Alessandro Zampagna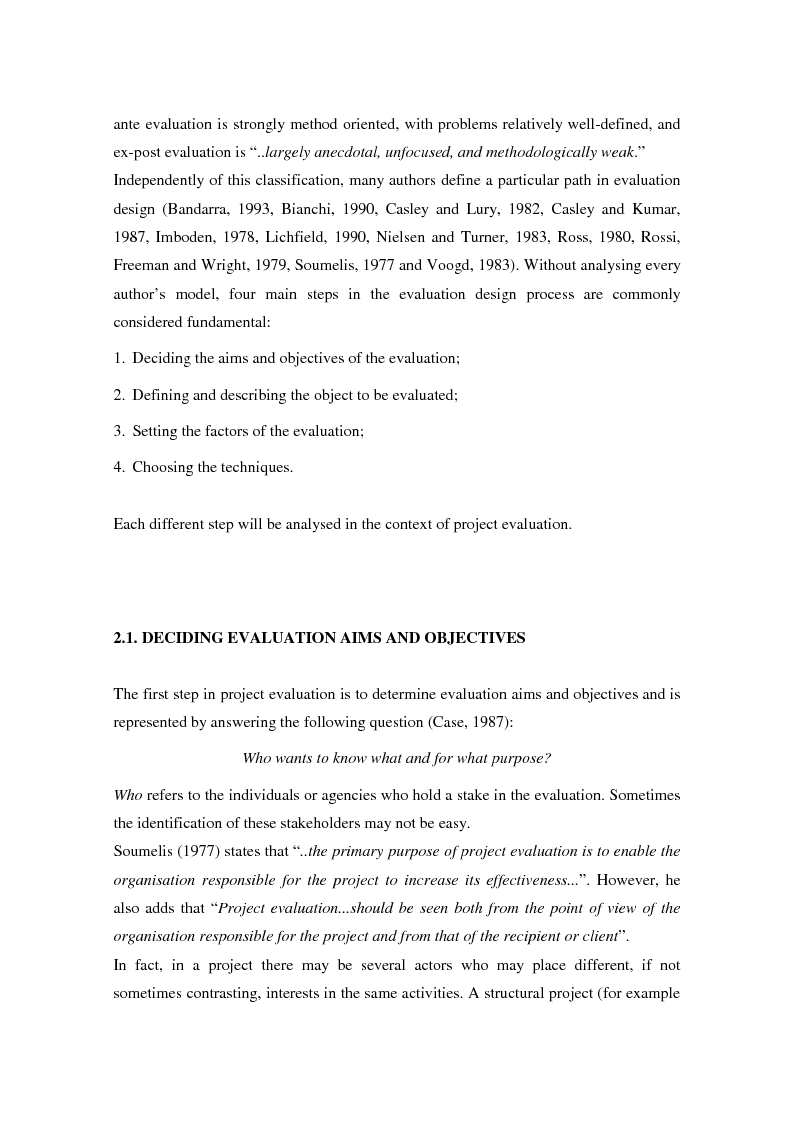 Tesi di Dottorato
Dipartimento: Agribusiness, Extension and Rural Development
Autore: Alessandro Zampagna Contatta »
Composta da 276 pagine.
Questa tesi ha raggiunto 644 click dal 20/03/2004.
Consultata integralmente una volta.
Disponibile in PDF, la consultazione è esclusivamente in formato digitale.