A decision-making model as an assisting tool in designing evaluation strategies for integrated rural development programmes
L'anteprima di questa tesi è scaricabile in PDF gratuitamente.
Per scaricare il file PDF è necessario essere iscritto a Tesionline.
L'iscrizione non comporta alcun costo. Mostra/Nascondi contenuto.
2. Statement of general objectives; 3. Identification of constraints and resources (legal, financial, structural, etc.); 4. Formulation of political choices (i.e, priorities); 5. Identification of specific objectives; 6. Formulation of alternative strategies; 7. Evaluation of alternatives; 8. Formulation of the project (timing, geographical and sector focus, resource allocation, operational mechanisms, assignments of different agents as agencies, enterprises, local administrations, local agents, etc.); 9. Implementation; 10.Monitoring, ex-post evaluation, programme redefinition. This sequence is composed of substantial and formal elements. Substantial elements are the judgement on the present state (1), the choice of desired state (2) and of priorities (4), the formulation (8) and implementation(9) of the project. Formal elements are the analysis and the statement of the reasons for the choices made, the demonstration of their coherence, the identification of constraints and resources (3), the formulation and evaluation of alternatives (6, 7), and the monitoring and evaluation (10). Generally, in the Italian experience of development planning, substantial elements are always present, more or less developed but rarely groundless, whilst formal elements are absent or implicit or under-developed (Bianchi, 1987). This causes a gap between the enunciation of general aims and the completion of a formally correct planning process. The scientific and cultural backwardness of the Italian planning practice, in relation to the requirements of regional development, seems mainly due to the lack of political sensitivity rather than the absence of available techniques for programme planning.
Anteprima della Tesi di Alessandro Zampagna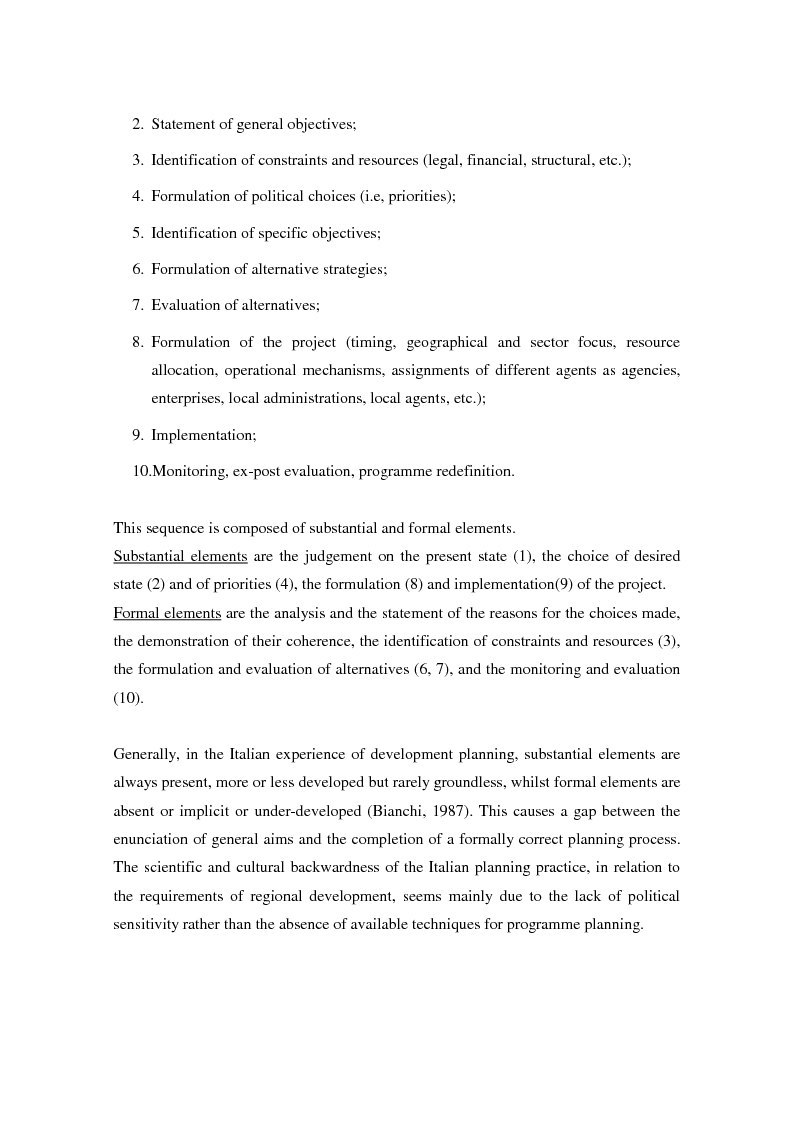 Tesi di Dottorato
Dipartimento: Agribusiness, Extension and Rural Development
Autore: Alessandro Zampagna Contatta »
Composta da 276 pagine.
Questa tesi ha raggiunto 644 click dal 20/03/2004.
Consultata integralmente una volta.
Disponibile in PDF, la consultazione è esclusivamente in formato digitale.