A decision-making model as an assisting tool in designing evaluation strategies for integrated rural development programmes
L'anteprima di questa tesi è scaricabile in PDF gratuitamente.
Per scaricare il file PDF è necessario essere iscritto a Tesionline.
L'iscrizione non comporta alcun costo. Mostra/Nascondi contenuto.
d) The evaluation can examine just the system output or also the internal factors of the system. Soumelis (1977) use the terms "outside tests" and "inside tests". Bamberger and Hewitt (1986) distinguish "performance assessment", which deals with inputs and outputs, and "process assessment". The first gives a fast but crude measure of system effectiveness, the second is more difficult to undertake but can give more useful results as it takes into account the causes of the performance. Usually a combination of the two gives the best results. Therefore, identification of outputs and internal factors is needed. e) Many authors of texts on project evaluation are convinced that it is necessary to design a model of the project/system, which must consider project design and structure, inputs, outputs and processes. Bamberger and Hewitt (1986) confirm this point saying that "Before a monitoring or evaluation system can be designed, it is essential for the researcher to have a clear definition of the underlying model and its assumptions". In their view the model should, among others: • List all inputs; • Identify assumptions in the choice of inputs; • Specify processes by which inputs are transformed into outputs; • Identify assumptions in the choice of implementation methods; • Identify assumptions about how processes and outputs are affected by external factors; • Specify all outputs; • Specify intended impacts on target population; • Identify assumptions about how impacts are affected by external factors; • Identify how impacts are in reality affected by external factors. They also state that the information sources to define the model are mainly the project documents and the staff.
Anteprima della Tesi di Alessandro Zampagna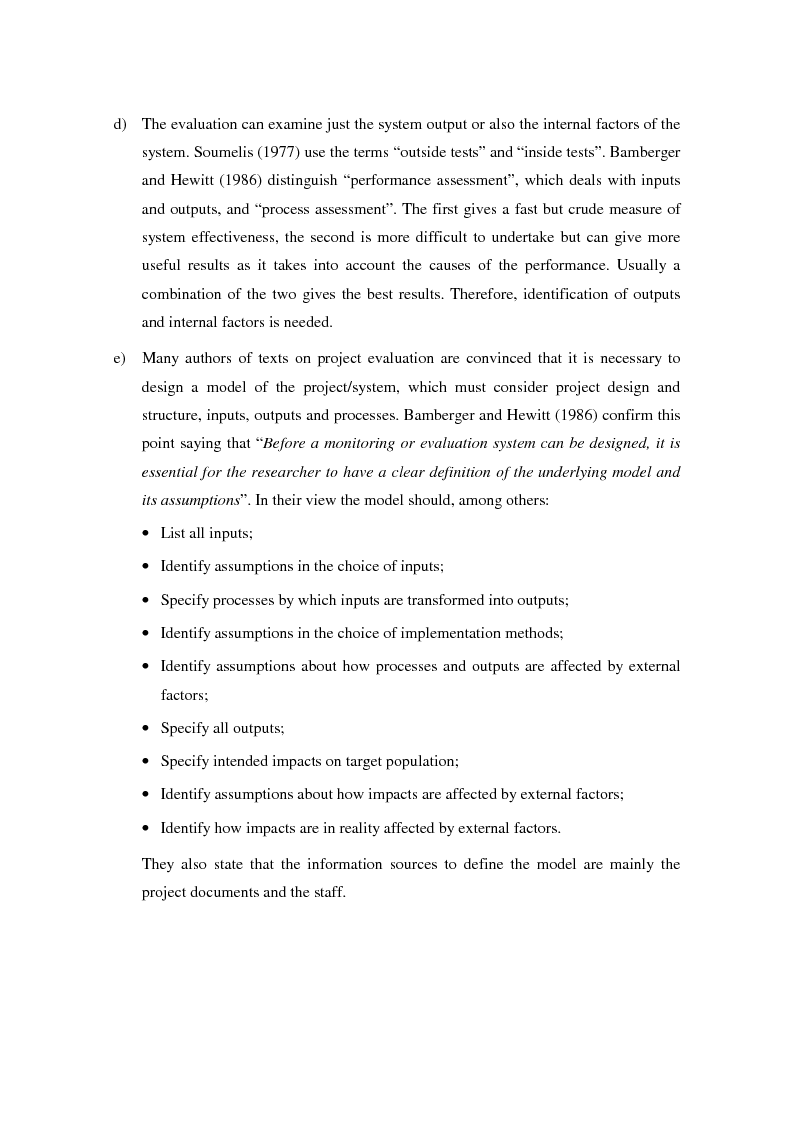 Tesi di Dottorato
Dipartimento: Agribusiness, Extension and Rural Development
Autore: Alessandro Zampagna Contatta »
Composta da 276 pagine.
Questa tesi ha raggiunto 644 click dal 20/03/2004.
Consultata integralmente una volta.
Disponibile in PDF, la consultazione è esclusivamente in formato digitale.