A decision-making model as an assisting tool in designing evaluation strategies for integrated rural development programmes
L'anteprima di questa tesi è scaricabile in PDF gratuitamente.
Per scaricare il file PDF è necessario essere iscritto a Tesionline.
L'iscrizione non comporta alcun costo. Mostra/Nascondi contenuto.
In the integrated approach to rural development, the local actors do not simply benefit from the interventions or implement the operations, but they have an active role in setting the objectives and priorities and planning the activities. The evolution from the top-down approach, where objectives, priorities and initiatives are decided by the authorities and then applied in the territory without any active role of the beneficiaries, to the bottom-up fashion, where the local actors have an active function in programme planning, has been one of the most important innovations in the development policy in the last decade (Bernini Carri, 1989). Consequently, rural development programme planning endured another important evolution. The traditional development policy was based on different economic sectors. Priorities, objectives and actions were decided for each sector and the policy was applied in the territory with no distinction between the different areas. With the modern approach, the target geographic area is predominant. Firstly, priorities, objectives and actions are decided, with a bottom-up process, for a territory; then, the activities in the different sectors are defined in order to contribute to the overall objectives. All Integrated Programmes have common characteristics: • Strong coordination, aimed at concentrating the effort on the key factors of local development; • Complementarity with other local initiatives, to avoid overlapping or incompatibility; • Diversification of the productive structure as a main objective; • Adaptability to local characteristics; • Partnership between central administrations and local authorities, both in the identification of objectives and means, and in the management and control of the activities. Among the programmes which adhere to this new approach, there are the Integrated Mediterranean Programmes, briefly IMPs, launched by the European Commission in order to tackle the development problems of Mediterranean disadvantaged areas, in particular Greece and some regions of Italy and France. These Programmes are coherent
Anteprima della Tesi di Alessandro Zampagna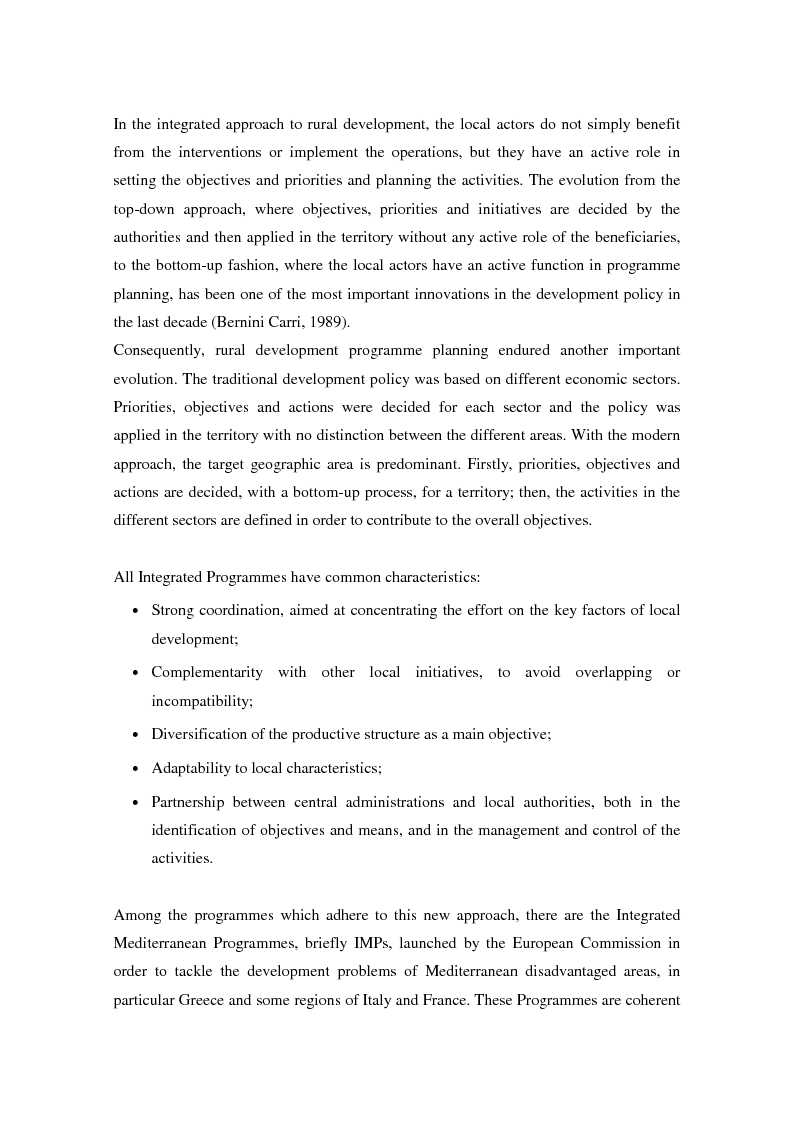 Tesi di Dottorato
Dipartimento: Agribusiness, Extension and Rural Development
Autore: Alessandro Zampagna Contatta »
Composta da 276 pagine.
Questa tesi ha raggiunto 644 click dal 20/03/2004.
Consultata integralmente una volta.
Disponibile in PDF, la consultazione è esclusivamente in formato digitale.