A decision-making model as an assisting tool in designing evaluation strategies for integrated rural development programmes
L'anteprima di questa tesi è scaricabile in PDF gratuitamente.
Per scaricare il file PDF è necessario essere iscritto a Tesionline.
L'iscrizione non comporta alcun costo. Mostra/Nascondi contenuto.
1.4. UTILITY OF THE STUDY As mentioned above, in the literature concerning the evaluation of rural and regional development projects, many techniques and blueprints have been elaborated and presented, whilst so far few studies, if any, have been dedicated to decision-making in evaluation design. A decision-making model for evaluation design would represent a practical tool to help professionals to plan evaluations which are effective, sound, meaningful, suitable to the characteristics of each single project and compatible with available resources. Hence, it would guide the evaluator in the choice of appropriate techniques to a particular situation. This study will be a first step in the elaboration of such a model, an attempt which, far from being definitive or complete, may be the base for further development by other experts and academics. Its application to real cases will help to define the model and, finally, obtain a valid tool for all professionals who operate in the field of rural and regional development evaluation. 1.5. DESIGN OF THE STUDY The study consists of three main parts. In the first part a model for evaluation design is delineated on the basis of a significant literature review. In the second part, the model is applied to the Emilia-Romagna Integrated Mediterranean Programme, in order to obtain a theoretical evaluation design for that specific programme. The application of the model is preceded by an exhaustive description of the characteristics and results of the Programme, and is followed by the description of the actual evaluation carried out on it. In the third and final part the theoretical evaluation and the actual evaluation are compared and the model is reviewed on the basis of the conclusions drawn from this comparison.
Anteprima della Tesi di Alessandro Zampagna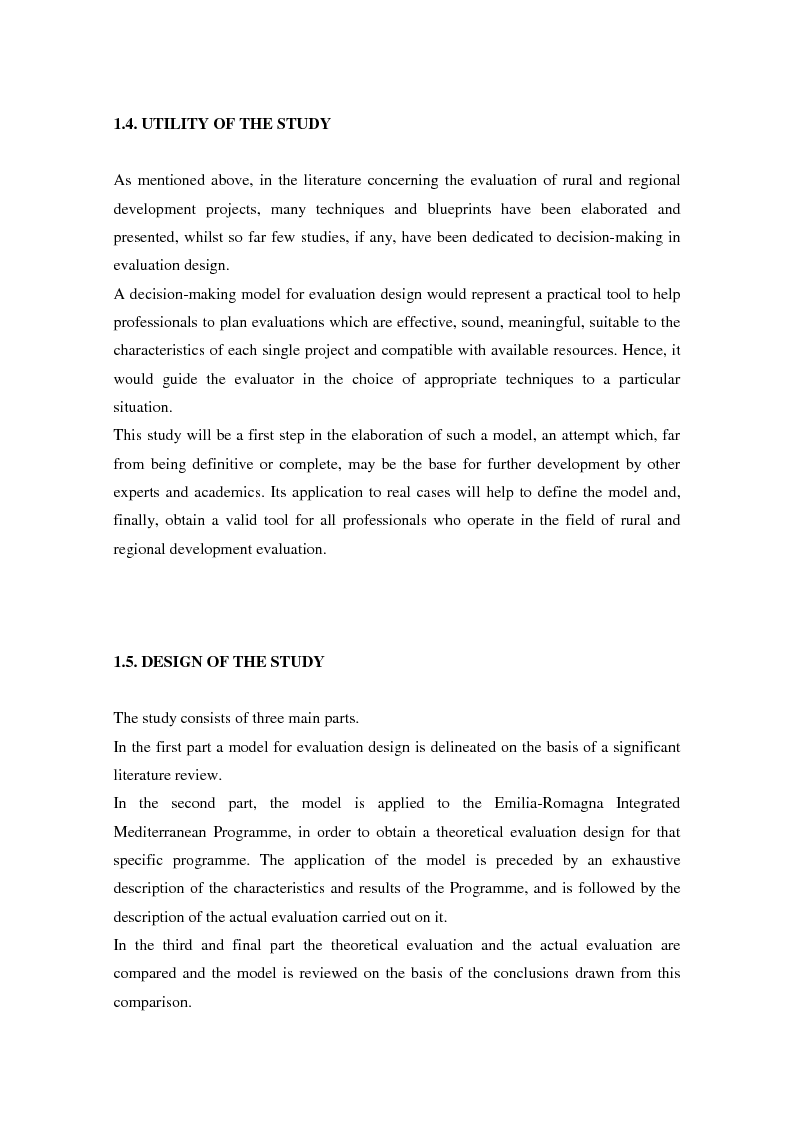 Tesi di Dottorato
Dipartimento: Agribusiness, Extension and Rural Development
Autore: Alessandro Zampagna Contatta »
Composta da 276 pagine.
Questa tesi ha raggiunto 644 click dal 20/03/2004.
Consultata integralmente una volta.
Disponibile in PDF, la consultazione è esclusivamente in formato digitale.