A decision-making model as an assisting tool in designing evaluation strategies for integrated rural development programmes
L'anteprima di questa tesi è scaricabile in PDF gratuitamente.
Per scaricare il file PDF è necessario essere iscritto a Tesionline.
L'iscrizione non comporta alcun costo. Mostra/Nascondi contenuto.
2. THEORETICAL BACKGROUND: PROJECT EVALUATION "Evaluation" is defined in Webster's Third New International Dictionary as "..the act or result of evaluating", that is of "..examining and judging the worth, quality, significance, amount, degree or condition of something". The object evaluated, independently by its characteristics and level of complexity, must be compared to a well-known standard, either quantitative or qualitative, decided by the evaluator. Therefore, the evaluation process is a judgement action and is simultaneously "objective", as far as the description of the evaluated object is concerned, and "subjective", as regards the setting of standards for the comparison. Besides this general definition, development project evaluation refers to the evaluation of a set of activities whose objective is the socio-economic development of a target population. Confusion generally exists between the terms "project", "programme" and "measure". Thus, it is necessary to clarify this point and avoid possible misunderstandings. In this context, a "measure" is considered an organised set of activities of the same nature (extension, training, financial support, etc.), whilst a "programme" is a scheme which includes several measures. For all concepts that can apply both to measures and programmes, the term "project" will be used, including all development activities. There can be many different kinds of project evaluation objectives and, consequently, many different evaluation designs. A first categorisation can be done on the basis of the moment of the evaluation. An evaluation can be undertaken at different stages: • Ex-ante, i.e. before the implementation of the project; • During the implementation; • Ex-post, at the end of the implementation; • Ex-post, several years after the end of the implementation. The design and aim of an evaluation are usually very different in relation to the moment it is undertaken. Law-Yone, Meyer-Brodnitz and Wilkansky (1990) state that usually ex-
Anteprima della Tesi di Alessandro Zampagna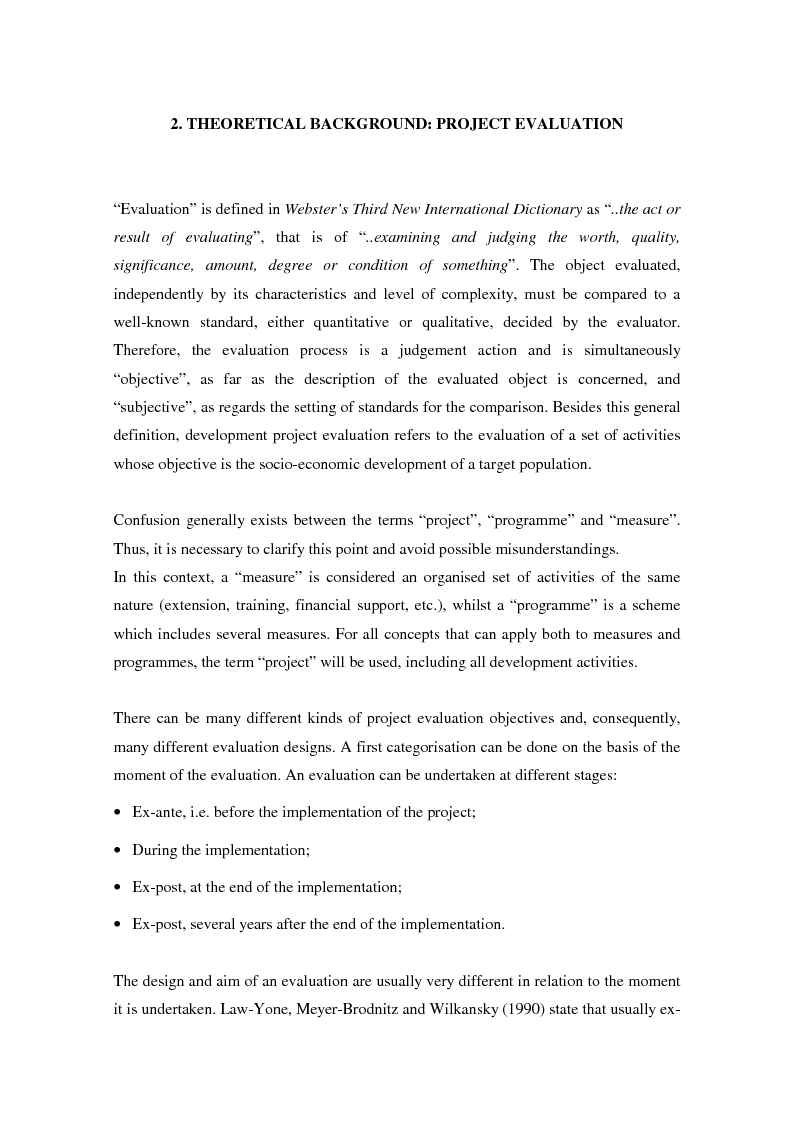 Tesi di Dottorato
Dipartimento: Agribusiness, Extension and Rural Development
Autore: Alessandro Zampagna Contatta »
Composta da 276 pagine.
Questa tesi ha raggiunto 644 click dal 20/03/2004.
Consultata integralmente una volta.
Disponibile in PDF, la consultazione è esclusivamente in formato digitale.