Charles Brockden Brown's Edgar Huntly: Sleepwalking through the Wildeness
L'anteprima di questa tesi è scaricabile in PDF gratuitamente.
Per scaricare il file PDF è necessario essere iscritto a Tesionline.
L'iscrizione non comporta alcun costo. Mostra/Nascondi contenuto.
and so stimulating to its author that in the December after its publication he wrote Ormond. The publication of this second novel in New York, 1799, was followed by the first part of Arthur Mervyn during the same year in Philadelphia. This was followed in a few months by Edgar Huntly, in 1800 by the second part of Arthur Mervyn, and in the next year by Clara Howard and Jane Talbot. In 1803 he published the first of several political pamphlets. There "he staked out a position that was vigorously expansionist yet sharply critical of American values, and then defended it with a message of disciplined unity and productivity 22 ". But he was not only, as already said, the first person in America who ventured to pursue literature as a profession, but almost the first to make an attempt in the field of imaginative writing, unconnected with the advocacy of any question of national or local interest. His novels introduce us to a wide range of characters, men of mixed and complicated natures, not the blind slaves and passive agents of a single idea. They bring us to the city, but it is most often to the city in its plague-stricken agonies, when its streets are almost as desolate as the frontier settlement and wooded fastnesses in which the author delights. The characters are more 22 STEVEN WATTS, The Romance of Real Life: Charles Brockden Brown and the Origins of American Culture, op. cit., p. 176
Anteprima della Tesi di Giorgia Fantini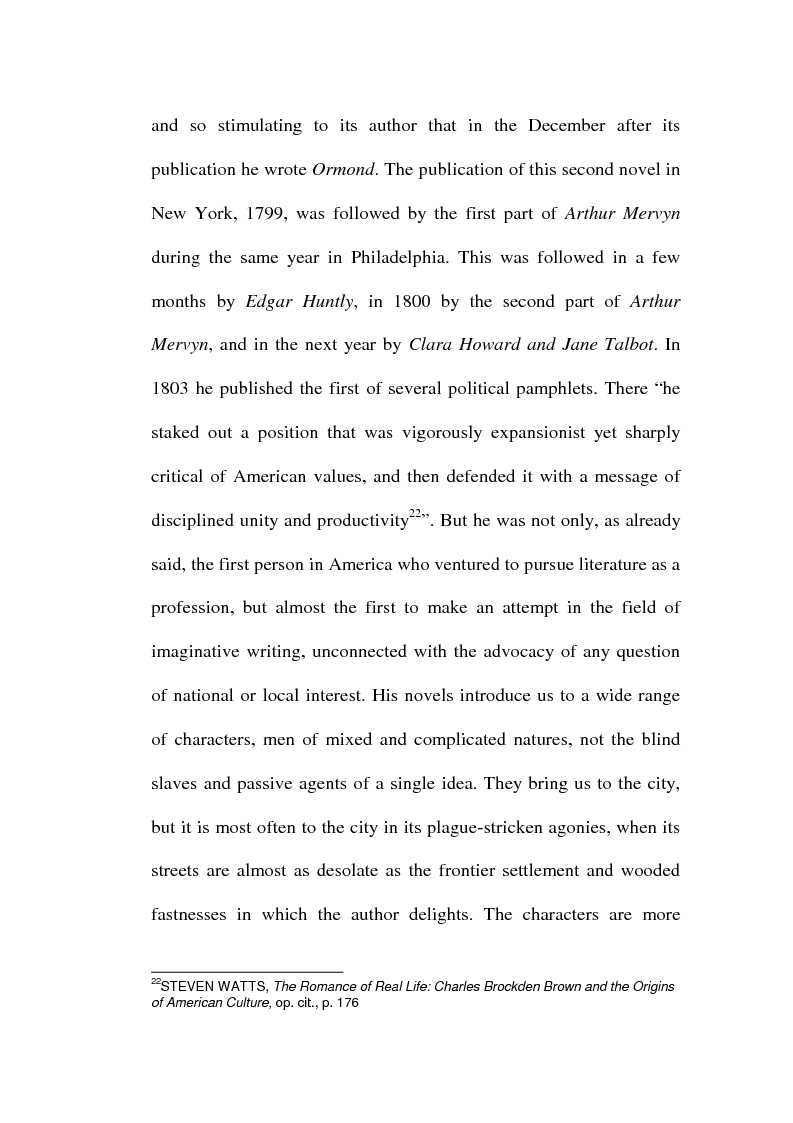 Tesi di Laurea
Facoltà: Lingue e Letterature Straniere
Autore: Giorgia Fantini Contatta »
Composta da 110 pagine.
Questa tesi ha raggiunto 896 click dal 20/03/2004.
Consultata integralmente una volta.
Disponibile in PDF, la consultazione è esclusivamente in formato digitale.