IP Mobility Support for Virtual Private Networks
L'anteprima di questa tesi è scaricabile in PDF gratuitamente.
Per scaricare il file PDF è necessario essere iscritto a Tesionline.
L'iscrizione non comporta alcun costo. Mostra/Nascondi contenuto.
Chapter 1 Introduction A secure Virtual Private Network (VPN) can effectively reduce the costs related to the deployment and maintenance of a private network. The service can be used either to connect, through a secure channel, different branches of the same company, or to allow business travellers, away from their office, to reach the own network. An official definition of VPN can be found in [1]. We will focus our attention on IPsec-based Secure VPNs, either because of the advantages that security at network layer provides and because IPsec has demonstrated strong security features in the last years. Mobility is also acquiring a growing importance for end users and Mobile IPv4 [2] provides a framework for mobility support at network layer. Mobility causes many security problems in particular in wireless networks: In most cases a strong confidentiality cannot be provided but with higher-layer means. Today also the number of collectively mobile networks is increasing, for instance inside trains, airplanes and ships. While roaming among foreign networks these "mobile islands" could wish to remain attached to one secure fixed network (see IST project WirelessCabin [3]). In this diploma thesis we address the topic of IP mobility support for IPsec-based virtual private networks. A mobile host is located outside its home network and wants to set up a VPN with it, that is to say enforcing privacy on the public part of the communication link. Moreover, as the host is mobile, it requires to be reachable by nodes in its home network even if it is outside, obviously securing the traffic. Therefore we are interested in the IPsec-based VPN service (secure communication with hosts belonging to a particular network), joined to the mobility service, as the mobile node can roam into foreign networks. In chapter 2 the reader can find a description of all the technologies in- volved in the topic, where aspects relevant to this treatment are shown up. Chapter 3 is dedicated to the analysis of the subject and the description of 1
Anteprima della Tesi di Francesco Trotta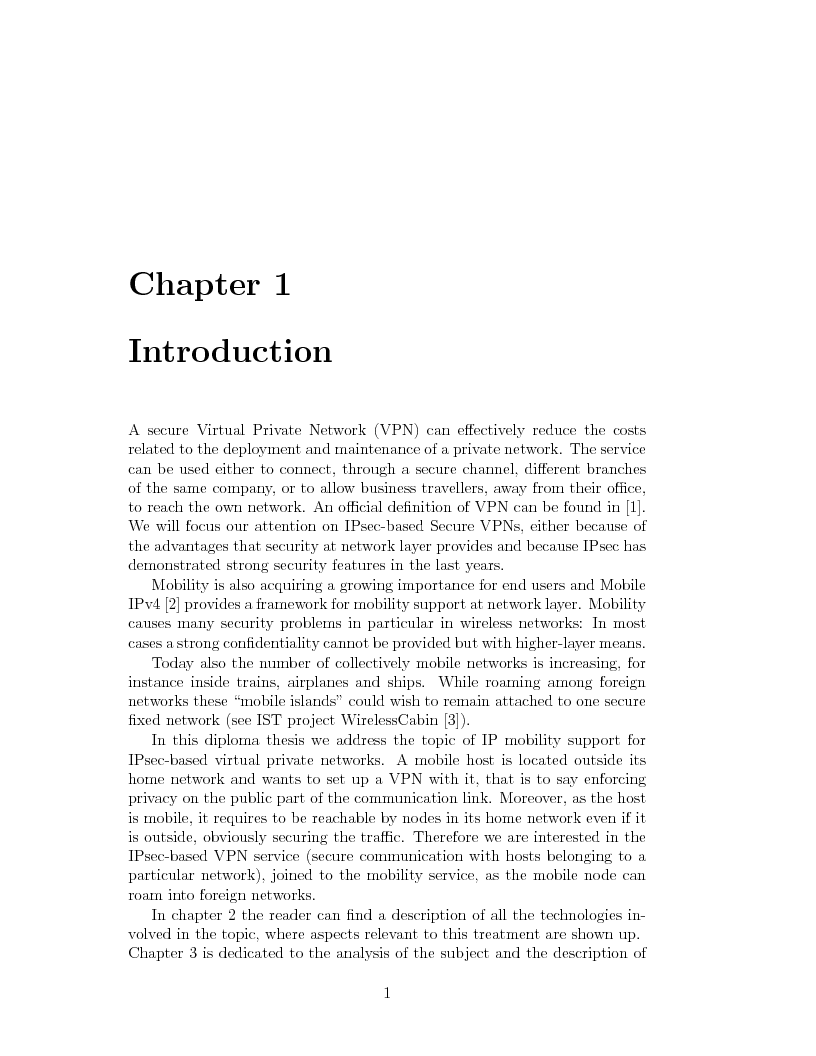 Tesi di Laurea
Facoltà: Ingegneria
Autore: Francesco Trotta Contatta »
Composta da 152 pagine.
Questa tesi ha raggiunto 1253 click dal 20/03/2004.
Consultata integralmente 4 volte.
Disponibile in PDF, la consultazione è esclusivamente in formato digitale.