Local Search Techniques and Tools for Scheduling Problems
L'anteprima di questa tesi è scaricabile in PDF gratuitamente.
Per scaricare il file PDF è necessario essere iscritto a Tesionline.
L'iscrizione non comporta alcun costo. Mostra/Nascondi contenuto.
Introduction xiii Thesis Organization The thesis is subdivided into three main parts, which roughly correspond to the three goals out- lined above. The first part illustrates the general topics of combinatorial optimization and the Local Search domain. Furthermore, it contains the description of the Multi-Neighborhood Search framework, which is one of the main contributions of this research. Specifically, in Chapter 1 we present the basic concepts of combinatorial optimization and scheduling problems and we introduce the terminology and the notation used throughout the thesis. Chapter 2 describes in detail the basic Local Search techniques and some lines of research that aim at improving the efficacy of Local Search. Chapter 3 concludes the first part of the thesis and formally introduces the Multi-Neighborhood framework. The second part of the thesis deals with the application of both basic and novel Local Search techniques to selected scheduling problems. In Chapter 4 we present a comprehensive case study in the application of Multi-Neighborhood techniques to the Course Timetabling problem. Chap- ter 5 contains our research about the solution of the Examination Timetabling problem, while Chapter 6 presents some results on the min-Shift Design problem. Preliminary results on other problems, namely Job-Shop Scheduling and Resource-Constrained Scheduling, are pre- sented in Chapter 7. The third part of the thesis is devoted to the description of EasyLocal++, an Object-Oriented framework for Local Search. In Chapter 8 we describe thoroughly the software architecture of the framework and the classes that make up EasyLocal++. Finally, in Chapter 9 we present a case study in the development of applications using EasyLocal++. At the end of the thesis we draw some conclusions about this research. Furthermore, we describe the lines of research that can be further investigated on the basis of the results presented in this work.
Anteprima della Tesi di Luca Di Gaspero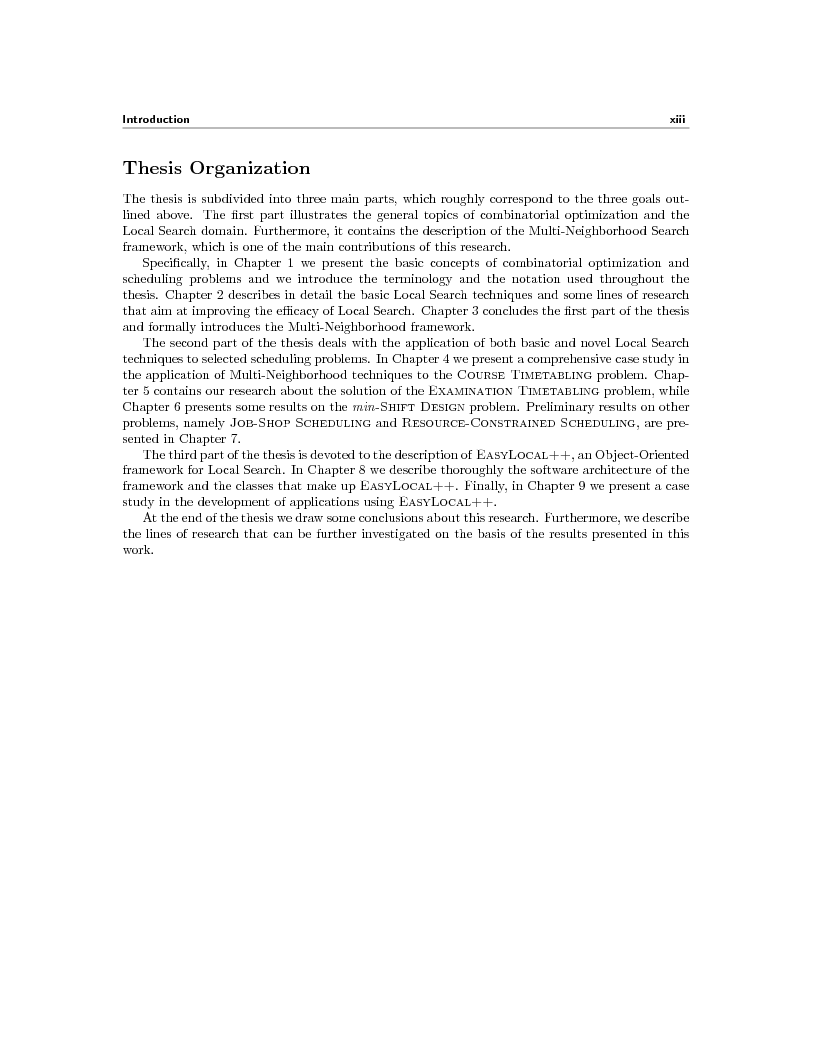 Tesi di Dottorato
Dipartimento: Dipartimento di Matematica e Informatica
Autore: Luca Di Gaspero Contatta »
Composta da 136 pagine.
Questa tesi ha raggiunto 658 click dal 20/03/2004.
Consultata integralmente una volta.
Disponibile in PDF, la consultazione è esclusivamente in formato digitale.