The Internet as the new American Frontier: ''There where there is no there''
L'anteprima di questa tesi è scaricabile in PDF gratuitamente.
Per scaricare il file PDF è necessario essere iscritto a Tesionline.
L'iscrizione non comporta alcun costo. Mostra/Nascondi contenuto.
14 1.2 TRYING TO RULE THE NET A couple of years after ARPANET's launch, its users had transformed it into a kind of electronic post office. The messages exchanged through the network were mainly news and personal messages, rather than long-distance computing. People used the net to collaborate on projects, exchange information and chat about anything that interested them. What users enjoyed most were mailing lists, newsgroups and digests and what made communication through computers special was mainly the colloquial informality that characterized it. Licklider noted: One of the advantages of the message system over letter mail was that in an ARPANET message, one could write tersely and type imperfectly, even to an older person in a superior position and even to a person one did not know very well, and the recipient took no offense. The formality and perfection that most people expect in a typed letter did not become associated with network messages, probably because the network was so much faster, so much more like the telephone… Among the advantages of the network message services over the telephone were the facts that one could proceed immediately to the point without having to engage in small talk first, that the message services produced a preservable record, and that the sender and receiver did not have to be available at the same time. 5 During the 70s the first email discussion groups were launched; the letters or "postings" were available to any member of the group. They used to be called "store-and-forward nets", nowadays the process is defined as "conferencing" and the interest groups are called "newsgroups". By the late 70s they had evolved into 5 Licklider and Vezza, "Applications of Information Tehnology", Proceedings of the IEEE, 66 (II) 1330 (1978), cited in Wade Rowland, Spirit of the web, cit., p. 295
Anteprima della Tesi di Maria Cristina Caimotto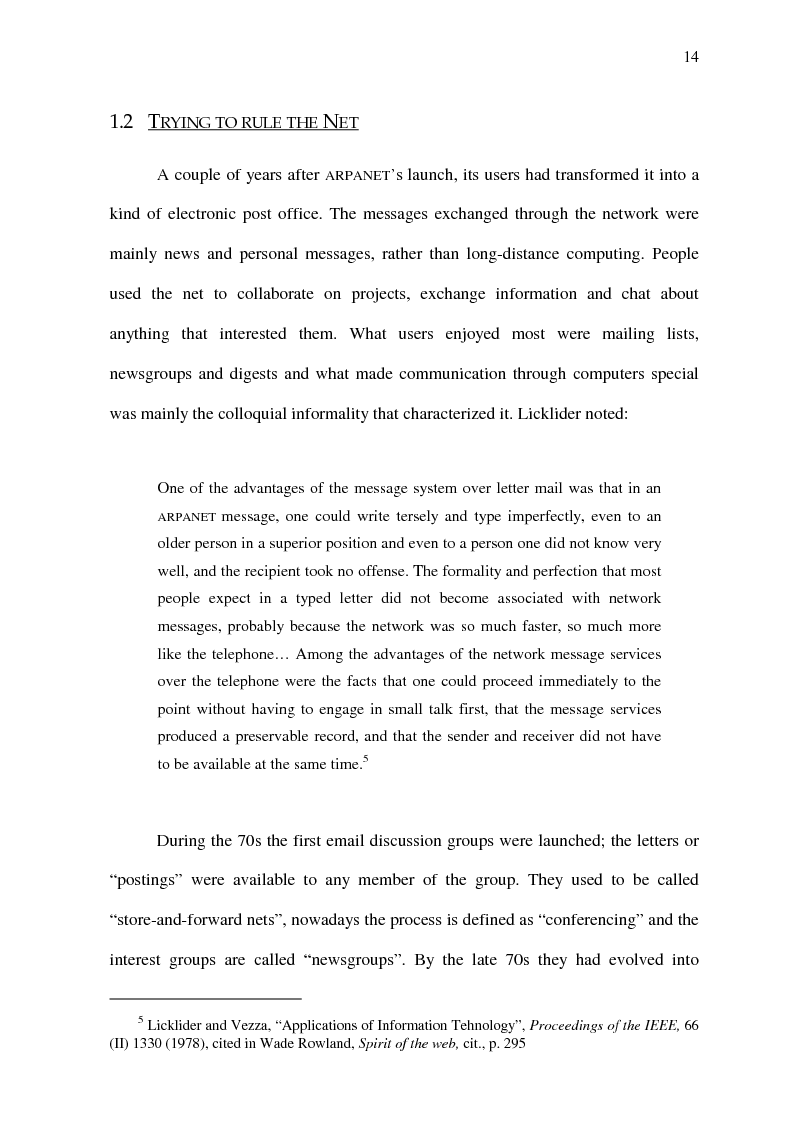 Tesi di Laurea
Facoltà: Lingue e Letterature Straniere
Autore: Maria Cristina Caimotto Contatta »
Composta da 212 pagine.
Questa tesi ha raggiunto 806 click dal 20/03/2004.
Consultata integralmente una volta.
Disponibile in PDF, la consultazione è esclusivamente in formato digitale.