The Customer Relationship Management (CRM) Software Market in Italy. Key Trends and Dynamics.
L'anteprima di questa tesi è scaricabile in PDF gratuitamente.
Per scaricare il file PDF è necessario essere iscritto a Tesionline.
L'iscrizione non comporta alcun costo. Mostra/Nascondi contenuto.
MA European Business – Dissertation in Information Systems 1 /09/2003 Daniela Sepulcri Supervisor: Dr. G. Harindranath 6 CHAPTER 1 CUSTOMER RELATIONSHIP MANAGEMENT (CRM): THE THEORETICAL FRAMEWORK 1.1 CRM in the Marketing Environment Key papers and bibliography include the theoretical framework around the benefits and importance of Customer Relationship Management (CRM) as described by P. Kotler, M. Porter and C.K. Prahalad and A. Ravarini. According to Kotler 2 , companies can win customers and outperform competitors mainly meeting and satisfying customer needs. Furthermore, to survive in today's marketplace, companies must adopt the philosophy of 'customer-value-creating marketing': they must be customer-centred and deliver superior value to their target customers. This addresses important questions, such as 'What are customer value and satisfaction?' How do leading companies organise to create and deliver high value and satisfaction?' Highly satisfied customers produce several benefits for the company: they are less price sensitive and they are customers for a longer period; they buy additional products over time as the company introduces related products or improvements, and they talk favourably to others about the company and its products. Kotler defines 'relationship marketing' as the process of creating, maintaining and enhancing strong relationships with customers and other stakeholders. The goal is to deliver long-term value to clients and the measure of success is long-term customer satisfaction; it involves building relationships at many levels, resulting in high customer loyalty. The company learns individual customers' needs and wants and then individualises and personalises its products and services. Michael Porter proposed the 'value chain' as the main tool for identifying ways to create more customer value; it includes the 'customer service process', to provide the client with services, answers and resolution of problems 3 . 2 Kotler, P., (2002) Marketing Management, 11 th edition, Prentice Hall 3 Porter, M., Millar, Victor E., 'How information gives you competitive advantage', Harvard Business Review, July-August 1985
Anteprima della Tesi di Daniela Sepulcri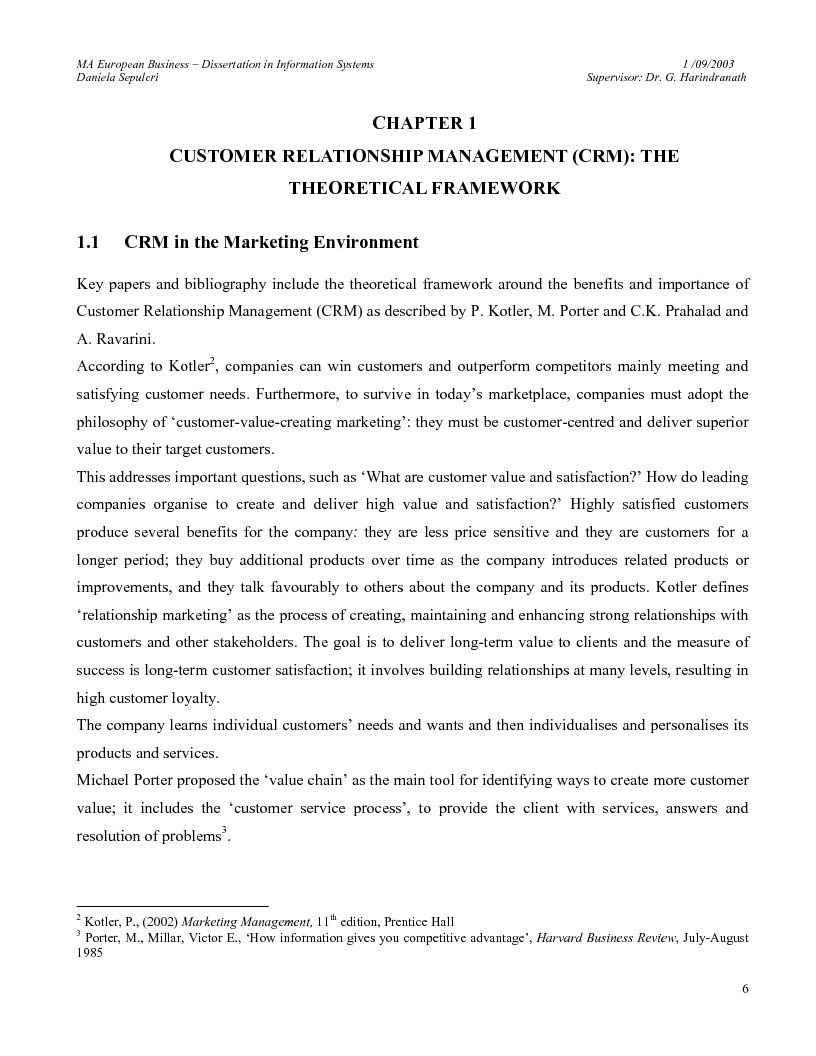 Tesi di Master
Autore: Daniela Sepulcri Contatta »
Composta da 94 pagine.
Questa tesi ha raggiunto 2562 click dal 20/03/2004.
Consultata integralmente 5 volte.
Disponibile in PDF, la consultazione è esclusivamente in formato digitale.