Commission Regulation (EC) No. 1400/2002 of 31 July 2002: Future developments within the E.U. car market.
L'anteprima di questa tesi è scaricabile in PDF gratuitamente.
Per scaricare il file PDF è necessario essere iscritto a Tesionline.
L'iscrizione non comporta alcun costo. Mostra/Nascondi contenuto.
Commission Regulation (EC) No. 1400/2002 of 31 of July 2002: Future Developments within the E.U. Car Market 10 1.2 Why a New Regulation Was Needed The Directorate General for Competition of the European Commission has carried out an Evaluation Report, which was due to be published by the end of 2000, to verify of the achievements of Regulation 1475/1995. The evaluation parameters were those on which the Block Exemption Regulation 1475/1995 had been based upon: the existence of effective competition in the automotive industry, the obligation of car dealers to provide after-sales services and the need for brand specialists for the repair of motor vehicles. With regard to the first assumption two types of competition have to be considered: inter-brand competition (between manufacturers) and intra-brand competition (between dealers belonging to the same network). When taking into account inter-brand competition, it is easily visible that the six largest manufacturers, that is Volkswagen, PSA, Renault, General Motors, Ford and Fiat, hold 75% of the European car market. This has created, therefore, an oligopolistic system reducing the level of competition. Nevertheless the wide variety of car versions in each country, between 2000 and 4000, and of brands, around 50, says that competition is present in the car industry. However the increasing levels of co-operations among manufacturers has advised for constant monitoring by the EC. For what it concerns intra-brand competition, it seemed that car distribution agreements did not give enough room to dealers to develop this kind of competition. An example can be represented by the dealers' reward policy, which results in almost the same margins for both small and large dealers. Also the allocation of exclusive sales territory has brought limit to the entrance of independent resellers, denying the possibility of opening extra-territory outlets, enlarging their structure and increasing their turnover. The existence of competition, based on the first assumption, was questionable according to Commissioner for Competition Policy Mario Monti. The presence of a close link between the sale of motor vehicles and after-sales services seemed to be "natural" for some people, but according to a competition mindset, it has been always regarded as a serious restriction of competition. On the one hand, it seems that no technical reasons exist, which entails that pre-delivery inspections could be performed by the manufacturer or the haulier, who delivers a new car to a dealer.
Anteprima della Tesi di Valeria Vigliani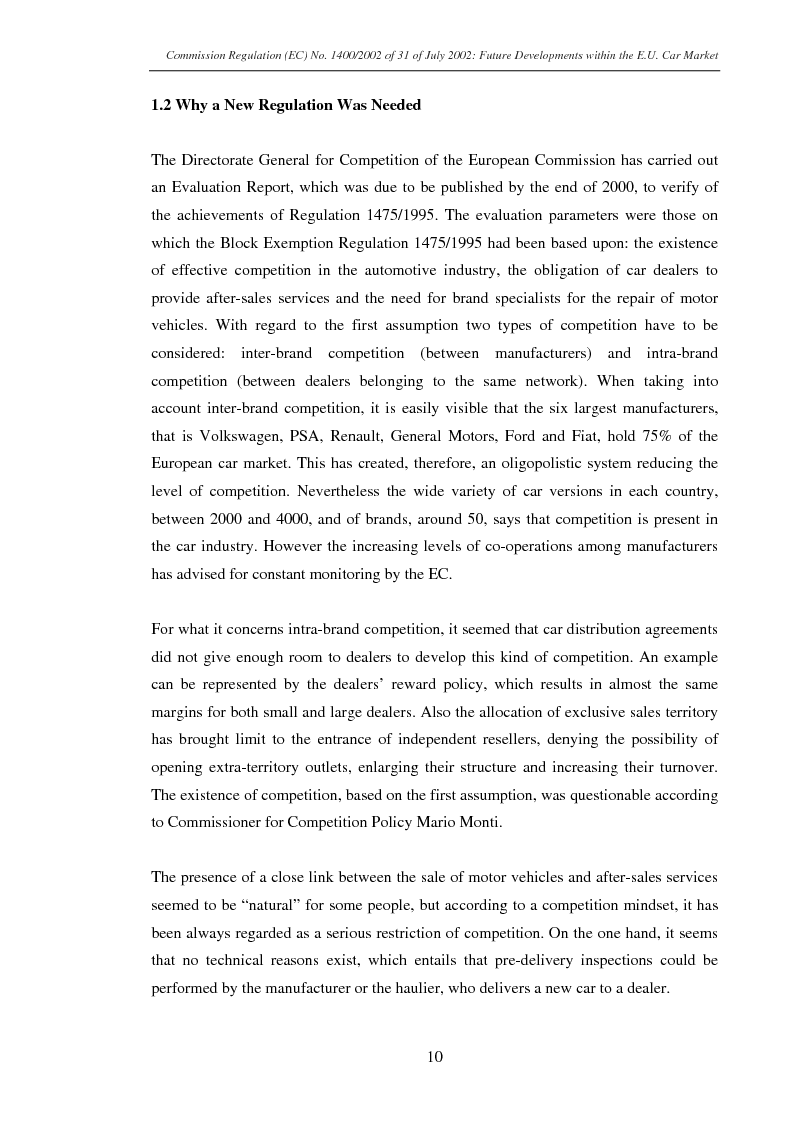 Tesi di Laurea
Autore: Valeria Vigliani Contatta »
Composta da 81 pagine.
Questa tesi ha raggiunto 3131 click dal 20/03/2004.
Consultata integralmente 2 volte.
Disponibile in PDF, la consultazione è esclusivamente in formato digitale.