A substrate integrated power divider/combiner for multidevice millimeter wawe applications
L'anteprima di questa tesi è scaricabile in PDF gratuitamente.
Per scaricare il file PDF è necessario essere iscritto a Tesionline.
L'iscrizione non comporta alcun costo. Mostra/Nascondi contenuto.
Introduction In the last few years a fast growth has been seen in millimeter waves sys- tems applications, leading to an increasing demand for low-cost, small and tuning-free components based on rectangular waveguide. The main problems of conventional waveguide devices are the high manufacturing cost and time, the dimensions of the devices and the difficulties in integrating planar and non-planar circuits. In fact in conventional waveguide devices the transitions always consist of two or more separate pieces that require a precision machi- ning process, a careful assembly and, in most cases, a high precision mecha- nical adjustment or a tuning mechanism. These reasons prevent rectangular waveguide devices from being used in low-cost high-volume applications. A new solution has been proposed by Wu et al. with the introduction of "substrate integrated waveguide"(SIW) or, more generally, "substrate inte- grated circuits"(SIC) [1]. These kinds of waveguide are composed by two parallel arrays of metallized via holes drilled in a dielectric substrate metal- lized on both sides (Fig. 1). The holes act as the side walls of a conventional waveguide and the metallization of the substrate act as the top and bottom walls of the waveguide. The same substrate is then used to design planar circuits. This new technology is very promising about time and cost production since waveguide and planar circuit are manufactured on the same substrate and at 3
Anteprima della Tesi di Pietro Ferraris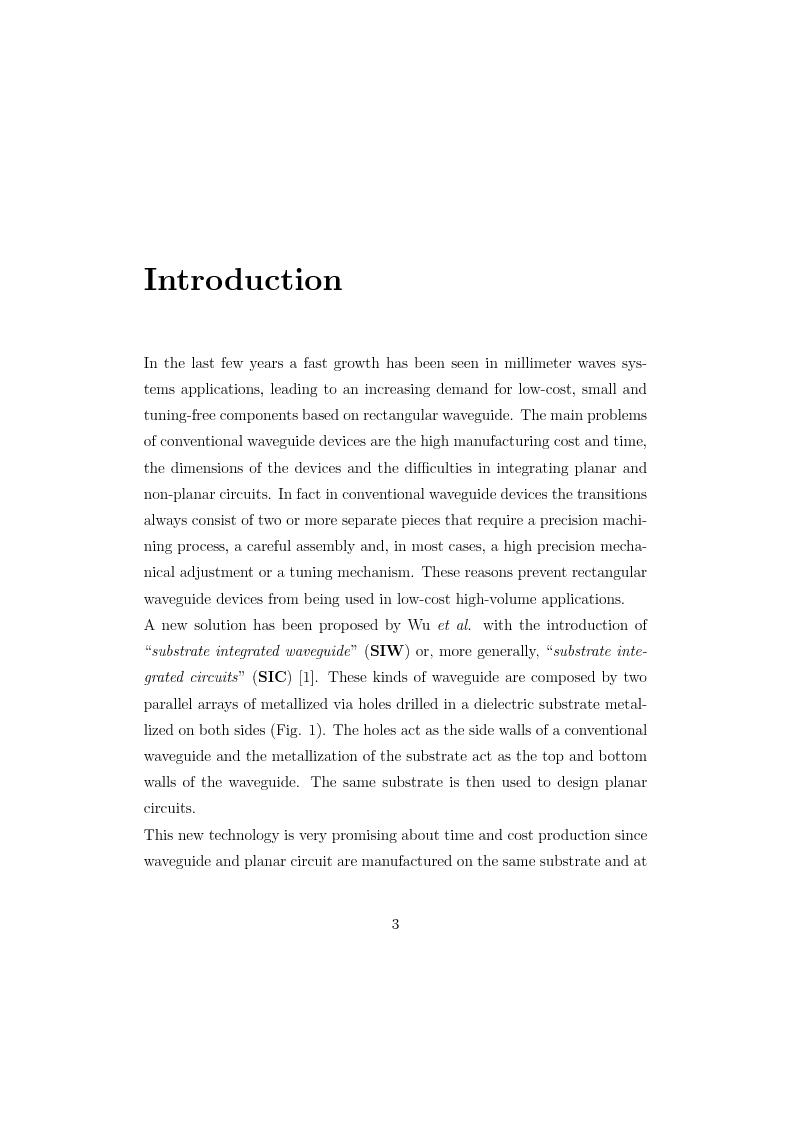 Tesi di Laurea
Facoltà: Ingegneria
Autore: Pietro Ferraris Contatta »
Composta da 87 pagine.
Questa tesi ha raggiunto 1959 click dal 20/03/2004.
Consultata integralmente una volta.
Disponibile in PDF, la consultazione è esclusivamente in formato digitale.