Lexical features of political discourse: a corpus-based analysis of speeches about the European Union
L'anteprima di questa tesi è scaricabile in PDF gratuitamente.
Per scaricare il file PDF è necessario essere iscritto a Tesionline.
L'iscrizione non comporta alcun costo. Mostra/Nascondi contenuto.
9 1.2 Corpus-based analysis In this section I am going to focus more deeply on the characteristics of corpora as tools of analysis. I start by giving the notion of corpus, then a general description of the different types of corpora and I illustrate the concept of representativeness. Then I provide the 10 major advantages of corpora in studying a language. 1.2.1 The basic information about corpora a) Corpus definition A corpus is simply a collection of texts. Within Corpus Linguistics, however, corpora are intended to have three specific characteristics, namely: 1) the texts they contain are in electronic format and can therefore be read by a computer, 2) the texts are put together because they share a common purpose, such as e.g. that of studying a particular genre or a single aspect of a language, etc., 3) the criteria chosen to select the texts have to be explicit or at least explicable. (Bernardini & Gavioli 1999). b) Types of corpora Early corpora, those compiled without computer aids, turned around five major fields of scholarship: biblical and literary studies, lexicography, dialect studies, language education studies and grammatical studies (Kennedy 1998). Modern corpora are similar in purpose to the early ones. What makes the two generations of corpora different is size. As far as electronic corpora are concerned, in modern linguistics, we distinguish between so-called general corpora and specialised corpora. While the latter are generally smaller and more similar to the early corpora, general corpora nowadays contain hundreds of millions words. The two types of corpora also differ in their purpose: general corpora are compiled for general descriptive purposes and then used for linguistic research, e.g. about lexis and grammar. Specialised corpora, on the other side, are created for very specific research projects, such as working out the features of specialised language (e.g. learners' language, English for Special Purposes, etc.).
Anteprima della Tesi di Monica Cascone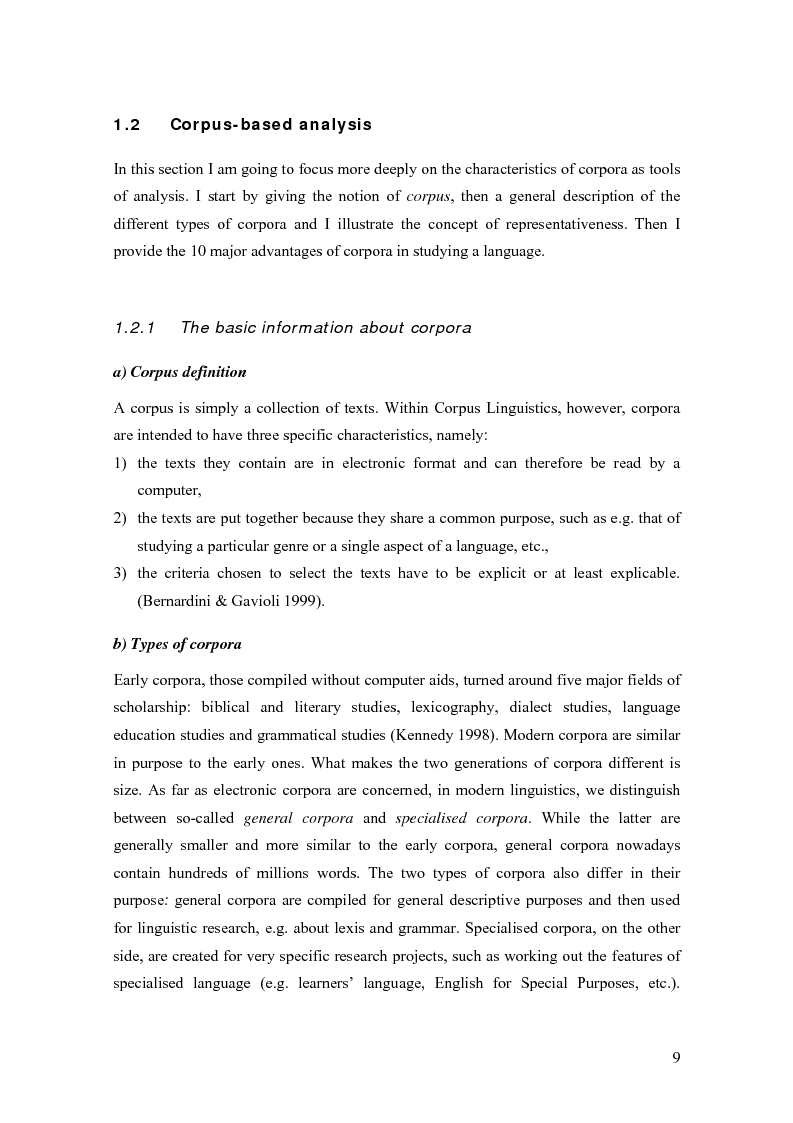 Tesi di Laurea
Facoltà: Lettere e Filosofia
Autore: Monica Cascone Contatta »
Composta da 168 pagine.
Questa tesi ha raggiunto 2438 click dal 20/03/2004.
Consultata integralmente 5 volte.
Disponibile in PDF, la consultazione è esclusivamente in formato digitale.