Lexical features of political discourse: a corpus-based analysis of speeches about the European Union
L'anteprima di questa tesi è scaricabile in PDF gratuitamente.
Per scaricare il file PDF è necessario essere iscritto a Tesionline.
L'iscrizione non comporta alcun costo. Mostra/Nascondi contenuto.
12 words in a more consistent and objective way. These observations are difficult to do when working with printed documents since the human eye may simply not notice a pattern when its occurrences are spread over several pages of documents. 7) Corpora can be consulted in every moment. Once they have been collected and stored, they are always available for consultation. This is not the case of actual subject field experts. The unrestricted availability of corpus is important because language learning goes on all the time. 8) Corpora display different opinions of expert users simultaneously. In fact, thy contain various articles written by different subject field experts and that means that LSP learners have access to more than one expert opinion, which means they are better able to judge whether terms or expressions are generally accepted in the subject field, or whether they are simply the preference of one particular expert. 9) Corpora are objective frame of reference. Unlike judgement based on intuition, naturally occurring data has the principal benefit of being observable and verifiable by all who examine it. 10) ONE-STOP SHOP: you can retrieve from the same corpus different types of information. Because a corpus consists of natural occurring running text, it is possible to retrieve information about both lexical and non-lexical (e.g. style, punctuation, register, semantic, etc.) elements of language.
Anteprima della Tesi di Monica Cascone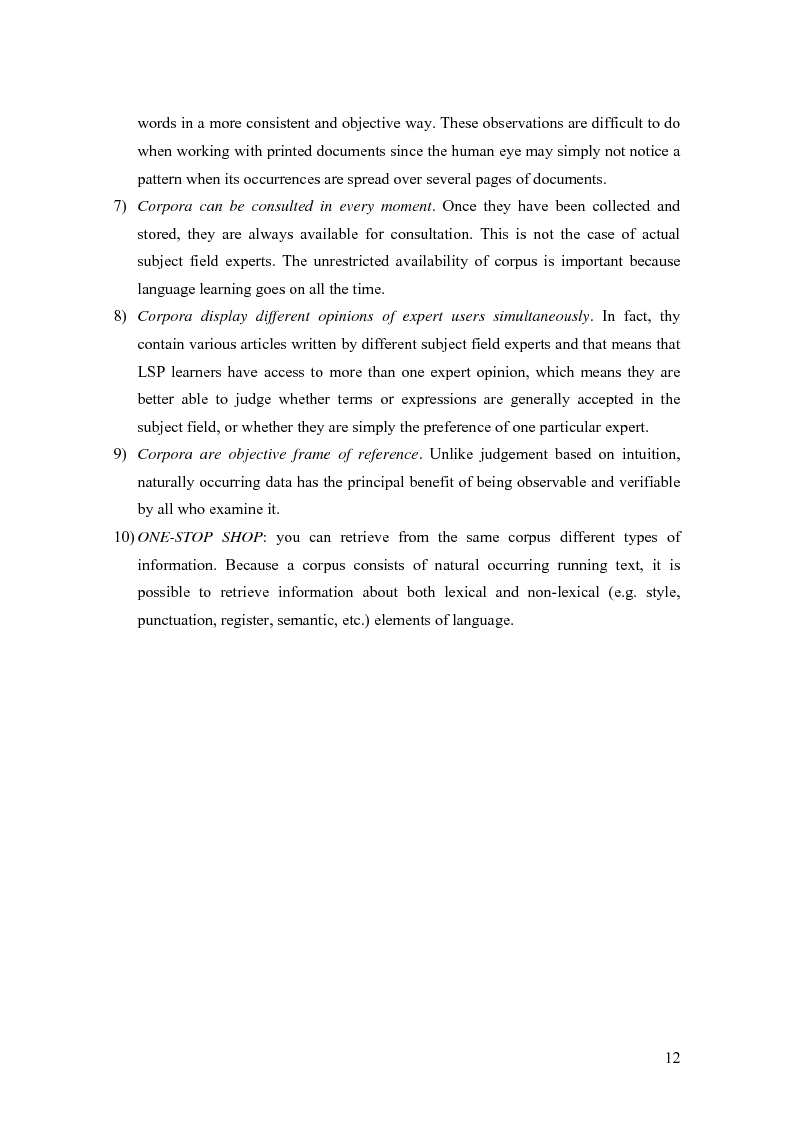 Tesi di Laurea
Facoltà: Lettere e Filosofia
Autore: Monica Cascone Contatta »
Composta da 168 pagine.
Questa tesi ha raggiunto 2440 click dal 20/03/2004.
Consultata integralmente 5 volte.
Disponibile in PDF, la consultazione è esclusivamente in formato digitale.