Lexical features of political discourse: a corpus-based analysis of speeches about the European Union
L'anteprima di questa tesi è scaricabile in PDF gratuitamente.
Per scaricare il file PDF è necessario essere iscritto a Tesionline.
L'iscrizione non comporta alcun costo. Mostra/Nascondi contenuto.
2 between large and small corpora, with a particular focus on the latter ones. I conclude the chapter with a brief description of some studies concerning possible uses of small corpora. In the second chapter, I deal with issues in the methodology of corpus analysis and criteria to select the words from my corpus, which I then analyse in the third chapter. In the first part I describe the criteria of corpus design. In the second and third part I illustrate respectively the compilation of the EUSC, following the criteria of representativeness suggested by Biber (1993), and a description of the tool used to analyse the corpus, WordSmithTool, Version 3.0 (Scott 1999). Part four deals with a couple of theoretical issues, which I found of particular interest in my work: these are mainly connected to a re-discussion of "Units of meaning", particularly following Sinclair (1991, 1996). I conclude the chapter identifying a procedure to select the 9 words from my corpus, which I analyse in details in the following chapter. In chapter 3, I deal with the analysis of 9 words I selected from a KeyWord List calculated through a comparison of my corpus and the BNC Sampler. The words are: UNION, ENLARGEMENT, STATES, INTEGRATION, FUTURE, APPLICANT, OPENNESS, PILLAR and TRANSPARENCY. In chapter, 4 I draw the conclusion of this research, going through the different steps taken. I will therefore re-define the starting point applied for the analysis, the methodology followed and in the end I will sum up the main results obtained investigating the 9 words in the EUSC. In the last paragraph I will give a personal concluding opinion regarding the thesis and the subject area in which it is collocated.
Anteprima della Tesi di Monica Cascone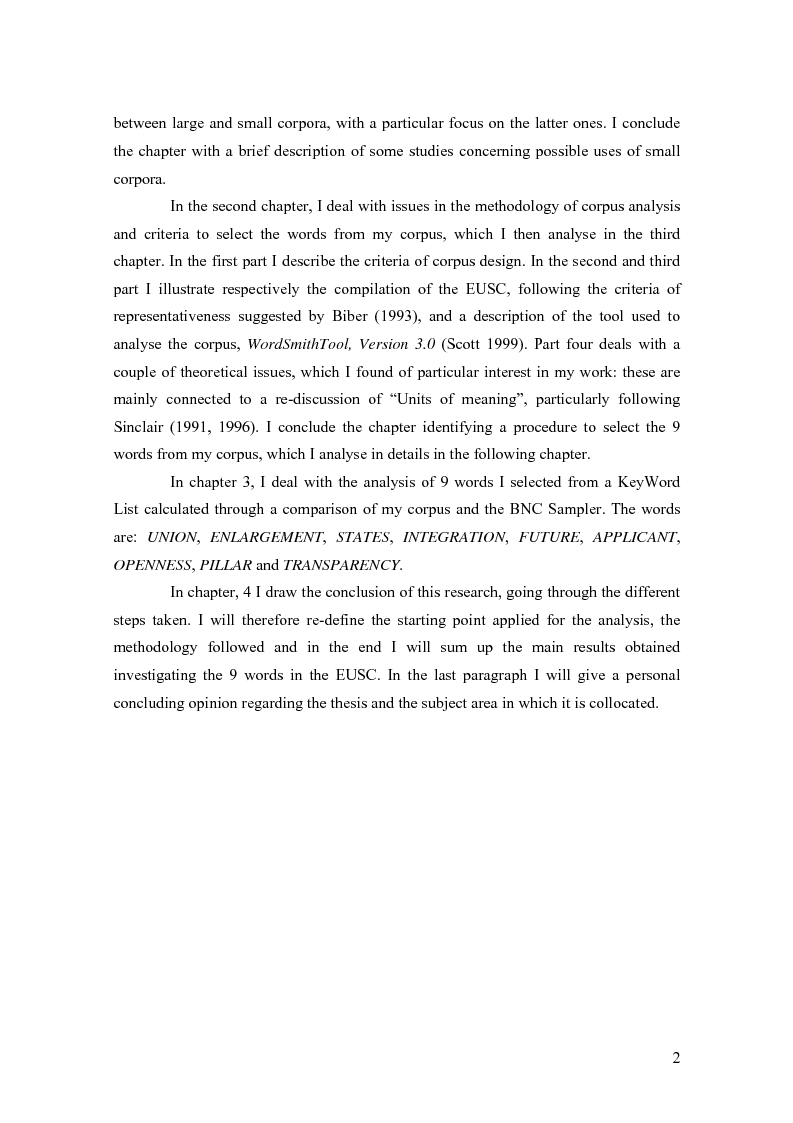 Tesi di Laurea
Facoltà: Lettere e Filosofia
Autore: Monica Cascone Contatta »
Composta da 168 pagine.
Questa tesi ha raggiunto 2438 click dal 20/03/2004.
Consultata integralmente 5 volte.
Disponibile in PDF, la consultazione è esclusivamente in formato digitale.