An Analysis of the Impact of Italian Industrial Investment in Romania: Economic, Political and Labour Implications
L'anteprima di questa tesi è scaricabile in PDF gratuitamente.
Per scaricare il file PDF è necessario essere iscritto a Tesionline.
L'iscrizione non comporta alcun costo. Mostra/Nascondi contenuto.
9 Nevertheless, it has seen a considerable increase in the number of foreign direct investments during the last ten years (Hunya 2000), particularly Italian investments. Principally, the reasoning behind my case selection has been addressed in the data proposed by the Romanian national trade registry office about the composition of the inward foreign investments (CCIRB 2001). It is important to note that while the Italian investments reached from 1991 to 2001 (May) only the sixth place, with 473,11 Mill. USD, far less than Netherlands (1,020,11 Mill.), Germany (730,62 Mill.), France (653,66 Mill.), the USA (539,02 Mill) and Cyprus (533,33 Mill.), the number of Italian companies involved was the highest with 9,731 firms. Naturally, I have considered in this analysis both the foreign direct investments and inwards investments in Romania. The main reason is due to the characteristic of the Italian internationalization process. In fact Italy has a relatively small inclination to the direct investments. (ISTAT-ICE 2000). In 1999 almost 3% of the whole Italian FDI was concentrated towards the CEECs. Particularly in the industrial sector where, 40% of Italian FDI has been directed in the mechanical industry, 17 % in the textile industry and 19,2% in the food industry. This phenomenon is predominantly due to the structure of the Italian economy. The main characteristics are the prevalence of small- medium size enterprises (SMEs), which are operating in traditional sectors such as the textile and clothing industry, generally concentrated in the so-called "Industrial Districts" (IDs). These factors considerably limit the activities of the Italian firms that have only a small amount of liquid capital and so can not often afford significant investments abroad (Confindustria - Centro Studi 1998, Mutinelli 1998). However, a high number of firms, pushed by the necessity to remain competitive in the international market, have invested in Romania. As mentioned above, Italy is leading in the number of the investments; nevertheless it is just sixth in terms of value.
Anteprima della Tesi di Enrico Bulligan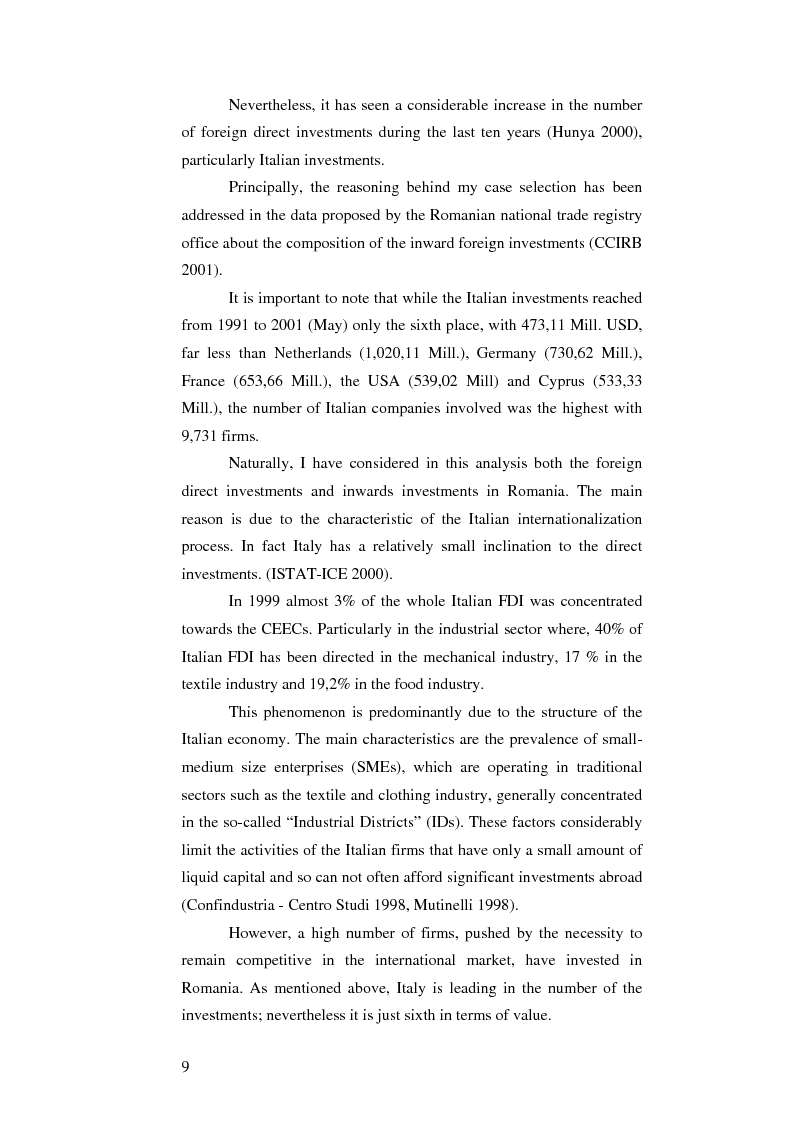 Tesi estera
Autore: Enrico Bulligan Contatta »
Composta da 107 pagine.
Questa tesi ha raggiunto 530 click dal 04/05/2004.
Consultata integralmente 2 volte.
Disponibile in PDF, la consultazione è esclusivamente in formato digitale.