An Analysis of the Impact of Italian Industrial Investment in Romania: Economic, Political and Labour Implications
L'anteprima di questa tesi è scaricabile in PDF gratuitamente.
Per scaricare il file PDF è necessario essere iscritto a Tesionline.
L'iscrizione non comporta alcun costo. Mostra/Nascondi contenuto.
16 1.2 The Italian Investments in Central and Eastern Europe As we have seen, the Italian investment rate in CEECs remains quite low peaking on the 3.8% of the total EU between 1994 and 1999. The main reason is due to the poor inclination to the outward investments; other reasons often mentioned are the relative orientation towards a specialization in mature sectors and the reduced size of the Italian enterprises (ISTAT-ICE 2000). Table 1.4: Italian FDI in CEECs, 1994-1999 Total Flow (Million of Italian Lira) % Estonia 12.5 1.2 Poland 233.9 21.7 Czech Republics 146.0 13.6 Slovak Republics 65.1 6.0 Hungarian 377.9 35.1 Bulgaria 8.4 0.8 Latvia 0.3 0.0 Lithuania 4.8 0.4 Romania 190.1 17.7 Slovacchia 37.7 3.5 Source: STAT-ICE 2000 L'Italia nell'economia internazionale. Roma: ISTAT. This table shows how even Italy has concentrated the majority of the investments in the so-called first cluster of CEECs. However, Italy has begun to invest considerably in Romania reaching 17.7 %. The composition of the FDI is relevant because it shows how the so-called "Made in Italy" 2 remains one of the key components of the Italian investments: 2 According to Fortis the "Made in Italy" is understood as the total industrial sectors working in the areas of fashion, home furniture, food and free time.
Anteprima della Tesi di Enrico Bulligan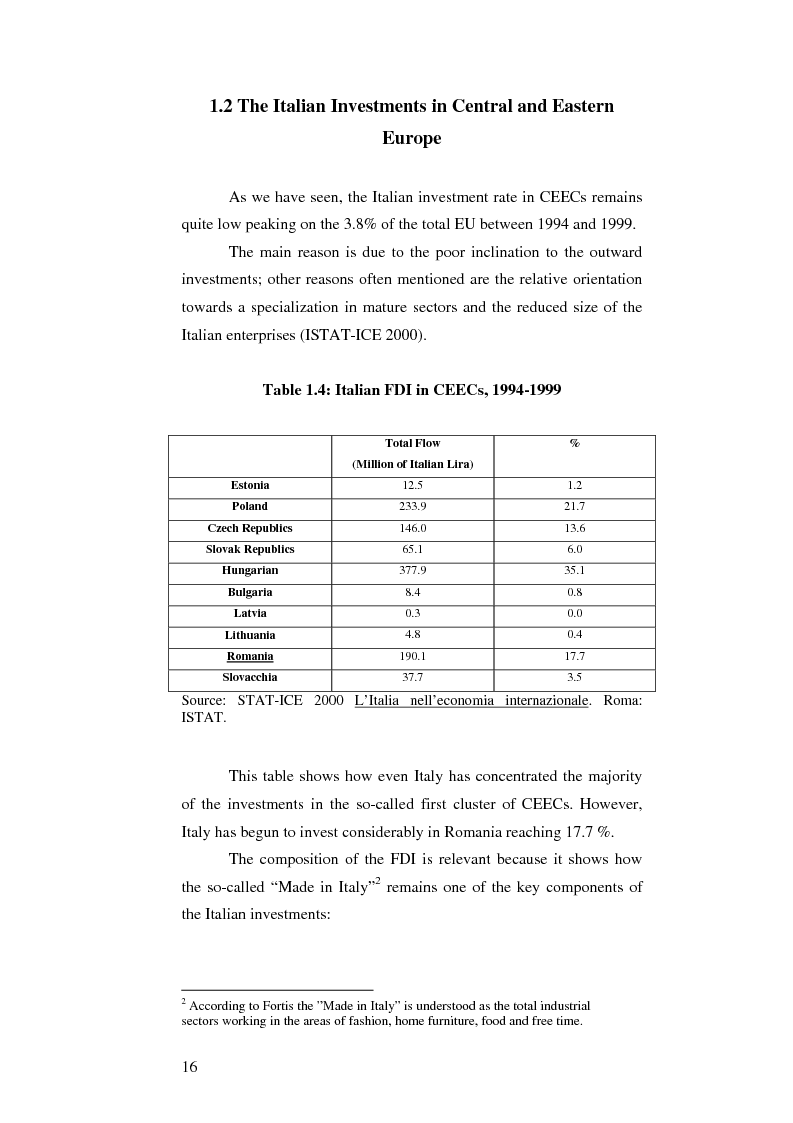 Tesi estera
Autore: Enrico Bulligan Contatta »
Composta da 107 pagine.
Questa tesi ha raggiunto 530 click dal 04/05/2004.
Consultata integralmente 2 volte.
Disponibile in PDF, la consultazione è esclusivamente in formato digitale.